Matthew P. Binkewicz
, a former Russian Orthodox priest who has devoted a career to helping people through the most difficult times of their lives.
"The majority of my counselling is grief and loss and bereavement counselling," says Binkewicz, "mainly dealing with individuals who have experienced a loss."  But he says loss takes many forms, and he is also an accomplished marriage counselor and deals with other areas such as anger management.  "All of us go to the dentist, or doctors.  We should also look into our hearts from time to time, and that's what I offer." Binkewicz works four days a week as Pastoral Care Coordinator and Bereavement Coordinator at Hospice of the Finger Lakes in Auburn, NY.  When he is not there he spends his time on his private counselling practice, writing or speaking.  He also writes eulogies and delivers them at funerals.
"The eulogy is hand crafted," Binkewicz says.  "A lot of times I have to rely on family members who give me answers to specific questions from which I can create a tribute to this loved one.  Because that is where the healing is going to start, with the words I speak.  And I take it very seriously.  If I don't bring about the start of healing then I've failed this family at a very important part of their life."
Binkewicz is careful to distinguish between healing and curing.  "Ultimately my business is healing, it's not curing," he explains.  "Healing takes what naturally is broken and uses the body's own inner strengths, whatever they may be, and adapting their life to somehow get back to a place of equilibrium."
As a priest in the Washington D.C. area Binkewicz had a small parish while he also worked as a hospice chaplain/grief councillor.  He continues to use a pastoral counselling approach.  "It is a very broad and useful tool to deal with basic family issues, he says.  His thoughtful, soft-spoken approach encourages clients to confront their grief and find the inner strength to begin healing.
"Let's take the death of an animal," he says as an example.  "Children often recall how much fun they had with a dog, or how the dog always jumped up on the bed and Mom would give a yell, or they would say 'Aw, he's off the bed,' when really he was still on the bed.  It will actually take them from being sad to a moment of joy.  Not robbing them of the fact that the dog is dead, but bringing a joyful moment out."
He also says that honesty is of key importance.  "I never tell a child, 'Your Mother's asleep.'  That child may fear going to bed," he explains.  "You say, 'Mommy is dead.'  You explain it in terms that they understand.  The same thing with an adult feeling guilt over a death, you don't pamper them.  You don't placate them.  You bring out the fact that if the specialists couldn't find a cure, how could you find a cure?  If they told you they've done their best, what possibly could you have done?"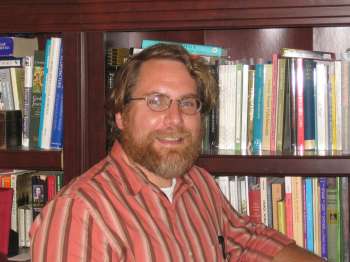 Binkewicz  prefers to meet clients in a neutral location, and works hard to gain clients' trust.  He gives assignments to bring back a picture of a loved one or a story about them.  Listening to these stories is an important part of what he has to offer.  While devout in his beliefs, Binkewicz respects client's faith or lack of it while working with them.  He is comfortable delivering secular eulogies or religious ones, depending on the needs of the families he works with.
Binkewicz  became interested in counselling when he was studying theology in college.  At the seminary you do basic counselling, introduction to pastoral counselling, and marital counselling.  "It seemed part and parcel with the job of a pastor to sit and listen," he says.  "I had watched other clergy do it quite well and I thought this is the work for me.  It's a field that seems so basic, yet seems so neglected."
He sums it up by likening counselling to life maintenance.  "It's a very diverse work I do," he says.  "Most problems people have are easily treatable if you want to put the effort into it.  All of us need counselling from one time or another, whether it's a friend, neighbor, confiding in your local pastor or spiritual advisor.  It's just the nature of life, there is so much going on.  We do have to take care of ourselves."
----
v2i26
"End of life frightens most of us.  We find so many ways to explain away death and the dying process."  So begins the preface of "Peaceful Journey, A Hospice Chaplain's Guide to End of Life."  The book is by Lansing counselor