McGraw House
comes in.  It offers apartments for active seniors who don't want or need assisted living or a nursing home.
Located within walking distance of the Ithaca Commons, McGraw House has 105 apartments for people 62 and older.  They come from all walks of life.  "We have people coming from apartment situations and people coming from houses that they've lived in for 50 years," explains Executive Director Carol Mallison.  "We have people that have worked just about every kind of job imaginable, and we have people that have not worked outside their home.  We have people that have been through Cornell.  University people.  We have a lot of women, but the men are gaining."
McGraw House was the brainchild of the Ladies Union Benevolent Society (LUBS) who decided to build a home for retired women in the mid-1800s.  "The LUBS women were primarily well-to-do women who were concerned about the women that had worked for them in their lives," Mallison says.  "The home actually still exists on South Aurora.  It is a large masonry building with 'The Home' written over the front door."  Many of the antiques in McGraw House are from The Home.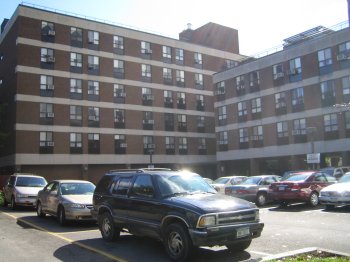 When women moved into The Home they turned over all their worldly possessions to the LUBS organization, and could live there for the rest of their lives, regardless of their physical condition.  By the 1960s more nursing homes had been built.  "The administrative red tape that the government expected of these organizations was very, very steep," Mallison recounts.  "The LUBS women felt they didn't want to run that kind of a business any more, so they decided to go for funding for an apartment building for both men and women.  McGraw House was opened in 1971 and the original women from the home were moved into one section called 'The Wing.'"  The facility was named for Jane McGraw, who had funded The Home.
Most independent living facilities don't have a restaurant, but because LUBS had committed to feeding the women who had lived in The Home, the Department of Housing and Urban Development (HUD) allowed a dining hall within McGraw House to be grandfathered into the building operation.  That makes McGraw House unique among independent living facilities.
Mallison has been Executive Director for ten years.  With a background in sociology and psychology, she expected to pursue those interests in her career.  But when she moved to Tompkins County she landed a job running the Section 8 Rental Assistance program, then three years later took a job as rental manager at Ithaca Neighborhood Housing.  Ten years after that she took the Executive Director position at McGraw House.  "If anyone had told me in college that I would be a landlord for a living I would have said that they were out of their mind!" she exclaims  "But it's been a very good field.  I enjoy housing very much, and I enjoy working with seniors very much."
The job presents welcome challenges.  "My favorite part of the job is that no day is the same," she says.  "It's not a dull place to work in."  She says that most of her job has to do with communication with residents, with her staff, with her board of directors, and with outreach telling people about the facility.  She also spends time setting policies for the building.  "In a building with over 100 people there are all kinds of policies and expectations that are being followed by everyone to help make the system run more smoothly," she says.  "And peoples' expectations are met."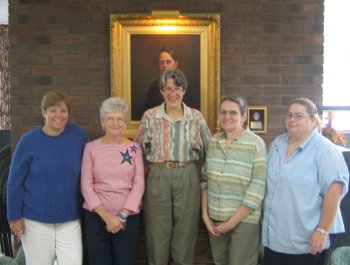 (left to right) Sally Klein (Financial Manager), Lury Wallenbeck, Carol Mallison (Executive Director), Elizabeth Schneider (Service Coordinator), Margaret Clark (Front Office) standing in front of Jane McGraw's portrait
About half of the staff of ten run the dining facility, while the rest are involved with administration and maintenance.  Two of the apartments are reserved for live-in staff, to provide an emergency contact for residents.  Elizabeth Schneider is the service coordinator, a kind of building concierge who connects residents to services they might need.  "She spends all her time keeping the residents connected, especially in Tompkins County, the wide variety of services available to seniors," Mallison explains.  "They get a lot of assistance through Gadabout, Foodnet, Home Health Aid Services, salons that come in and do their hair for them, financial services, counseling for insurance, the Section 8 Rental Assistance program... there's really a very broad range of services available to assist people."
LUBS is still actively involved.  Mallison says, "McGraw House is still their primary philanthropic gesture.  They are my largest volunteer body."  Their 27 members arrange all the flowers in the lounges and in the dining room.  They provided the furnishings in the hallways and lounges.  Five LUBS members sit on the McGraw House board of directors.
There is a lot going on in the building.  Some people eat dinner in the dining room, others cook in their apartments.  LUBS runs a tea on Tuesday afternoons.  Residents hold morning coffee hours and participate in discussion groups, a book club, and evening entertainment.  Some prefer to stay in the building, others go out frequently.  "What's nice about having just over a hundred people is that there's always somebody else who has an interest or a background similar to yours," Mallison says.  "So it's not difficult for people to find someone else to connect with.  Many people say, 'I wish I'd done this five years ago.'"
Mallison says it can be unnerving for people to think about coming to senior housing.  "I've had people say to me, 'I still drive so I'm not going to be moving there any time soon,'" she says.  "Well, half the people who live here drive.  I think that communal living is not everybody's cup of tea, but people don't realize how isolated they become living in their own home.  They don't realize that you have enormous sentimental attachment to your home and all of your things, but those are not things that you can talk to.  You could, but you're not going to get much of a conversation going.  And people find that when they get to McGraw House that suddenly they have a life that they didn't realize they were missing."
----
v2i38
Just because you get old doesn't mean you've gotten old.  Many seniors are active and independent.  They don't need to be in a nursing home, but may not want the trouble of maintaining their own home.  Mowing the lawn, shovelling snow, vacuuming every week, cleaning out the rain gutters.  That's where