McNeil Music
has been a mainstay of the Ithaca music scene for since 1951.  On February 27th it opened its doors under new ownership, insuring that it will continue to remain an important part of the local music scene.
"I believe there are a lot of possibilities here," says the new owner Eric Laine.  "And we're in this for the long haul.  I'm going to be here for the 60th anniversary of McNeil Music, and I hope for the 70th as well."
Laine is an accomplished guitarist who was with the Berkeley based band '
Here Are The Facts You Requested
' until he moved to Ithaca with his family two years ago.  He connects deeply to the idea of a local music store that you can come into, play instruments, and connect with other musicians.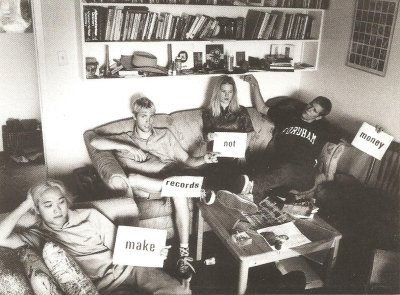 Eric Laine (right) with 'Here Are The facts you Requested'
"That is the function of the local music store," he says.  "You can buy it online, and that's fine for little things.  But the local music store is here so you can play the gear before you buy it and decide, 'Do I really want this thing?'  The other thing we're here for is the local music community.  We are the local band shop.  It says right there on our logo: Supporting local music since 1951."
Laine grew up in the suburbs of Redding, Pennsylvania and studied creative writing at Fordham University.  He met his wife Darcey at a summer arts program.  Four years later they met there again, and they've been together ever since.  At Fordham he got interested in desktop publishing and advertising writing.  But he was interested in music from the beginning.
When Darcey was accepted to the Peabody Conservatory in Baltimore, Laine reconnected with boyhood friend Eugene Chen, which whom he had played and recorded music for years.  Chen was living in Washington, D.C., close enough to form a band.  The band was establishing itself when Darcey was accepted to a seminary in Berkeley, California to become a Unitarian Universalist minister.  The whole band decided to move, and has been based there ever since.
"By 1995 the band, girlfriends, and others had also moved," Laine recalls.  "We didn't have to make any new friends in California, because we brought them all with us."
He got an office job at a software company, eventually ending up in the marketing department.  After about six years he pursued a customer service job at TiVo.  In 2001 he survived massive layoffs there, and he ended up in the technical writing department, starting with scripts for tech support technicians, and eventually writing product manuals.  When he and Darcey decided to move to Ithaca two years ago, he was asked to stay with the company, working from home.
The couple had thought casually about opening some kind of business.  Laine's first idea was bowling alley/record store.  Then he decided on rock and roll batting cages.  But  startup costs were too much, so he gave up on the idea.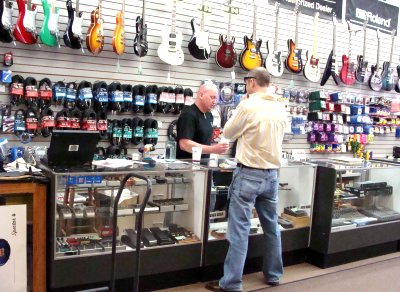 Don Pharoah helps a customer
In November Laine's sister and her friend decided to go to McNeil's to sit and jam together with a couple of the guitars there.  They noticed a real estate sign in the window, so she asked then owner Dave Buletek why.  He told her the store was for sale, and gave her a tour, told her what he was asking for the store.
"When she got home she called me to say, 'McNeil's Music is for sale.  You should buy it.'  I said, 'I don't want to buy a music store.  That's not what I had in mind.  I want to do the rock and roll batting cages, a performance space, or some kind of arts cafe...'"
Two days later he was laid off from TiVo, and the next day he decided a music store might be a good idea.  He and Darcey visited the store for the first time, and met the staff. 
"They immediately impressed me with the depth of their knowledge -- what the store needed, what it wasn't getting, and their encyclopedic recall of product details.  They're very deeply involved with the local music scene.  I looked around the store and thought maybe it was a pretty good idea after all."
Laine says his biggest challenge in his first retail experience is wrapping his head around accounting, and he feels an enormous responsibility to his employees.  "The challenge is understanding where we need to be in terms of revenue in order to keep everything going, and to try to grow," he says.  "We have goals.  We want to become living wage certified.  We want to offer some sort of health care plan.  We want to hold onto these terrifically talented guys that we have here."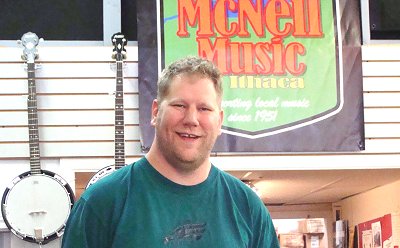 Eric Laine
He was thrown by one bad day in March when returns exceeded sales.  But he says that most days are very good, and he is excited about connecting with Tompkins County musicians and what they are doing.
In that spirit the store is underwriting
WICB
's 'Concert Connection' and 'Home Groove with Kat and Lilly,' which features local bands performing in the studio or talking about upcoming releases.  "Local music is our thing so that was a natural fit," he says.  "We've had a great time working with the folks at WICB."
He takes every opportunity to say what an amazing staff he has, all accomplished, active local musicians.  They include store manager Chris Mazur, Don Pharaoh, and Noah Drew, along with guitar teachers Bob Keefe, John Noland, Noah Drew, Jeff Howell.
He is proud of the store's tradition, but wants to make his own mark in its next phase of history.  He hopes to have occasional live music in the store, and wants to expand the store's recording equipment and electronic music line.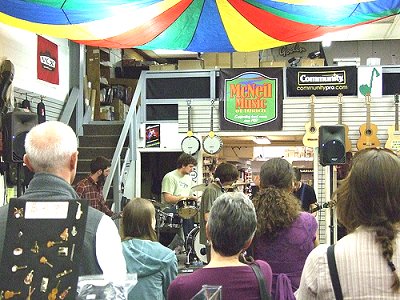 New Neighbors (formerly known as IY) plays at the
April 17th Grand Reopening
"We have the biggest drum department," he says.  "We have more pianos than anybody in town.  We have great guitars and great amps.  That's the meat and potatoes of the business.  I have always been very interested in electronic music, and I'm a DJ, and I also do a lot of home recording.  So one of the areas that we're going to be expanding is home recording.  And it's something I can bring to the store.  Don't got the drums, Noah's got the guitars, Chris has everything!"
Laine finds time to continue playing, and he says he sometimes has to remind himself that it's OK to come out of the office some time and just enjoy music. 
"Whenever there is a dull moment here at the store I can just pick a guitar up off of the wall and start playing," he says.  "I can plug into some beautiful amp that I've admired for years and never had access to.  I have to keep reminding myself that I don't always have to be in the office crunching numbers.  I can go down and start programming a synthesizer and get an interesting groove going.  And then maybe (Employee and local drummer Don Pharoah) will jump up on the kit and join in.  That's the greatest thrill, to just be part of the music scene again, this time not as a band member, but as someone who is supporting those bands."
----
v5i17