While specializing in Web site design, the company has evolved into a marketing firm that builds a corporate identity for it's clients using whatever medium is appropriate. "The thing that unifies all of these technologies that we're working with is the sense and the business of marketing and helping our clients form a strong brand and identity," says the company's founder and President Christopher DelCollo.
DelCollo began the company almost without meaning to.  "I never woke up one day and said, 'OK, today it's going to be a business,'" he says.  "It just naturally evolved all the way into what it is today."  Majoring in video production and communications and minoring in religious studies, he used "Ancient Wisdom" as a signature for films he made.  After college he became interested Web design as a hobby.  Some acquaintances wanted portfolio sites where they could display and sell art work, so DelCollo built a few for them.  "It really took off from there when I realized that I could actually make some decent money doing what I thought was just an interesting hobby," he says.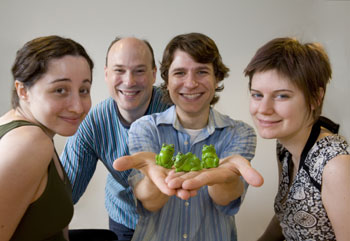 (Left to right) Molly Oakley, Bryan Bates,
Christopher DelCollo, Vanessa Wood.
(Picture courtesy of Ancient Wisdom Productions)
After working freelance for some time he took a job at Cornell in the Office of Distance Learning for what he calls a "resting stage" of the business.  He worked there through what he calls a tumultuous transition from Office of Distance Learning to what is now eCornell, a for-profit on-line classroom company.  DelCollo liked the collaborative nature of the job, but wanted to find a way to have that in a calmer, creative atmosphere.
So he enrolled in the Alternatives Credit Union's Business CENTS class, got funding from them and rented an office on the Commons.  In the Fall of 2004 Bryan Bates came in to the picture.  Bates had a competing company called Digital Flash that did the same kind of work and had actually bid against Ancient Wisdom on projects.  His partner had just left, leaving Bates to decide what direction he wanted to go in.  "I had a number of options, one of which would have been to find another partner, to hire someone to do programming...  What I knew I didn't want to do was to do the whole deal myself."
He approached DelCollo with a proposition to merge their companies.  "We were friendly competitors," DelCollo says.   "I was very, very admiring of what Digital Flash was doing."  The idea of working with someone who was doing the same kind of work at the same level was enticing to DelCollo and Bates alike.  "It really felt very serendipitous," Bates says.  "It was the right time, the right moment, the right people. I think one of Chip's real strengths is being something of a visionary."  DelCollo  adds, "On the flip side of that one of Bryan's great strengths is keeping that vision focussed and reigning it back in a way that has that longevity built into it.  That's where our business sense balances out and it is why we've been able to come so far so quickly.
So the company doubled in size.  Six months later it doubled again when the pair hired Molly Oakley and Vanessa Wood as productions assistants.  Oakley started as an intern, but the more she learned the more valuable she became to the company.  With a background in digital manipulation she quickly learned HTML and CSS, Web programming and formatting languages. "Molly is our queen of CSS right now," DelCollo says.  Whenever we have CSS problems we now go to Molly."  Wood  is an illustrator and animator who recently created animations for the Ithaca Festival Web site.  She also answers the phone at the company.  Now, about a year since Bates joined Ancient Wisdom, it is about to nearly double again with three new positions the company hopes to fill by summer's end.
The company specializes in a personalized approach that makes each Web site unique and integrated with their clients' businesses.  "Clients are coming to us because they know that we're extremely Web savvy and we know how to take advantage of the Web and give our clients the best opportunities to leverage it as a marketing tool," DelCollo  explains.  "To help them figure out how the Web fits into their marketing plan, or help them develop a marketing plan that has Web as a strong component, but also give support with other collateral media."
They have also developed more generalized products.  Perhaps the best known is the Ithaca Directory, an interactive compendium of all things Ithaca where visitors not only learn about the area, but can rate and review companies, restaurants and anything that is listed there.  That speaks to the company's intention to be integrated into the community, which manifests itself in many ways from being located on the Ithaca Commons to serving largely local clients.
"The Big Blue Door" is for realtors who want an inexpensive entry onto the Web with a simple to use control panel that allows them to list homes and control the content of their site without having to know Web programming.  "We're billing it as do-it-yourself Web sites for agents and agencies," DelCollo says.  The company plans to launch the service nationally, and then to develop versions of it for bands and artists.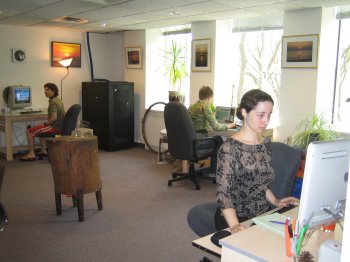 This summer the company is taking advantage of a State grant being offered to New York wineries to update their Web sites.  They are letting wineries know about the grant and are offering a package to do the work for them.
DelCollo says the company has evolved into a three-pronged organization.  The first is everything to do with the Web including Web design, programming, and marketing.  Second is graphic design both on the Web and off, including brochures, business cards, stickers, multimedia presentations, product demos, kiosks, and so on.  The third is the video and audio work including music composition, motion graphics, encoding video for Web, video editing and production.
"We hear from our clients, 'I've looked through your portfolio and all of the sites that you built are so unique, and they really take on the personality of the business that you worked for,'" he says.  "I think that comes out of the collaborative design process that we've developed.  Really getting to know our clients and forming that personal relationship where we really care how they look.  And we want to make them look as good as they possibly can look."
----
v2i27
As you walk into the ample third floor office suite you immediately feel the energy. The atmosphere is professional, yet casual -- serious about the work in a casual environment. The sun comes through large windows into an attractive work space with green plants and pictures on the walls. Work stations are placed at the perimeter and design work is being done at two of them. Frog figures are found everywhere, echoing the red frog company logo.  This is the home of Ancient Wisdom, a communications company that specializes in Web site design.