Shattuck and his wife Gina opened
Anticipation Antiques
in a small Lansing shop a year ago.  Both have full time jobs, Gina at BOCES and Bud for the county in the Workforce Development.  On top of that Bud serves as Deputy Supervisor for the Town of Lansing.  The couple opened the shop planning for an eventual retirement business.  "Both of us have been collectors off and on," Shattuck says.  Certainly I started as a child with baseball cards and did that right up to the '80's at a pretty high level selling a very large collection."
He still collects baseball cards, while Gina is more interested in glass and pottery.  "I think as we get older, first our grandparents and then, in each of our cases, our fathers have passed away and you get family heirlooms," Shattuck says.  "You pick one thing out or in some cases no one wants this so what do you want to do with it, well I'll store it or I really want that if anything happens and we end up with things.  We start to understand the value of what some people call antiques.  We call them part of our family history."
The couple plans to move their shop from Drake Road to a new location next to their house on Peruville Road within the next several months.  "What became more apparent to us was that it wasn't working as well as we thought.  The shop part and the sales part were working, but this puts me here on weekends and Gina home on weekends, and that makes it like working seven days a week."  The Shattucks say the move will bring them closer to their kids and each other on weekends when the shop is open.
With full time jobs and busy schedules they want to keep the shop to a manageable scale.  While they could fit more into the space or build a bigger space to hold more, they prefer to have fewer items that have real value to people who shop there.  That influences the purchases they make, because they have to consider price as well as how salable each item is.  "Gina keeps me well grounded in what I do," says Shattuck.  "When I see something and my eyes get real big, she asks, 'how long are we going to have it on display and where is it going to fit into our shop?'  Our shop is probably the smallest around.  You don't find too many shops smaller than this, and we like to be organized."
You can see that clearly.  Items are displayed in an uncluttered way, with each one seemingly in its own special place.  Each piece becomes more important because there are fewer of them.  The couple likes to research the items and share a little bit of history with their customers.  And often the customers know something about the pieces they are looking at.  When they don't find what they're looking for they often leave a phone number so that the Shattucks can try to find it for them.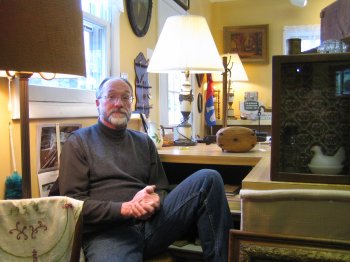 Bud Shattuck
Gina takes on the accounting and business responsibilities, while Bud does much of the shopping.  "We always started out with stuff we liked," he says.  "I do most of the buying, and I buy what I like, things that catch my eye.  But I also have enough sense to buy things that are saleable."  They perform free appraisals, giving as much information as possible on the items they evaluate.  And Shattuck says their sales are fun.  He says their one year anniversary sale in September was very successful, and a current sale will run through Christmas.
With a year under their belt, Bud is working on a business plan for next year, adapting their original one to take advantage of what they have learned.  He says he'll look at what sold, what didn't, and what months were good and which ones weren't.  He hopes to use the shop's Web site more effectively, and says that with the availability of a wireless Internet connection in the new shop he may increase their eBay presence.
"For the average person who collects antiques or thinks about it they do two things," Shattuck says.  "One is that it is important for them to know value, to know how this fits in with what they have.  It is also important for them to collect things that they remember.  So customers who come in here are anywhere from 80 to 8, and they remember things differently.  People in their 50's and  '40's remember the 50-60's period.  Our grandparents still had things from the depression era so we remember a lot of those things, and our parents of course were in that first of the modernism thing."  
And when they come to the shop there is an air of anticipation that they will find these memories.  Many times they do.
----
v2i44
Some people are looking for a bit of history.  Others want a piece to match something they already have.  "The average person who collects antiques or thinks about it does two things," says Bud Shattuck.  "One is that it is important for them to know value, to know how this fits in with what they have.  And it is also important for them to collect things that they remember."