As Spring approaches people are starting to think what they will do if the weather ever warms up, and one of those things is their car stereos.  Lansing businessman Mark Osterman says his stereo installation work really picks up during the summer months.  Osterman owns
Audio To Go
, located in North Lansing, and specializing in installing audio systems, remote starters, security systems, and emergency vehicle equipment.
Osterman opened his Lansing business in 1998 after more than a decade of previous experience installing electronics into vehicles in Virginia, North Carolina, and Ithaca.  He stocks new and used equipment, and promises the highest quality of work for the most reasonable price.   "I install all mobile electronics," he says.  "Anything that lights up or makes noise.  It ranges from audio systems to remote starters, automotive security systems to emergency vehicles, and everything in between."
Audio To Go has taken over Osterman's garage where you might find him working on a customized stereo system in an SUV one day, or radio equipment in police cars the next.  He takes pride in making every installation look professional, as if it were factory installed.  "I treat every job as importantly as the one before," he says.  "It's hard for me to say, 'He said he didn't care how it looked,' and lower my standards.  The only way you can be the best at what you do is to sweat the little details.  Otherwise you're just another guy putting radios in."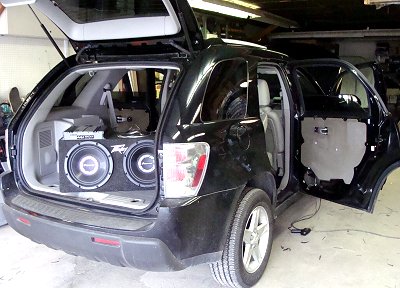 The mom who owns this vehicle is willing to give up
storage space for better sound quality
He also loves working for himself.  "I never thought you could make a living at this when I was in high school," he says.  "But I can make a living.  I'm not getting rich, but I'm not working for somebody else.  I guess that's the end goal."
Osterman says that new technology is always good for business, and he has seen many changes since he started.  "I can remember when the first CD player we got came in," he says.  "It was a $1,000 player and it destroyed the CD that we loaded into it.  Then we went through mini-disks and that never caught on.  Now the iPod has done more for this industry because it has changed what the manufacturers have to make.  They're making radios with iPod cables on them, and a lot of the car manufacturers are offering auxiliary ports.  People don't want CD changers any more.  You won't find CDs in most of the cars you work on any more, because people just use their iPods."
Other installations are unusual, like an alarm system on one man's vehicle that included a magnetic switch on a dog crate, which involved a different kind of woofer.  He has installed hands free cell phone kits in a fleet of fuel oil delivery trucks, and he says that remote starters are very popular in this area, because people want to get into a warm car.  His work on emergency vehicles raises the bar for quality installations.
"That adds an extra level of excitement to it," he says.  "It's important enough that people's car radio stays on while they drive down the road.  But if the lights shut off on a police car and he thinks they're on and he comes to an intersection where he is expecting everybody to stop, people can die.  It's that serious.  I treat those jobs that much more importantly because they have to be 100%."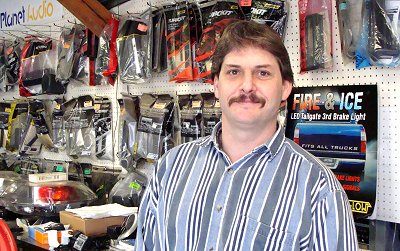 Mark Osterman
A Virginia native, Osterman installed radios for his high school buddies as a hobby.  While he liked the work, he didn't think you could make a living at it, and planned to become a Virginia State Trooper.  In his second semester of law enforcement classes he discovered that algebra was required.  " I was fine until they started throwing algebra at me," he recalls.  "Algebra does not work in my head.  I decided that if algebra was a requirement, then I couldn't be a state trooper."
Around that time he saw an ad for a stereo installer.  He got the job, and after a short training period he found himself enjoying the work that came easily to him.  In the late 1980s he followed a girlfriend to Charlotte, North Carolina.  While that relationship didn't work out, two very good things did: he met his future wife Doreen there, and he got to work in shops during a boom in installation.
"The shops there were crazy wide open, so you could do anything you ever wanted to do," he recalls.  "The money was unlimited.  You were working on famous athletes' cars so you got to do things you wouldn't get to do in a regular small town shop.  We used to install woofers into the whole bed of a pickup truck -- 18 inch speakers in the back and ten batteries.  Our company van had 48 speakers and 6,000 watts of power in it.  It was insane."
When the couple married they decided Charlotte was a great town for singles, but they wanted someplace more conducive to raising a family.  They moved back to Osterman's home town of  Charlottesville where he got a job at Crutchfield, the large electronics catalog company.  He worked his way up the ladder, becoming their automotive research specialist.
But Doreen was homesick.  A Lansing native, she missed her family.  "I figured she tried Virginia for five years so I'll give where she's from a try," Osterman says.  "Other than the weather that stays colder than it should for longer than it should, I like everything about this place.  I really like the people.  They're straightforward and as long as you treat them well and you are honest with them, people are very easy to deal with here.  That wasn't always the way at other shops I worked at."
When the couple moved north Osterman decided to open his own shop.  He worked at an Ithaca shop just long enough to qualify for a mortgage, then Audio To Go was born.  Eleven years later the business is going strong.  He says that when things get busy he'd love to have help, but claims he would be a terrible boss because his standards are too high.  He plans to continue as a one-man company, though he says he wishes his kids were more interested in the business.
"As long as I've been doing this I still really enjoy it," Osterman says.  "I can't think of a lot of jobs where after you've worked there for over 20 years doing the same kind of thing, there's still much excitement, because you've done it all.  I've done this a million times.  How can I possibly be excited about it?  But I am.  Every customer is like a puzzle or a goal.  If you can make every one of them happy it's like another notch in your belt.  It's another customer that you've turned into a friend instead of just someone that gives you money for doing work."
----
v5i11