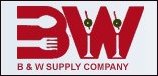 Some companies try to guilt you into spending more for green products.  But what if you could get products that are just as good or better, cost the same, and are good for the planet?  That is exactly what you can do at Ithaca's
B&W Supply
, which recently began promoting a line of biodegradable dinnerware.  "Our customers were asking for it," says sales manager Anita Burdick.  "They like to have biodegradable products, but they also want to make sure it's cost effective.  They would love to save the environment but they are going to spend $50 more for a case of silverware versus something else, especially if you are in the restaurant industry or the food industry or a vendor?  Markets are tight to start with."
Plastic-like silverware that's made of potatoes, clear plastic-like cups and drinking straws made of corn, and paper plates and bowls made of sugarcane are all compostable, and break down quickly when properly disposed of.  But the remarkable thing is that unless you knew these products were made of plants, you would think they are better quality paper and plastic dinnerware.
Plates made of sugarcane look and feel like heavy-duty paper plates -- the kind you do not need to double up at a barbecue.  They are made of sugar cane stalks that used to be burned after the sugar was extracted.  So not only are they made of a renewable resource, but they don't deplete the food supply because the part of the resource they are made from was discarded anyway.  "These plates I personally use for barbecues," Burdick says.  "They are very grease resistant, they are very heavy duty, and they will hold hot and hold cold.  With this product, we carry the plates, the bowls, and the to-go containers."
While part of helping the environment is using renewable products that break down quickly and safely, another part is disposing of them in a way that maximizes their effectiveness.  Burdick says that just breaking a potato fork or spoon  before putting it in your compost makes it biodegrade faster.  Some products will break down as quickly as 45 days.  So on top of selling the products she is reaching out to customers and the community to show how best to use them.  She says she is working with the Tompkins County Solid Waste Division on a public awareness day event where she can introduce the biodegradable products.
"We have customers coming in here and they buy the biodegradable products," she says.  "They can buy them by the case or sleeve, and they feel good about themselves.  But the main thing we're trying to teach our customers is if they don't dispose of it correctly, you may have the feeling of being good, but you're still not helping the environment."
She says that actually helping the environment is something B&W cares about, as well as something their customers can use to attract their own customers.  But she says the food industry has to be as cost effective as any other industry, so price is important.  "This product has probably been on the market I would say five or six years, seven years," she says.  "It has finally gotten to the point where it's cost effective, and that's why we decided to bring it in."
Burdick says B&W Supply previously carried some biodegradable products, but they wanted to find a supplier with a full line of the products customers have been asking for as well as others that B&W can offer later as demand grows.  "We tried to find one company that could supply 98% of what our needs are," she explains.  "The products that we have available are not the only products this company makes.  This is what we are going to start with.  Once we get requests or demands for additional products, we will try to bring it in and take care of the customer."
Burdick says that the recycled paper and corn products from her Colorado supplier that were used last year saved 1837 trees, enough energy to power an average household for 9 years, 60,000 gallons of oil (enough to drive around the world 48 times), and prevented 6,484 pounds of ozone depleting greenhouse gasses from being formed.  She says that B&W will continue carrying traditional products, but she thinks they will be gradually replaced by the biodegradable ones as customers see that the quality is the same or better for a comparable price.  She explains that  B&W buys from them in bulk to save shipping costs, which also helps keep the price down.
The corn-based 'plastic' cups look and feel like plastic, and have been designed so that one lid fits all five cup sizes.  They can even be custom-printed, and Burdick is carrying some labeled 'Compostable' because people like to see that they are using green products. While corn-based products are sensitive to heat, 'paper' plates made of sugar cane and forks, knives and spoons made of potatoes can be used with hot or cold foods.  The plates are heavy duty, and look no different than actual paper plates.  The cutlery feels stronger and less brittle than their plastic counterparts.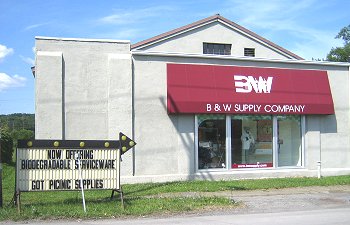 Burdick says that while the company sells equipment to restaurants and institutions, B&W also maintains a retail store.  She notes that the store's proximity to the Ithaca Farmer's Market brings retail business on Saturdays.  "There's the commercial aspect where people do bidding and we bid on public projects, schools, universities, colleges, that kind of thing," she explains.  "We go all over New York State and parts of Pennsylvania doing that.  We have an actual installation crew.  Then we have another second group of people where they would work with new restaurants opening, restaurants adding on a new dining room or wanting a new range something like that.  Then we have a retail store."
"A basic residential customer, I don't want them to come in and be afraid to buy a sleeve of plates," she says.  "Especially in the summer, you will use them.  It's more economical than going to down to Wegman's or P&C and buying the Chinette stuff, because I feel this is equal to Chinette.  It's more economical and better for the environment as long as you dispose of it properly."
That sums it up: economical, good quality, and better for the environment.  No guilt required.
----
v3i28