Once a business owner has built a firm to a certain level it's time for a Chief Financial Officer to keep the books in shape and work on long and short term planning that will help the business grow.  It may be a leap for smaller businesses to take on a full time executive until it has actually grown substantially.  But having someone serve that function may be the best step for growing the business to the next level.  That's where Rick Hendrick comes in.  Hendrick works with businesses as a part-time CFO on well defined, realizable goals to grow businesses and put them on a more secure financial footing.
"My partners and I provide financial clarity for business owners,"  he says.  "The three things I do for the technology companies is help them be ready for venture capital funding, helping them with their infrastructure, and helping them get ready for government grant programs.  The other piece of my practice are business owners that are not technology companies, more traditional companies like a contractor I work with."
Hendrick is a partner in a national firm called
B2B CFO
.  The company boasts more than 5,000 combined years of senior-level CFO experience, so when you hire Hendrick you are getting the benefit of the other 195 partners as well.  The partnership allows him to draw on the specific experience a client needs, as well as his partner's contacts.
Working with Hendrick is a three step process.  The first is an analysis of whether he will be a good fit for a client company. 
"One of the things that I look for in a client that's a particularly good fit for me is a business owner whose focus is on the long term value of their business," he says.  "Somebody who isn't focussed on next month, but instead is looking to how they can make the business much better for their family and their employees three, five, six years in the future."
If that pans out he develops a menu of five to ten items he can work with a company to achieve.  The business owner choses a few items from that menu and he works on an hourly basis to specify the goal and the steps needed to achieve it within a defined time period, and to take tangible steps to achieve it.
With that history of being successful together the third step is to work with the business owner to discuss what they could achieve together for the business in the long term.  That results in a more permanent part-time relationship where he works at the business as CFO from about four hours per month to as many as 12 hours per week depending on the client's needs.
"It's fun," Hendrick says.  "I thoroughly enjoy what I do.  I love the challenge of making teams work better.  When working with smaller companies what were really doing is reorganizing the team effort and understanding which direction the business should go in, and how to get from here to there.  Its an interesting puzzle because it's not an academic exercise.  It's all wrapped up in people working together, identifying and anticipating obstacles and adjusting the plan."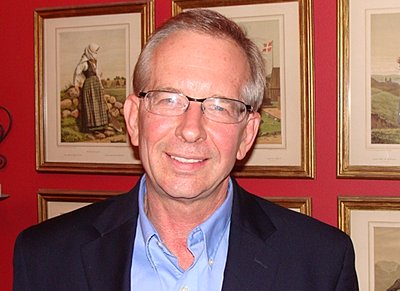 Hendrick is a native of suburban Philadelphia.  He went to Dickinson College near Harrisburg to study economics.  Eventually he earned an MBA at Temple University and took courses at the University of Houston.  He began his career working for U.S. Steel and was transferred to Houston to work at a petrochemical plant startup.  He then accepted a position in financial management with Baker Hughes, which kept him in Houston for 20 years.
He left Baker Hughes to join as the corporate controller for a $400 million venture capital funded turnaround, then to Elmira to become Corporate Controller, then Vice President and Treasurer at Hardinge.  About four years ago he came to Ithaca to become interim CFO for a business Cayuga Venture Fund had invested in.
"It's certainly a big change from being in large corporations," he says.  "What I do now is much more entrepreneurial.  It's certainly much more results-oriented than working at three billion dollar Baker Hughes or three hundred million dollar Hardinge."
As he worked on that assignment he was approached about other companies that needed similar help.  He met with the client and suggested a win-win, changing their relationship from full time to long-term part time.  That allowed him to work with other clients as well.  After working by himself for a while he realized he was spending too much time learning things his clients needed.  So he looked for a solution that would give him access to other consultants' experience so he wouldn't be constantly 'reinventing the wheel'.  He started by researching how he could create such a firm, but when he found B2B CFO two and a half years ago it fit the bill.
"Because they had such a large scale they could offer much more in resources for me, and therefore value that I can give my clients," he says.  "It makes us more effective in helping clients who are in a variety of industries and have a wide variety of challenges."
Hendrick says the key to doing that is taking a good idea and finding the best way to make it real.  The partners act as resources for each other.  With a wide net of experience, they help each other when a local client needs to do something a partner hasn't done before.  Hendrick says that part of his job is fun, because he expands his own experience while leveraging the experience and contacts of his partners.
"My partners and I have an expression: there are two kinds of plans.  On the one hand there's a wish, a daydream," Hendrick says.  "On the other hand there's an actionable plan.  The difference between a daydream and a plan is that it's Specific, Measurable, Agreed, Realistic, and Timed (SMART).  I live that.  My corporate experience with Baker Hughes, MMI, and with Hardinge, taught me that the trick isn't in having a great plan or in making a clever acquisition.  It's in following through on the work to execute that plan.  I enjoy the challenge of making things happen better."
v7i31