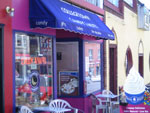 "If it's not fun, it's not worth doing," says Carolyn Greenwald.  And she is definitely having fun as the owner of
Collegetown Candy & Nuts
on Dryden Road just east of College Ave.  The shop specializes in choose-your-own candy and gift baskets, and caters to the Cornell crowd.
A Cornell graduate, Greenwald worked as an anti-trust litigator in a large law firm in New York City for two years.  When she and her husband to be Adam Schaye decided to move back here she landed a job at the Harris Beech firm within three weeks.  But being a litigator in Ithaca wasn't as exciting as it is in New York City.  "I wanted to own my own business and then I turned 30 and 9/11 happened," she recalls.  "It was both of those things.  My job was boring.  I didn't have enough work.  I said I was going to open a candy store, and enough people rolled their eyes at me that I did it."
She had her eye on a little storefront she passed every day on her way to work out and opened there in January of 2002.  "I opened a little business and immediately realized the store that I was in was too small to be a candy store," she says.  "So we moved next door.  We've been here since last July, and it's a lot of fun."
A mother with one child and another due literally any minute, Greenwald loves being in business for herself.  "In terms of full time lifestyle, I've never liked to get dressed up, I don't like heels and I can't stand stockings," she says.  "I could never go back to getting dressed up."  She brings her toddler son Nathan to the store every day.  "He's the friendliest kid you will ever meet," she says.  "He smiles and says hi to every single person, I think because he grew up here."  He must pick some of that up from his mother, whose enthusiasm for the business and lifestyle bubbles over.  
The store has almost a dozen employees including full time Manager Ken Harrington-Colon and many who work part time.  She took the Alternatives Credit Union class after opening the store to help understand accounting.  Now she uses Rich Parker at Ithaca Payroll.  "He's really helpful not just in terms of payroll, but he's also an accountant," she says.
Greenwald goes to conventions to find new products, but gets a lot of her best ideas from customers.  She keeps a suggestion box on a counter up front, and takes the suggestions seriously.  "For example, I had never heard of chocolate covered gummi bears before I opened the store," she says.  "Most people would that find scandalous, because how can you have a candy store without chocolate covered gummi bears?  Well, they're probably the best selling candy that we have.  We sell pounds and pounds a week."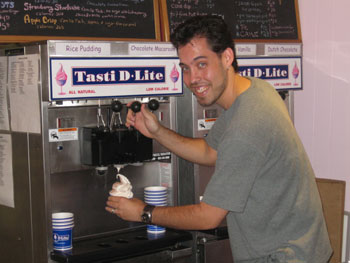 Ken Harrington-Colon serves a Tasti D-lite
Another big seller is
Tasti D-lite
, a low fat soft serve product that is very popular in New York City.  "The first day we opened everybody was waiting for us.  I mean they were hounding us from the door.  'Is it ready?  Is it ready?'  The shop has chocolate and vanilla every day, and two special 'flavors of the day,'  which they post on a monthly calendar on the shop's Web site.  "Most people like to have colored sprinkles on their Tasti D-lite -- it just goes in some peoples' minds," she says.  "But we have all sorts of different toppings."  They also make milk shakes and fresh fruit smoothies with Tasti D-lite.  She is planning a big smoothie tasting for students at the beginning of the fall semester. 
Greenwald is all about quality, and says having high standards pays off.  She doesn't skimp on price to bring the best tasting candies to her store.  And when she sells a product like Tasti D-lite she makes sure it is done right.  "We follow their formula religiously," she explains.  "And I've had people drive down from Syracuse, which has a Tasti D-lite store, for ours.  They say we make it like Tasti D-lite."
Now she is adding a
Gimme Coffee
counter to her store, and she is applying her Tasti D-lite experience to that.  "I learned a lesson from that," she says.  "So with the Gimme Coffee I wanted to do the same thing.  We don't just serve a cup of coffee -- we serve a Gimme cup of coffee.  So we're working very closely with Gimme to get our water filter set up properly and everyone properly trained so you can get here what you can get there."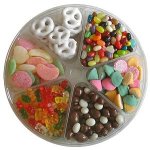 Greenwald also sells from her Web site, where the most popular item is the "Create Your Own 2lb Tray."  The tray has six sections, and customers choose a type of candy or nut to fill each one.  She also sells gift baskets, which she tries to make specially for the recipient, using gummi bears for the college crowd and dark chocolate and nuts for older customers.
Surprisingly she isn't overly tempted by the products she sells.  "I eat candy, but I don't always see it -- it's inventory to me," she says.  "Every time my husband comes home he says, 'Did you bring me anything from the store?'  But if he doesn't ask me specifically it doesn't even occur to me that I am surrounded by chocolate, which is one of his favorite foods."  But she makes gift trays to bring to friends.  "And then when I'm at their house I'll eat it!"
Greenwald loves the challenges she faces running a business.  "I used to say the Billy Joel line in my head that, 'The things I did not know at first I learned by doing twice.'  It's true.  In terms of advertising you don't know what's going to work until you do it.  You try a new candy and it flies off the shelf or it sits there all day.  You adjust accordingly, and that's fun."  She has tentative plans to open a second location in downtown Ithaca next Spring.  "We'll have to reconceptualize the store," she says, noting that will be a different market.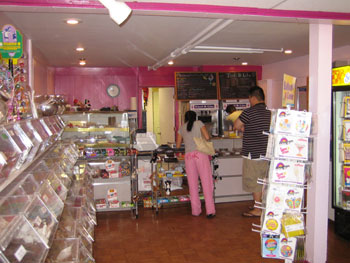 Greenwald says she could make more money as a lawyer, but that's not why she does it.  "I really like this better," she says.  "It's more fun and I love having happy customers.  Our store motto is to provide a tasty treat in a clean, fun, and friendly environment.  And that's what we do."
----
v2i31