Clear The Way Organizing
.  "Robin said she thought about running an organizing business," says Story.  "She had watched 'Mission: Organization and Cleansweep' and gee, that would be a fun, easy thing to do."
Not so easy for many people, but with Dubovi's background as a social worker and Story's experience as an educator and journalist, working with people to help set priorities and clear away the clutter of life seemed a natural fit.  "What Robin and I have in common is that we are compassionate and interested in making life easier and better quality for anybody we work with," Story says.  "That was the underlying goal."
The two have relocated a combined total of 17 times, so they have personal experience with the challenges that come with moving.  But that is only one part of what they do.  Home organization, clutter management and downsizing fill out the list of services they offer.  Jobs can be as large as organizing a home, or as small as organizing a desk.
Both women stress respect and privacy for their clients.  "We operate on the strict confidentiality," Story says.  "People are often ashamed, and they hesitate to call and they think we are judging," Dubovi notes.  "It is a freeing process, and while it is challenging to get through, it can also be fun."  She says that getting rid of the clutter helps make the remaining items more important.
"I think that personal organizing allows new energy into one's own life," Story adds.  Having the energy to do new things and open up new possibilities and not feel stuck, doesn't mean you disrespect the past.  You can still honor and cherish the past."
"The process of making the decision that I can do without this item and that it may be of value to someone else who could use this, getting it out to a yard sale or whatever can be so empowering and gets the momentum rolling," she continues.  "It frees up the possibility of thinking about other things so that they are defining in their life what they do want and the things that are not essential to what they do want can start moving, and they always find that so amazing."
The partners met through their husbands, who work together.  Story had followed her husband as his job required several moves, so it was natural that she was thinking about organizing and prioritizing that goes on whenever you relocate.  As a social worker Dubovi saw families struggling to create a decent atmosphere for themselves.  "Part of my interest was in the recycling of other items from people who no longer needed them," she says.  "Or getting them into the hands of people who would really need them."
Both are organized, but neither claims to be perfect in that regard.  "In many ways I am, but in some ways I am still learning and overcoming challenges," Story says.  "My mother was so organized that I spent my adolescent years being resistant to that," admits Dubovi.  "There isn't a formula, so we are very customizing and individualizing in our solutions because that is the background we both come from."
'Give a man a fish and he will eat for a day.  Teach a man to fish and he will eat for a lifetime.'  The philosophy expressed in that old Chinese proverb is similar to the approach Dubovi and Story take.  They work with clients to enact clutter prevention strategies, and to better handle daily tasks.  Along with reducing clutter, they seek to reduce stress.  They consider their work to be a teaching process, and while they do some of the physical work of organizing, they also offer multiple solutions to help people become more organized in their lives and work.  They even offer refresher packages to clients who want ongoing mentoring.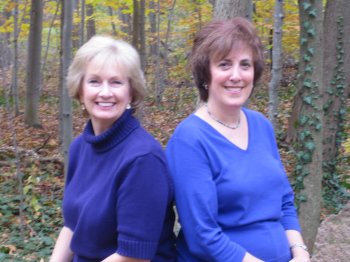 Linda Story and Robin Dubovi
In addition to home and office visits, the pair are also starting to offer a phone service, where clients can call on the phone after sending pictures of areas they need organized.  They also offers workshops.  They regularly conduct a four-part workshop called 'Getting Organized,' with topics like 'When Clutter Messes with Your Priorities,' 'Closets are Here to Help, not Horrify.'  
In October they conducted a workshop at a women's wellness day called 'Women Wise' for seven local businesses.  "It was a lovely day and we had a great caterer," Dubovi says.  "A vineyard came in and did some wine tasting and it made the whole thing a lovely event.  Juggling all that stuff between work, and home, and children tends to be a stressor more for women than it does for men.  So this was nice because it brought in financial planning and organizing and fitness and nutrition and spa events."
When they conduct home visits they work as a team.  They say that organizing is a way of caring for oneself, and they are very careful to be nonjudgmental.  "People are often ashamed, and they hesitate to call," says Dubovi.  "It is a freeing process, and while it is challenging to get through, it can also be fun."
Story says people are surprised when they realize that 'fun' element.  "We always hear that comment, 'we would never have thought, or that's so amazing,'" she says.  "They are so expressive when that breaks free and the system opens up a little bit, it's so exciting.  It's very liberating."
----
v2i45
Most people call a plumber when their pipes break.  Or an electrician when they need new wiring.  So it only makes sense to call professional organizers when you need help streamlining.  That's what Linda Story and Robin Dubovi thought when they started their business,