After nearly seven years
Cayuga Lake Seido Karate
has its own space in the retail building that was the old Lansing fire station on Ridge Road.  With its own dojo run by Kyoshi Robin McColley and Kyoshi Gail Lajoie, the business offers new programs including private lessons, additional classes, birthday parties and kickboxing.
"We're trying to make this a place where people can find what they are looking for," McColley says.  "If you want traditional martial arts you will enroll in the Seido Juku classes.  If you want a cardio-vascular workout you can enroll in the kickboxing class."
The pair has taught karate in Lansing since 2006 in borrowed spaces ranging from the elementary school gym to the community center to Myers Park, and even in the water in Cayuga Lake.  Now they have a 2200 square foot facility at which they can offer more instruction, store equipment and at which students can practice in off hours.
The kyoshis say that having their own space allows them to host events more spontaneously.  It also allows for more classes.  McColley teaches a peewee program for four and five year olds at the same time Lajoie trains six through eight year olds.  The sessions include meditation lectures with a moral lesson attached to each one.  Debbie Bosanko, a certified kickboxing instructor, also runs a kickboxing program now.
"We've tried to provide community opportunities for our students," McColley says.  "We have our holiday party here now.  And we offer a parent's night out.  They drop their children here and they get to go out and have a date with their spouse while their kids take a karate lesson.  We feed them and show a movie.  It's a place where people can come and talk to each other."
After two months McColley and Lajoie love having their own space.  Students were as excited, manifesting itself in their cleaning, donating things, and one who built the shinzen cabinet.  The shinzen area is the ceremonial center of the dojo.  Grand Master Kaicho Tadashi Nakamura gave them the framed calligraphy with three characters meaning 'Seido Juku' in 2011 when he came to Lansing to help them celebrate their 5th anniversary.  He plans to return for their grand opening in March.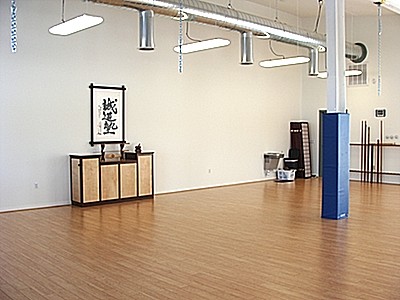 The main practice area is surrounded by a seating section for parents or friends to watch practice sessions, and a check-in counter at the front and restrooms, an office/kitchenette, and a matted area for warmups at the rear.  Chains hang from the ceiling of the large wooden-floored space to hold large punching/kicking bags. 
Lajoie stresses that individual focus is more important than physical prowess.  She says the idea of Seido Juko is that it is for everyone and everyone makes it their own through forming a relationship with your teacher and with yourself.
"A lot of people think that studying karate or some other martial art is really about the physical," she explains.  "I'll get a good workout, learn self defense, get fit and strong... if it were just about that I think we would have about ten students who were 20 years old and very well built.  But it's about so much more than that.  It's about everyone finding their own center."
Lajoie is a Cape Cod native and McColley is from Long Island.  They became friends while playing on a softball team together before they began studying karate.  They studied at a local dojo where they became assistant instructors before they started their own program.  They have both studied karate for 20 years.
McColley thought about joining a friend at an Aikido Karate class for a long time.  It was two years before she actually went, and when she did she was hooked.
"I never stopped," she says.  "There was something about it that was so fascinating and intriguing and challenging to me that I just kept training."
Lajoie had gone to watch the class at which McColley was awarded her first belt for her first promotion.  A short biopic of Nakamura was playing that explained the philosophy of Seido Karate caught her attention.
"It took me completely by surprise," she says.  "It enraptured me.  Two days later I joined and I haven't stopped since."
Both earned their black belts and were apprentice teachers in 1996.  In 2003 they started thinking about starting their own program.  In September of 2005 McColley began teaching Karate at Trumansburg High School.  Her 24-student class is part of the physical education program, and she also teaches an after school program that currently has 25 students.    Nobody knew how it would go.  Recreation Director Steve Colt hoped it would attract
Meanwhile Lansing resident Clara Barrett provided the push they needed when she suggested they contact Colt about starting a program.  On January 23rd, 2006 the program began in Lansing elementary school.  They thought they would be lucky to get a dozen or 15 kids for that first session.  23 showed up, and the program has ben going full speed ahead since then with eight-week sessions year 'round.
"We're very fortunate that we're in such a wonderful, supportive community that embraces being involved in recreation programs like this," McColley says.  "When we started we had four adults.  We had a lot of parents sitting on the sidelines watching their children.  After a session they said, 'I can do that.'  We had some children whose interests moved on to something else, but the parents have stayed.  We now have 30 adults and an overall student base of about 70 students in the Lansing program.  It's been a gift to watch both that physical transformation and the growth of their emotional strength."
McColley says they are looking for ways they can support the community that has been so supportive to them.  One way is to offer day camps on holidays when parents have to work but their children do not have school.  Recently they held a perseverance-themed day camp on Martin Luthor King Day, and two days are scheduled for the February school break with themes like 'integrity' and 'being an upstander, not a bystander'.
The school attracts students from outside of Lansing, as well, including Trumansburg, Valois, Dryden, and Interlaken.  With the new space the dojo has a combination of private students and those who register for Recreation Department sessions.  One of these sessions will be a week-long summer camp.
"We really appreciate all the support the Lansing Rec Department has given us," Lajoie says.  "Steve Colt and Pat Tyrrell have been terrific for years.  We feel strongly about maintaining a relationship with them."
The two kyoshis have day jobs, but both say they would love to work in the dojo full time some day.  McColley is Dean of Students at Trumansburg High School, and Lajoie works at the Greater Southern Tier BOCES in Elmira.
"We are both teachers by profession.  I was a music teacher in the Elmira City Schools for seven years," she says.  "I think it's natural that we always approached Karate from an instructional viewpoint.  The opportunity we had to help teach classes at our old school solidified that.  For me teaching karate is very similar to teaching karate.  there's a physical aspect, a wholeness aspect.  he constant performance assessment that goes along with it... It's really very similar so it was always very attractive to me to do that and when the opportunity came to teach in the Rec program it was the right time.  It's certainly been a great adventure."
On the business side they have implemented a computerized student management system that facilitates monthly billing and keep better track of registrations.  Students can remain enrolled through multiple sessions, rather than having to do paperwork to join a new session every eight weeks.  McColley notes that paying by the month may be more fiscally palatable than paying for two month sessions all at once, which can be onerous for a family.
McColley and Lajoie are energized by the space and the opportunities it affords.  They plan to be part of the Lansing community for the long haul.
"There are so many things about having our own space that have made life different," Lajoie says.  "When we were in the gym or the community center we had to carry everything in and out with us all the time.  Our students were great and helped us carry things, but now we have a place to put everything.  More than that it has brought a renewed sense of family and community among our students.  This space is really theirs too. It feels like home to all of us.  It's great to come to class and feel that kind of energy and their commitment and excitement."
v9i4