Owner Janet Keefe started the business when her husband Bob got a job in Ithaca in 1987.  She had worked for a promotional product distributor in Texas, and still remembers her first sale.  "My very first order in the industry back in Dallas was balloons, and I'll never forget it," she recalls.  "An order of printed balloons.  And there I launched a career. Just balloons. Twenty years later I'm still selling balloons." "I still love it, Keefe says.  "People love to buy promotional products. They're kind of viewed as executive toys. Often, when the buyer gets something new in, they're kind of the star in their office. They have a new budgy-wudgy, a new item. Everyone's so excited about it. They feel good."  Companies use the items to promote new services or products, universities use them to recruit new students at college fairs. Golf tournaments and their sponsors want golf shirts and golf related items.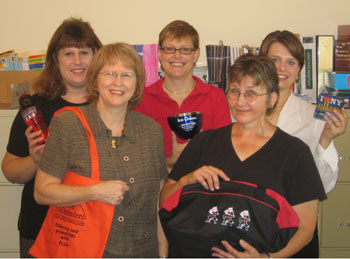 The ADminders team (left to right) Karen Austic, Janet Keefe, Mary Button, Pat Derocher, and Falon McNett
She started the business on a shoe string.  Unable to afford filing cabinets, she hung file folders on cabinet frames instead.   "It's been a running joke here that a filing Cabinet that represents growth in the ADminders," she laughs.  "We have another one coming this week. Some companies measure their growth by financial statements, we do it by file cabinets."  The company has grown to five employees, the most recent joining the company just this week.
The ADminders' first clients were Citizen's Savings Bank, and NYSEG.  Since then the client list has grown.  The company does a lot of business with Cornell, including providing on-line stores for the hotel school and other units.  "Alumni and parents all over the world who buy on our hotel school Web site," she says.  "That is a student run operation, and we host a store for them and do the fulfillment.  It is to raise money for student programs."  She says a lot of new clients are referred by current customers.  Her most distant client was in Aruba.
Keefe says customers love business items like pens, portfolios, tote bags, briefcases, travel mugs and water bottles.  "We do a lot of embroidered polo shirts, jackets and blankets."  Real working telephones shaped like a hot dog were the oddest items she has provided.  The phones were used to promote a new book in New York City.  She also provided sneaker phones for a fund raiser at Cornell.  " You wouldn't know it was a telephone until you picked it up and put it up to your ear," she says.
The company works with clients to help them choose just the right items for their promotions.  They offer some design services.  "We don't design logos, but we do take logos and information from the client and provide them with a completed visual mockup of the product before the job goes through," Keefe explains.  "That's something that we decided to teach ourselves to do and do well. I believe we are doing it better than most -- that's the feedback I'm getting from clients.  We do it more professionally, we do what we say we're going to do, we deliver on time.  Clients feel that we provide them with good ideas, value, good product."
Over the years she has been challenged by growing her business, and there have been a few bumps in the road.  The most recent one occurred a few years ago when a major client under new management, consolidated with a supplier that was serving another company they had acquired.  "There were a lot of nerve wracking weeks and months," Keefe recalls.  "But I filled the hole from that within one year, when I expected it to take two to three."  She says there is always more business than the company can handle, so the recovery came by addressing the business that they weren't able to accommodate before.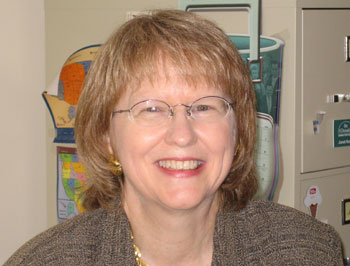 Janet Keefe
Before selling promotional items Keefe was  Director of Student Activities at the University of Texas, and was in a doctoral program for university administration.  Owning her own business was a change from that, but she hasn't looked back.  "Like every small business owner will tell you, the most difficult thing is that you wear all the hats," she says.  "You have to understand resources, staff development, hiring, firing.  You have to know marketing.  You're typically the top sales person.  The physical plant is your responsibility.  I make the top decisions and I take out the garbage.  I'm also the IT person.  Your time is split between what you feel you need to get done for your clients and the needs of the employees."
She also believes in networking and supporting the Chamber of Commerce, of which she is a past board member, as well as regional and national trade organizations.  ""Somebody has to be out there looking out for us while we run out little businesses," she says.  She also keeps up with the industry when takes her other sales manager to annual trade conventions for training and to see the new items available for her clients.  "I take a day of classes before the convention.  We always come back loaded with ideas."
Working personally and professionally from clients is what makes the ADminders stand out.  "Sometimes they know what they want, and sometimes they say, 'we have a recruitment fair coming up and we need something in the three to five dollar range to hand out, to give this kind of a message.'  I will present ten or fifteen Ideas of products that fit their budget, fit the time frame they need to get them, and the objective they want that item to serve for them. It may be something right then and there that they can use at the show, or something they can have on their desk later, or sometimes they want it to be a personal item."
She credits that attention to detail and clients' needs with her success.  "We're competitive," she says.  But that's only part of it.  She continues, "I just think we do it better."
----
v2i34
Don't you just love getting those free t-shirts with a company logo on it?  Or a tote bag, ice cream bowl, stress ball, pen knife, flashlight, pencil or pen?  Or the (now a collector's item) Lansing Star branded mouse pad?  The companies hope you will keep their giveaway and remember them when the time comes to buy their products (you didn't forget to log onto the Star, right?)  The ADminders is a Lansing business that provides promotional items their clients hope people will remember.