A native of Watkins Glen, Reimer had studied art, focusing on mixed media.  " I had a little bit of graphics, a little bit of painting, and a little bit of pottery and photography," she says.  "I did it all.  It was just fun."  But she didn't think having her own shop was possible until 2000, when her husband Nathan said, "You have a dream.  Why not do it?"  So they did.
Nathan also had a big role in naming the shop.  "I'm a big rose person and was into a lot of Victorian and shabby chic and sort of that French style and I wanted the rose in part of it," Reimer says.  "He said 'Tara' in Portuguese.  He combined Terra and Rosa and I liked that a lot.  It can have a lot of different meetings."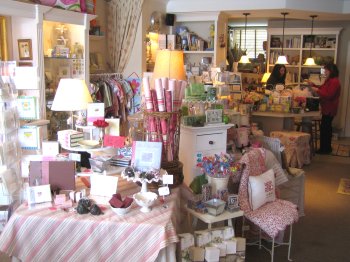 She started carrying gifts, home décor, and stationery.  But soon she was designing and printing custom stationery for clients.  "We decided to take it further and started doing that and we ended up doing event planning, wedding planning, wedding consulting as well," she says.  "So that sort of evolved and that's where we are now doing a lot of custom and design printing as well as event planning."
The shop features some of her own card designs, and her five year old son Alex also has a line of cards for sale.  "He's my little budding artist of the family," she says.  "He's done it since he was about two.  We scanned his artwork and made cards of his stuff and he has his own little customer list.  He does great."
The Community Corners location turned out to be perfect for the shop.  "We had looked into the Commons and just gearing the store for the Commons was not going to be who I really was," says Reimer.  "Not that it was a bad thing, but it would have changed us.  We do a lot of things event-wise with Heights Café so the pairing is a good combination, and we definitely have a good clientele here."
The shop has also become a part of Reimer's lifestyle.  Nathan, who works at Cornell's CIT during the week, covers the shop on Saturdays, while Alex and his two-year-old sister Ainslie are regulars with a playpen a permanent fixture near the sales counter.  "Our two little A's have been our shop keepers and the bosses," Reimer says.  "It's neat because the customers get to relate to them and they have been socialized through that and matured and experienced that.  It's exciting to bring them into it and do it as a family."
Keeping business and personal life separated is hard for Reimer.  "I rely on Nathan a lot.  I think as an artist and being a woman and being emotionally connected a lot, that's a hard thing in business.  But sometimes it's hard to make business not personal and Nathan's always telling me that because that's what they always say in business school is to not make it personal, and that's hard sometimes."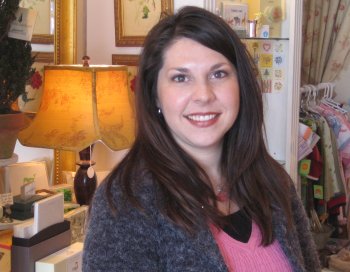 Tara Reimer
But she has managed to make that an asset.  "I think it helps because it is exciting to become friends with a client, planning or event, no matter what it is and doing another event or doing their kid's baby announcements.  Building that relationship and keeping that going is exciting too.  I think it is a good combination."
Reimer's
Web site
has also become an extension of the shop, attracting both local business and a wider clientele.  Some items are available for ordering on-line.  Indeed Reimer says that some products are better suited for Internet sales, and that frees the shop space for items that do better there.  "Websites are so important giving you a flavor," she says.  "I want people to experience the wonder.  I want people to have an experience emotionally, sensorial as they walk in, and to have that online too.  I think that's the hard thing to really portray in a website and we try to do that."
The Reimers go to a big gift show in New York City twice a year to find new items for the shop.  She also gets items for her customers from catalogs, giving her a wide variety of things she can use in the party planning side of the business.  The shop has a wedding registry, handy for out-of-town Cornell graduates who come back from as far as California to get married.  She gets a lot of referrals for wedding planning from Cornell and from the Statler, Fontainebleau, and previously from the former Rose Inn.
She began wedding planning by helping family and friends, but soon Nathan encouraged her to make it part of her business.  "So things just sort of evolved from experience in putting myself out there I guess and having fun doing it," she says.  "Then again bringing someone else's uniqueness and their wedding.  It's about a couple coming together and bringing that out in a fun way so that the guest will enjoy it and have it different from someone else's wedding, and why is it unique, why did they have fun in bringing that couple out.  It's a lot of work and it's stressful, and I am the one running around stressed so they can enjoy it."
The shop is almost an extension of Reimer, using her talents and providing a venue to do the things she loves.  "It's fun to share beautiful things with other people," she says.  "It makes me happy and makes me feel like I've succeeded when someone can come in here and be happy and leave happy and feel like they are blessing someone else.  I am blessing them and blessing the person without even knowing and that gives me joy, that makes me happiest.  Someone finding the perfect card, doesn't have to be the biggest purchase, but that one thing that someone just happened to be looking for and happen to find it and share it with somebody else is exciting."
----
v3i9
Tara Reimer had always wanted to own a gift shop.  She and a childhood friend had dreamed of having a shop.  "We'll just have stuff that we love, stuff that we have created, stuff that we always appreciated other people's art and having so much fun creating our own, and to just be able to share that with other people," Reimer recalls.  "The best way to do that was having a shop."