Tech S2
, which specializes in information technology (IT) and customizing technical solutions for real world needs.  "We have competition out there, but I think our ability to produce software quickly (gives us an edge)," says CEO Mark Wheeler.  " We're saying what do you need?  We'll build it."
Wheeler and his wife Lisa started Tech S2 in their Lansing home four years ago.  He had 22 years of experience both as a software developer and a project manager.  She took care of the financial side of the business.  At the time Wheeler says he thought it would be an IT business.  "We felt Ithaca was big enough," he says.  "We joined the Chamber (of Commerce), and we tried to make friends with some of these other ones.  Even businesses that compete help each other."
But earlier in his career, when he was working at Ensco leading projects to develop software for Lockheed Martin, he began to think about creating their own product.  While Ensco was making good money for developing the software, Lockheed Martin was making millions of dollars marketing it.  After starting Tech S2 the same thought occurred to Wheeler.  "I got a bug to develop my own product," he says.  "I didn't just want to do repairs and fixes and installs -- I wanted to do something more exciting."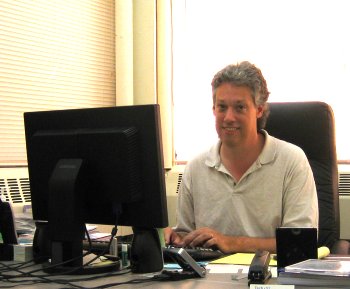 Mark Wheeler
The opportunity presented itself when his client Vic Rendano, a veterinary radiologist, got a smart phone for his business.  Rendano spends a lot of time traveling and told Wheeler he wanted to talk into the phone and have it send reports back to his office.  Wheeler thought about it and about a month later had developed a prototype.  Soon the program grew to recognize Rendano's voice, with the transcription arriving at his Lansing office within minutes after dictating them.  
Wheeler saw an opportunity to refine the program, to generalize it to work for any number of professionals.  He expanded its scope so that you can use just about any input device from a cell phone to a PC to a voice recorder, and named the product
CaseScribe
.  "Today Vic's company VMI uses it extensively," Wheeler says.  "It's successful because he can use any recording device he wants at any time he wants.  From there CaseScribe does the rest of the work.  It transcribes it and gets it back to his office manager in a matter of a few minutes.  His secretary does 40 to 60 of those in a day and she's pretty much done by two in the afternoon now."
Wheeler also sees consumer uses for CaseScribe.  "I was in Tops," he recalls.  "My wife Lisa gave me some things to get.  Then she finds the grocery list and she actually has around 20 things she really needs.  I don't know about anybody else, but my brain can handle about five things, and after that I need a piece of paper.  I said 'give me five things at a time so I can remember it, and I will repeat it and put it into CaseScribe.'  I hit 'transcribe,' and about a minute later I got my list."
But the company has had difficulty getting acceptance for CaseScribe.  While the clients who use it swear they couldn't get along without it, Wheeler says it has been hard to get people to understand how it can make their lives better.  "We're trying to figure out what the best way to map it into the consumer world would be," he says.  "If we could get this into everybody's phone, it's wide open."
But the model of taking a real life problem and applying a software solution that can be turned into a product for the company looks like it will pay off with a new product the company is developing.  Integrated Social Services Information Systems (ISSIS) is being developed for Human Services offices in Pennsylvania.  The idea is to merge various data bases into one interface that can cross-search them all in a simple to use interface.  Wheeler says that currently the data is separate, and that is a problem, because information in one could be helpful if merged with another, but currently there is no way for the individual data bases to talk to each other.
Brett Blanchard is Tech S2's newest hire
In real world terms this means that if a child is in a foster home data base, while the mother is in drug rehab, because the father abandoned the family, the three facts are currently in three different files.  When the mother has recovered it would be possible to reunite her with her child if social workers could match the child in one data base to the mother in another.  That is what ISSIS does, and Wheeler notes the appropriateness of the acronym.  "Isis is also the goddess of caring and nurturing," he says.  In its normal iconic form she has children underneath her wings."
CaseScribe has become an element of ISSIS, a natural fit that lets social workers dictate notes on a cell phone in the field, and find the transcriptions waiting when they get back to the office.  And the process of integrating ISSIS into the Pennsylvania system is as important to Wheeler as its ease of use and ability to cross-reference information.  He says that ISSIS can not only work with its own integrated data base, but it also incorporates the old separate ones, making legacy data accessible, giving workers the ability to match families in the various existing data bases, and making training on the new system a gentler slope, because the old software still works on the same data.
Wheeler says ISSIS will eventually be adopted across Pennsylvania, and he is already talking about it to other states.  Having the core technology yet being flexible enough to adapt it to other customers' needs quickly is the edge he says will transform Tech S2 into a multimillion company.  "Our goal is to hit double digit millions in three to five years," he says.  "From there I am hope we can create a $50 to $100 million company.  Our endgame is to sell it off and retire."
But reaching that goal isn't easy.  Wheeler works seven days a week,  using the weekends to keep up with advances in technology and the market..  He says that he splits his time about 50/50 running the business and working on marketing and software development.  "It's not an eight hour day," he says.  "It's basically two full time jobs.  It's not unusual to find me here until 11 or 12 o'clock at night."
The company has grown to four full time employees including Wheeler and Lisa, plus Chris Schock, and Brett Blanchard.  A year ago the firm moved from Wheeler's Lansing home to the Langmuir Labs building on Brown Road, the third time Wheeler has worked at the technology park.  Wheeler manages the software development, manages and develops product schedules, and works directly with clients, while Lisa handles the finances and payroll.  "She helps me understand where we should go strategically," he says.
Schock is the Vice President of IT Counsulting Services, and Blanchard is part of the development team.  The company also works with consultants, and will likely hire a fifth employee within the next few months.  "Brett meets the Tech S2 height requirement by being over six feet tall," Wheeler laughs.  Indeed, all four range from 6' 2" to 6' 7" tall. 
Wheeler with Chamber of Commerce President Jean McPheeters,
at Showcase Tompkins, which Tech S2 sponsored
Wheeler has four children, and in one sense sees Tech S2 as a way to stay in Lansing, which he loves.  He volunteers on the school district's technology committee, and says being part of the community is a great resource not only for his family, but also for his business.  He refers to the Tompkins County Chamber of Commerce as his 'network,' and says the contacts he has made there have helped him grow his business, as well as get it over the bumps at difficult times in the company's development.  This year Tech S2 sponsored 'Showcase Tompkins,' the Chamber's annual local business showcase at the Ithaca Farmer's Market.
"It's been a hard road," Wheeler says.  "We've seen the brink of disaster more times than I like to think of, but we've come through it.  I went back to my network, I mean, people."  But he has remained optimistic and it looks like all the hard work is poised to pay off.  "I think 2008 is going to be our year," he says.  "We started small.  If you have aspirations, don't give up.  It can really happen.  It's hard, but don't give up."
----
v3i25
In California it is Silicon Valley.  In Massachusetts it's Route 128.  And in Lansing 300 acres south of Brown Road house a vibrant center of high tech development.  Nestled in an area by the airport, more than 90 companies accounting for 1,600 local jobs call Cornell Business & Technology Park home.  One up and coming company is