Richard recalled helping his dad plant 50 trees when he was five years old.  "So we looked into getting trees and in that first year we purchase 4,000 trees," Richard says.  "They were a penny a piece and the State would pay you two and a half cents a piece to plant them, because they figured you were doing some reforestation.  It happened to be a good year that year, and about 99% of the trees lived."  That was 1971.  A few years later his dad said, "You planted about 1200 per acre.  An acre can only support about 10% of that.  You've either got to weed out every other row, or you could think about shearing them for Christmas trees."
And that was the beginning of
Moore Tree Farm
, just North of Searles and East Lansing Roads on Route 34.  Since then the farm has grown to 130 acres and 65,000 trees.  They sell an average of four to five thousand trees a year, two thousand of those to people who want to cut their own Christmas trees and the rest wholesale.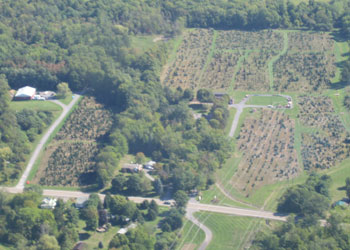 The farm has grown from 11 acres to 130 on both
sides of Route 34 in Lansing
"I said, 'I'll never sell choose and cut, because I didn't want to be busy in December," Kay recalls.  "But it got so that so many people were coming to our door to ask if they could cut a tree that I finally reached the point where I said, 'I give up.  We'll open on weekends."  That was 1987, and they are going into their 20th year as a choose and cut business.  Now the farm opens on the Friday after Thanksgiving, and remain open from 9am to dusk every day until December 23rd.
Richard taught information technology in the hospitality industry at the Hotel School at Cornell.  Kay taught 7th and 8th grade math at Lansing High School, before switching to substituting and starting their family.  They started growing trees modestly.  "We bought two bulletins from Cooperative Extension for fifty cents a piece," Richard recalls.  "One was on how to manage a tree plantation, and the other on how to shear trees.  That year we bought two sets of head shears (small shears that gardeners use).  Kay took one side of the tree and I took the other side of the tree.  That was probably '75 or '76.  We sold our first tree to one of my former graduate students in 1978 for five dollars.  The following year we actually had a harvest and we sold wholesale for a whopping $4.50 per tree."
Now they have machinery like shakers and balers to help automate the work, but a lot of it is still hard work.  They have a crew of loyal employees to help.  George Broadwell was the first retiree who approached the Moores to ask for a mowing job.  That was the beginning of the Elite Team, retirees who are stalwarts on the farm.  "These guys have wonderful work ethics, but we all realize their grandchildren come first!" Richard laughs.  They also hire a crew of high school and college students fill out their ranks.  "The younger high school and college crew does most of the bull work," Richard says.  "But when we go to harvest for the wholesale side of the business, everybody is out there.  We get really good workouts those days."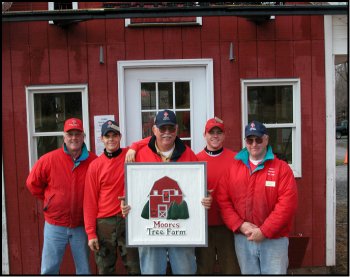 (left to right) Tom Kirby, Chase Harper, Howard Longhouse,
Charlie Moon, and Pete Larson (Picture courtesy of Moore Tree Farm)
One of the younger crew was Charlie Moon, who recently passed away in an automobile accident.  "We're in mourning because of Charlie Moon's death," Richard says.  "He was with us since he was 14 or 15.  He progressed through a lot of jobs.  He was our main shearer.  He called himself a 'bush beautician.'"  Kay adds, "He worked for us for 7 years."
Richard and Kay started riding in the back of the Geneva school bus together in 1957, and have been married for 40 years.  The couple's three children Michelle, Gretchen, and Jason grew up helping on the farm.  "They grew up working on the farm," Kay says.  "They never said that they were bored.  They come back on our busiest weekend, the second weekend in December."  Even Jennifer the dog helps out, entertaining customers and their children by getting them to throw her ball so she can fetch it.
Because it takes ten years for a tree to be ready for sale, the Moores have to plan ahead to meet demand as certain kinds of trees become more popular.  "When we first started out all we had was Scotch pine, which probably accounted for 70% of the market," Richard says.  "Today it probably accounts for 5% of the market.  Today firs are popular, and you can find White Pine, Colorado Blue Spruce, White Spruce, Douglas Fir, Balsam Fir, or ConColor Fir on the farm."  And deer can be a problem.  They like some types of tree, and leave others alone.  "A Frasier fir is deer candy," Kay says.
The Moores like to give back to the community in a variety of ways.  Youth mission groups from the Lansing United Methodist Church and the Groton Catholic Church sell food and get 100% of the profit.  Next week Lansing's second grade will come to the farm for a field trip.  This is the third year the Moores have hosted them.  Santa Clause appears for two days on busy weekends, and the Red Jacket Pony club offers pony rides to raise money for their club, again getting all of their profits.
In addition Richard is a vice president of the
National Christmas Tree Association
, which donates and ships trees to military bases.  They pitched an idea called "Trees for Troops" to Fedex, and in the first year they delivered 4,300 trees to five bases.  This year they plan to send 11,000 trees to 20 bases nationwide.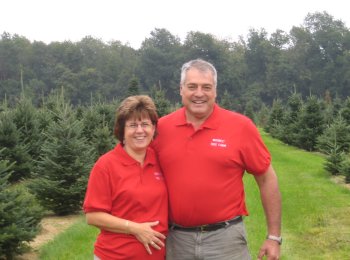 Kay and Richard Moore
Both Richard and Kay agree that their favorite part of the business is the people.  "Two years ago were were particularly touched," Richard recalls.  "We got a call from a family in Moravia who wanted to cut a tree on November 12th.  'Our daughter is on R&R from Iraq, and she's leaving right before Thanksgiving to go back.'  We gave them a tree.  It was very emotional."
Last year a family of 13 stayed for three hours.  Family members came from France, Philadelphia, and Boston just before Christmas.  "Instead of having Christmas all ready this whole family came and they were going to do everything together," Kay says.  "Select a tree and decorate it.  It was a nice perspective."
Richard retired from Cornell four years ago, and Kay is trying to get him to plan for his second retirement.  "It takes ten years to get a tree.  So I try to get him to commit to a year when he will plant the last tree.  Then we add ten years to that.  But he's hasn't committed yet."  Richards laughs and says, "We just ordered six or seven thousand trees last week!"
In the meantime, the Moores are enthusiastic about the farm and the people who come.  "It's exhausting.  It's cold.  It's dark," says Kay.  "But before were were involved in the Christmas tree business the days would be long for me.  They're not long now!  And anybody that works here feels the same way.  There's something about the whole Christmas spirit."
----
v2i35
"What are you going to do with the land?"  Richard and Kay Moore had just bought an 11 acre farm in Lansing, and Richard's father, a conservationist in the United States Department of Agriculture (USDA), wanted to know their plans for it.  "If you don't do anything it will reforest itself.  You could get a farmer to operate it, or you could get some trees to plant."