Moving Box Studios
, an Ithaca based multi-media studio hidden away in the Community School of Music and Art building.
"The cool thing about Moving Box is that we have the whole range of production," says Chris Davidson, one of the five owners whose duties range from animation to Web site work.  "From the HD cameras to shoot it, to the computers to edit it, to the animators to animate it, to the recording studio the write music and do sound design.  We even have services to get it on the Internet, to host it ourselves, to syndicate it across You Tube, Yahoo, and all those sites."
An HD Video studio is painted green for 'green screen work.  With the shutters opened it becomes a recording studio.
Moving Box Studios is Davidson, Connor Shaw, Joe Zohar, Matt Lenz, and Dave Livingston.  Between them they handle animation, Web site building, converting video tapes to digital media (Davidson), cinematography and videography (Zohar), wedding and other videos (Lenz), audio recording and producing (Livingston).  Shaw is the business manager, and also manages the studio, staff schedules, and project deadlines.

The five mix a combination of commercial services with what they call 'passion projects,' productions they produce on their own.  An animated version of 'Elephant's Lullaby'  and a short television pilot called 'Java' are two projects the studio has produced for clients.  Zohar has a film called 'Chalk Outlines,' and Davidson is hoping to get his animated pilot episode of 'Olympus Burger,' which won a 2007 OurStage.com Viewer's Choice award, picked up by network TV.  Other titles that have come out of the studio are 'Girls Will Be Girls,'  'Blow Me: The Art of Glassblowing,' and 'Bacon Samuri.'   They have just been retained to create a commercial for Yellow Book.

'Olympus Burger' follows the adventures of Greek gods who work in a fast food restaurant.  Craig the manager is kept busy keeping them in line and trying to get them to stop smiting the customers.  'Elephant's Lullabye' is a charming animated rendition of local singer Tom Knight's song.  It is a warm, richly rendered version of Knight's story of a little elephant who can't fall asleep.  The studio is also getting close to the release of 'The Making of Elephant's Lullabye.'
"We're the official media sponsor for the Ithaca Community Garden," Lenz adds.  "There are a lot of Cambodian refugee families living in Ithaca and they are developing a community garden for them to grow their own produce.  It's a 200 acre lot, so we're documenting the progression from the beginning to the end when they harvest in September.  It's a great project."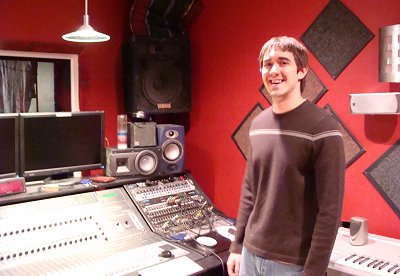 Chris Davidson at the sound board
When you walk into the facility, it splits into two sides.  On the right is a combination High Definition (HD) video/recording studio.  A door to the left leads to the company's offices and animation and editing rooms.  The studio is painted green for green screen photography, which allows video editors to place who or whatever they have filmed in front of any background they can come up with, digitally superimposing their subject anywhere in the real world or a fantasy one.  Green shutters open to reveal the window to the sound recording control room.
Moving Box Studios started about four years ago when Davidson overheard Zohar telling someone that he wanted to learn about flash animation outside their screenwriting class at Ithaca College.  The two were soon working together, and Zohar shared his idea of having a studio to work in.  It started in Zohar's basement, then moved to a studio space with enough room for the two students to work along with the other artists they needed for their projects.
Then about a year and a half ago, bad news: their building had been sold, and they were given two months to move out.
"I'm sure we looked at every place over 10 square feet in the entire town," Davidson says.  "We looked at spaces that were huge and little hallways above the Commons.  We couldn't find a place that worked for us that didn't have sound limitations or power limitations.  Then a miracle happened.  Mary Kane Trochim, who had bought our building, used to be the Executive Director of CSMA.  She knew about an opening here.  With two weeks to get out of our space we came over and it was perfect.  And the price was right."
But it needed a lot of work.  The five began clearing out trash and putting up walls, floors, and ceilings, crafting the space to make an ideal space.  At the same time they also worked on studio projects.  The transition to the new space was another kind of transition in a way as they migrated the concept from an artists' style studio to a professional production company.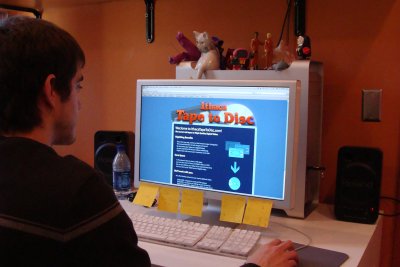 "When we moved here we all realized that this is what we want to do with our lives," says Davidson.  "This is a huge space and we can do a lot.  We can help a lot of people, because there isn't a whole lot of HD video providers.  There aren't a lot of educated editors in this area who have a degree in this field."
They hire other specialists as needed, such as a part time graphic designer and animator, or an additional videographer.  Four interns fill out the crew, one from Cornell, two from Ithaca College, and a recent IC graduate.  Davidson says he hopes to evolve into an educational facility some day, teaching the most up to date technologies and techniques.
Eventually they would like to move into larger facilities to be able to take on larger projects, but in the meantime the size of the current space seems ideal for the projects they are getting.
"Six or seven people can work in this facility at once," Davidson says.  "That's one sound designer, three animators, two videographers, and two interns.  At seven it's pretty good.  It's busy and we can get our work done, and everybody has what they need."
Four of the five full timers share an apartment two blocks from the studio.  "It's pretty cool," Davidson says.  "It can be a little overwhelming at times, because sometimes it feels like there's no escape from work.  But I think that's brought us all closer together and had us focus our vision on making this place the best it can be and doing the best job that we can.  I think we're really fortunate to have that relationship and the people who can build this place and at the same time all be cool with each other."
The group strives to bring artistry and creativity to clients within the constraints of each project.  Davidson says he is not satisfied with 'just doing the job' but does what it takes to make each project better.
"We're hoping that with our combined skills and the passion for what we do, and the need that we see in the community, that we could not only make a successful business for ourselves, but also help out the community," he says.
----
v5i9
What do you get when you put together a video studio with a recording studio, animation, wedding videos, and media transfer services?  The answer is