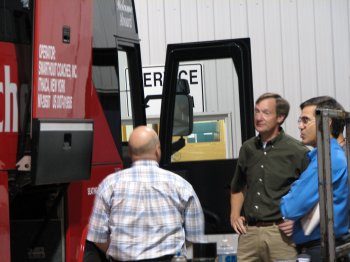 Swarthout Coaches and Tours just took delivery of a 56-passenger, 45-foot motor coach that dollar for dollar, competes with the finest luxury and sports cars on the market. Swarthout will take delivery of a second, identical coach in January 2007.
"Both of these coaches are special-order", says Swarthout President Rob Swarthout. "They combine the latest amenities in motor coach comforts, such as ergonomically designed seats and flat-screen televisions, with new safety innovations. The motor coach industry is taking its cue from the automakers and the result is higher levels of both safe and comfortable travel".
The total cost for the new coaches is just over $800 thousand dollars. Swarthout is a privately- held company and does not receive any state or federal funding for such purchases, meaning it must finance the new vehicles on its own and is solely responsible for the cost.
Swarthout submitted the order in March. The industry average turn-around time for a new motor coach is 3 months, but the company was willing to wait in order to receive 2007 models. Special-order items include the flat-screen television screens, sound system, ergonomic reclining seats, paint and detailing. From the outside, the white paint with red detailing that has identified Swarthout coaches for years has been reversed, so the new coaches are red with white detailing. Passengers will also notice changes to the front windshield and larger side windows that give them a better view of their outside surroundings and the road ahead.
The new 56-passenger coaches will replace two of the existing 47-passenger coaches in Swarthout's fleet. Each is 5 feet longer than the 47-passenger vehicles, and one foot taller, but the width remains the same. The slightly larger size also means increased luggage capacity. This is a significant benefit to both the local college sports teams that regularly use Swarthout and carry a lot of equipment with them, and for passengers on charters and tours because the larger luggage compartments reduce the need for carry-on luggage in the passenger seating area.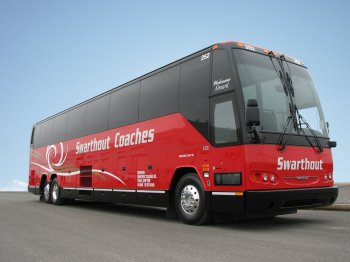 Two new safety features were also important considerations in Swarthout's decision to special-order the coaches. One is a sensor system for each individual tire and brake, which immediately alerts the driver to the specific location of a problem the moment it occurs.
The second new safety feature is a fire suppression system inside the engine compartment. The system is automatically triggered and also alerts the driver to the situation so he or she can take immediate action to secure the safety of the passengers.
"Passenger safety and comfort are our primary concerns", says Swarthout. "Once we learned we could incorporate these safety features into our new coaches and offer some additional amenities that make our passengers more comfortable, there was no question in our minds about what to do. Distance is not a factor. Even the trips we make from the business and Tech Park in Lansing to corporate conferences in downtown Ithaca should be as safe and comfortable as possible. You don't put a price tag or a schedule on those things."
Swarthout Coaches and Tours is a privately held company that was founded in 1950. It employs 26 people, including 18 drivers and has a fleet of 13 motor coaches. It provides charter and tour services to groups and organizations throughout New York State and also offers single and multi-day package tours. Clients include all of the colleges and universities in Tompkins and Cortland Counties and many of the small, medium and large businesses located around the region.

----
v2i41
(Ithaca, NY) When participants in this week's Governor's Office of Small Cities conference in Ithaca traveled by bus from downtown hotels to their events at Cornell and other locations around the area, they enjoyed flat-screen TV, audio that rivals the best surround-sound system and a view that's quite frankly, way above anything Detroit, Tokyo or Germany are offering the average motorist.