"I think one of the things we've done right is that we put a much greater emphasis on tours and cruise packages that we promote," says Vice President of Sales and Personnel Tim McCabe.  "We've moved from 70% corporate to 70% leisure.  So we've been able to do a lot more direct marketing, a lot better targeted advertising.  We focus on information clients need to make good purchasing decisions when they are ready to travel."
The company has a history of adjusting to changes in the market since Charlotte Stone founded the agency in 1964.  In the mid '80s she sold it to the current owner, David Moore, who steered it through the troubled decade into the present.  He purchased competitors including Cortland Travel, Crown City Travel and Beam Travel, and moved the Stone offices several times to best take advantage of the local travel market.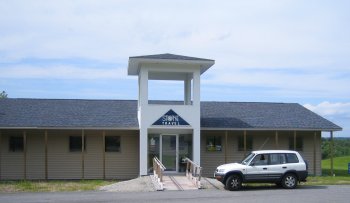 The company moved most recently from Community Corners to their Dryden Road office next to Treeforms.  They maintain a second office on Clinton Avenue in Cortland.  The new main office is roomy and inviting, perched on a hill with a magnificent view.  The reception area boasts a waterfall, and there is ample space for the many agents who work there.  
With the focus on leisure travel the company is promoting cruises, honeymoon planning, adventure and cultural travel, and sports trips.  "We do maybe a couple of hundred honeymoons a year," says McCabe. His own son will have a destination wedding in Cabo San Lucas in September.  Stone agent Stephanie Serino has coordinated the hotel, reception dinner and the rehearsal party for 50 guests who will be attending.  "They just thought it would be a great place to have a wedding," McCabe says.  "They'd heard great things about it and wanted to go someplace beautiful.  Many of the people are traveling a few days early or later to make it a vacation."  The couple is then going to Bali for an eleven day honeymoon in November.
Adventure travel includes mountain climbing, sailing, kayaking, deep sea fishing, white water rafting, helicopter rides over volcanoes, golfing, skiing, parasailing, parachuting, and snorkeling.  "We have adventure travel from New York State to South Africa, South America, Asia," McCabe says.  "We send people out for adventure travel all over the world.  It's become a popular vacation for a lot of families.  We have a lady on a safari right now in Africa."  Some of those also fit the sports category.  While most sports trips are participatory, Stone travel also sends clients to popular sporting events like the Indianapolis 500, Kentucky Derby, and the Super Bowl.
Switching the focus from business to leisure travel became a necessity when the national Emerson and Borg Warner offices required the local plants to transfer their travel business to their corporate headquarters in Chicago and Saint Louis.  "We had both those accounts for 18 to 20 years," McCabe says.  "That had a significant impact on us."  
But the company offers valuable services to smaller businesses.  "We have agents here from eight in the morning until five-thirty at night," he says.  "We provide visas or passport services, helping people with international flights.  Then we have a lot of corporations that don't want their employees to be spending the time to research 20 different flight options."  A lot of corporate business is conducted by phone and e-mail, and McCabe personally delivers tickets to business clients.
McCabe says that the new location outside of town has not adversely affected walk-in business.  In fact he says that walk-ins have increased, especially when Cornell employees pass by on their way home from work.  "Face to face contact is still very important, especially in leisure," he says.  "People who are traveling are looking at a cruise or a week or two week vacation.  They want to sit down with someone they feel comfortable with, that they have a relationship with, that they know has been to that part of the world, or who has experienced that type of vacation."
The company has about 30 employees.  4 man the Cortland office and about 22 work in the Ithaca facility.  Four women also work from their homes in Aurora, Moravia, Marathon, and Horseheads.  Employees travel frequently so they can tell clients about what their experience will be like.  "It's important for our clients to know that we've been there, we've seen it," McCabe explains.  "Not all of our people have been everywhere, but we have a matrix that lists where all our agents have been, country by country.  It is a pretty extensive matrix so that if somebody finds it's important to sit down with somebody that has been there, there are very few places in the world where people want to go that one of us hasn't been to."  Moore himself has traveled extensively in the last 25 years.  The Stone Web site calls him 'our resident Travel Channel.'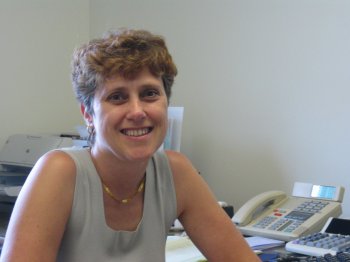 Barbara Lockwood
One long time employee is Lansing resident Financial Controller Barbara Lockwood.  "I've been with the company for 17 years," she says.  Studying travel in college, she has worked at Stone as a travel agent, as manager of the Collegetown office when it was open, and quality control.  With an active son in High School, she sometimes works from home, and says she likes the new office.  "I like this location.  I like the fact that we can have a picnic table outside.  Before we were just in a parking lot."
McCabe is optimistic about Stone Travel's long term future.  "One of the best signs for travel agencies today is the population demographics," he says.  "The number of baby boomers who are beginning to approach retirement age are now going to be more prolific travelers, and all of us tend to live longer.  That demographic for the next 20 to 25 years is going to be something that really helps travel agencies that promote group tours, cruises and travel packages."
----
v2i29
In the mid '90s the airlines announced they were reducing commissions for travel agents, and when 9/11 severely cut their business the airlines eliminated them.  Most people thought that along with the Iraqi war and the rise of Internet ticketing was the death knell for travel agencies.  But Stone Travel saw opportunity in adversity and is going strong in its 42nd year.