The camera follows an athlete playing a great game of soccer.  A circle on the screen highlights her as she moves around the field.  Her coaches talk about her skill, teamwork, and passion for the game.  The athlete herself talks about her aspirations in the sport.  This is a DVD the athlete will use to try to get a college soccer scholarship.
And it is good.  It flows well, highlighting the athlete, piquing your interest in her.  It speaks to sports professionals, but also works on a basic dramatic level that anyone could understand.  "I think video production can be very creative, says Dr. William Straub, owner of the Lansing-based
Sports Science International
.  Straub specializes in making motivational and recruiting videos, and sports psychology.  "I like it when you see somebody is satisfied with your work, or when you come up with an innovation, when you can improve the video."
The business is contained in a 30'x30' garage on a property overlooking Cayuga Lake where he lives with his wife Lucille, a retired Ithaca elementary school teacher whose passion is training dogs.  The building has been converted into a video studio where interviews are recorded in front of a green screen (the green background allows the speaker to be superimposed in front of any background the videographer wants to edit in).  Upstairs is an office and two video editing stations.  This is where Straub works his magic.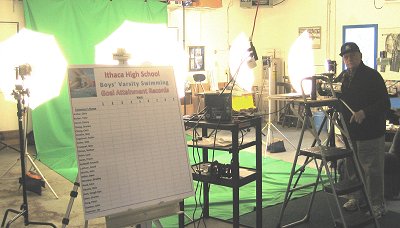 The studio features a green screen, monitors, wired and wireless microphones, and a computer screen on which a subject can scroll the script at his own pace using a remote control.
He is a perfectionist, worrying over the volume of background music to make sure it enhances the narrative without taking it over, or just the right coverage of an athlete in a game.  He focuses on innovations like the circle highlighting the athlete during the action sequences, because they make the athlete's case stronger and easier to follow.  "You have to take pride in your work," he says.  "I don't want somebody to walk out of here not satisfied with the product I give them.  That's critical."
Straub makes and sells motivational DVDs as well as a series on Little League Baseball for athletes, parents, and educators.  He makes DVDs for individual clients that highlight individuals and teams, for recruiting, recording athletic contests, to honor graduating seniors, or for enhancing performance.  He also maintains a small private practice in sports psychology.
"Usually I get athletes who are having some problems in performance," he says.  "Maybe they're having problems academically, maybe with interpersonal relations with players on the team or with the coach. It basically consists of relaxation, concentration, imagery, goal setting, cognitive restructuring -- getting rid of negative thoughts -- and team building."
He started Sports Science international the year before retiring from Ithaca College.  The company was part of a progression that naturally followed a varied and fascinating career.  A native of Catskill, New York, Straub had a strong sports background from the very beginning.  He played varsity soccer, varsity basketball, and varsity baseball in high school.  His basketball team went undefeated for 18 straight games in 1944.
He attended Niagara University as part of the Air Force Aviation Cadet program with the idea of studying to become an engineer.  He switched to active duty when he turned 18, first moving to Fort Dix, New Jersey, then moving to Shepardsfield, Texas for basic training, and then to Canute Field, Illinois, where he played on the baseball team.
Next he was transferred to the troop transport outfit in the atomic bomb project at Roswell Army Air Field in New Mexico, running supplies from California to Hickam Field, and then to Quadulene.  He became flight engineer on a C54. But baseball remained a big part of his life.  "I played a lot of baseball," he says.  "I'd work a half a day and play baseball the other half."
When he got out of the Air Force Straub was all set to go to Clarkson University to resume his engineering studies when he ran into his high school coach who was now teaching at Ithaca College.  That meeting changed the direction of his life.
"He knew I was a good baseball player," Straub says.  "At that time Ithaca College had a premier baseball team, a Division 1 team with a premier coach, Bucky Freeman.  I gave up my engineering career and my chance to go to Clarkson University to come to Ithaca College.  I majored in physical education."
After college Straub signed with the Saint Louis Cardinals' minor league team as a catcher.  But toward the end of his first season a foul tip smashed into the index finger of his right hand.  That took him out of the game as surgeons tried unsuccessfully to restore it.   He could throw alright, but his grip on the bat was never the same.  He tried playing the next season, but realized his pro baseball career was over.
He landed at Saugerties high school, where he taught and coached sucessful baseball, basketball, and football teams for 16 years.  Along the way he also coached wrestling, and eventually became Athletic Director.  In the community he started little league baseball, Babe Ruth league baseball, and Biddy Basketball.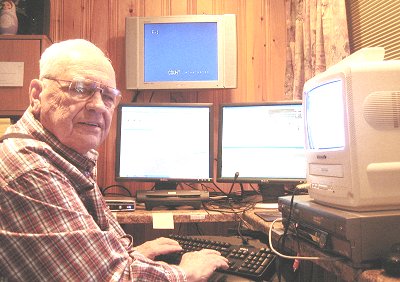 Bill Straub works at a digital editing station where he blends sports action video with interviews and narration.
While teaching he earned a Doctorate in Sports Science from The University of Wisconsin at Madison, and a Masters in School Administration from Albany State.  He also picked up a Masters in Clinical Psychology at the New School for Social Research in New York City.
After working for a few years at the State Education Department in Albany, he took a position at SUNY Cortland as Associate Dean of the school of Health, Physical Education, and Recreation.  From there he moved to Ithaca College, where he worked for 24 years, becoming  Director of the Graduate Program in Sports Science.
He also taught kinesiology (the science of human movement), biomechanics of sports, and sports psychology.  While teaching he first used film, and then video tape with his students to record and analyze physical movement as well as student presentations, using it as a tool to improve student performance.
That combination of skills and credentials naturally led to the creation of Sports Science International a year before he retired from Ithaca college, though his teaching career wasn't quite done.  While based in his Lansing home, he worked for Life University in Marietta, Georgia, at that time the largest school of chiropractic in the world.  He was sent around the world to work with athletes on mental training, speaking and working with athletes in Sweden, Australia, Tokyo, Finland, and Cairo, among other places.
Straub takes the same approach to excellence in his practice, helping athletes to do better on the field in the true spirit of sportsmanship and teamwork.  "I think the question of ethics comes in here," he says.  "Is it ethical to make a person so aggressive that they may injure someone?  In psychology we define aggression as the intent to inflict pain on another person, physical pain or psychological pain.  In sports we shouldn't have any aggression.  We should have assertiveness, but not aggression.  If you reinforce aggressive behavior that's what you're going to get."
His experience in sports science, coaching and psychology bring a depth and professional edge to his video work that wouldn't otherwise be possible.  "I have 30 years experience," Straub says.  "When I was at Ithaca College I worked with gymnastics, and a lot of the sports teams there.  You learn on the job.  There is no exception for good, on the job training.  You learn by doing, with hands-on experience."
----
v4i47