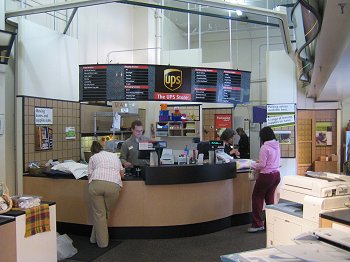 With a background in psychology, Lamoureux was a stay-at-home mom who worked part time in retail while her two kids were growing up.  When her husband's job brought the family to Elmira she began to look for a business that suited her personality.  "It appeals to my obsessive compulsive behavior, which I think is a good thing because you don't own a lot of stuff for the business," she says.  "In the beginning of the day there may be a whole lot of things going on in the store and there are a whole lot of things that need packing, and people need attention.  But by the end of the day almost everything you see has left the building."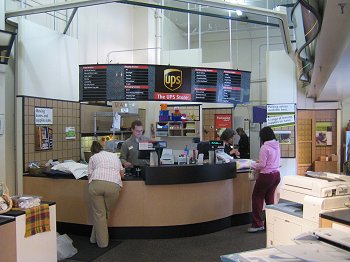 (Left to right) Josh Carlsen, Guy Lorshbaugh, Stephanie Griffin
That kind of finality appealed to Lamoureux when she opened her franchise over six years ago.  While there were some similar stores, she says this kind of business appeals to customers quite near the store, and she got a prime spot right at the corner on the Cayuga Street end of the Ithaca Commons.  "We have been welcomed here in the town which I was not sure was going to happen.  When we first opened we had the corporate name and Ithaca is not necessarily the town that is really welcoming to big organizations.  I have been pretty fortunate and have been graciously welcomed by the community, really accepted, it's gone very well."
Her seven employees keep the atmosphere casual and friendly, while taking great care with customer's belongings.  "Just a couple of days ago I had this lady bring in a beautiful old photograph of her family members.  It had to be 80 years old," she says.  "That's my favorite thing but it terrifies me at the same time because you are handing me your family heritage and now we are responsible for packing it so that when it arrives it is in as good as shape as it is in now.  I love that and I shake in my shoes at the same time. You don't realize that you get to be an important part of somebody's day, part of their lives in some ways."
That's the fun of the business, too.  Lamoureux says her staff has packed a taxidermied turkey, and a shark.  "We had this enormous guy that needed to be packed so we had to build a crate for him and he was fun because we had him for a couple of days and we tucked him in a place in the window, so he was staring at people!  The eyes, the teeth -- that was pretty entertaining."  They have also packed real robots that Cornell sent to an artificial intelligence competition.  "They won," she says.  "They had the highest recognition of the conference for these three.  That was kind of cool."
The store services a mix of businesses and individuals.  "I certainly deal with almost everybody and almost every business within this distance.  Now they may not be in my store every day, but they are certainly my customers.  We have an ongoing relationship, and on the other hand one-half of my business, probably if not a little more, is still going to be that walk-in customer who needs something once in a blue moon that needs my business."  And her staff will also make house calls to help pack things for people who are moving a distance.
A bank of mailboxes lines a wall at the back of the store.  Lamoureux explains that the boxes provide a street address and are not considered  P.O. Boxs.  That means that if you receive FedEx, UPS, or DHL the store can accept the packages for you, then call to let you know it has arrived.  Other services include black and white and color copying, supplies like envelopes and boxes.  Greeting cards from local artists are also available.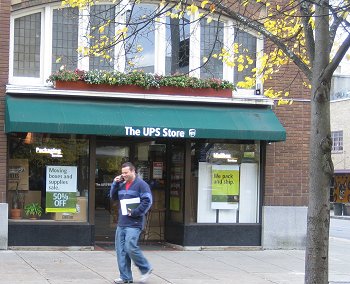 Joanne Lamoureux
This year Lamoureux has decided to expand for the holiday season.  She will be opening a store at the Pyramid Mall from December 4 through December 22.  "We are hoping that combination of providing gift wrapping for some of the folks that come in and then having the shipping available there will be a service that the customers in the mall will appreciate or just having it closer at a place where there is available parking we think might help as well."  The store will be located near the front of the mall near the Bon Ton.
Duplicating her store for such a short period will present challenges.  "We are going to try hard to make it look like a professional place, while also realizing it's basically a folding tent," she says.  "We will make sure there is good signage and I will hand out my business card with each transaction so if people have any problems or concerns they will know they can still reach us."
Over the years the franchise has worked well for Lamoureux .  While deciding to purchase the business, the corporation gave her a choice of Ithaca or Corning.  She chose Ithaca.  "I thought this was just a wonderful community," she says.  I was pretty excited of the prospect of being here on a regular basis."  Six years later she is still enjoying coming here to be entrusted with peoples' belongings.  And safely getting them where they are going.
----
v2i42
You can go to the UPS campus in Lansing if you happen to be able to make it during the limited counter hours.  It's best to have everything packed and ready to go, because you will be standing in line.  Or you can take your things to the UPS Store on the Ithaca Commons when it's convenient for you, and have your things professionally packed.  The staff is friendly and looking for ways to help, keeping an eye on the loading zone to see when customers pull up so they can come out and help bring things inside.  "At least you're not schlepping this package all the way down the sidewalk," says owner Joanne Lamoureux.  "We will come get it from your car for you.  If we see you out there we're going to go out there and help you even if you didn't ask.  It's all about service."