P.W. Wood & Son, Inc.
has been selling insurance in Tompkins County since Percy Wood first opened 'The Wood Office' in 1853.  That part hasn't changed.  But since 1979 the Ferris family has been guiding the company into the future while helping clients manage their risk.  The company's approach to risk management is one of the key things that President Jamie Ferris says sets his company above the rest.
"We try to work with our customers and determine what their exposures to risk are, and how we are going to address them," he says.  "Then we figure out how insurance becomes a piece of that so that we are spending their insurance dollars as wisely as possible."
With eight employees the agency offers insurance to businesses and individuals.  As an independent agency the Wood office is licensed to represent more than 40 insurance companies, which gives them the flexibility to match clients' needs to the special circumstances of their businesses or lives.  While some people see insurance as a necessary evil, Ferris sees it as a key piece of the overall risk management picture.
"You have to have it," Ferris says.  "But I think people should look at it as so much more for them, as what it can do for them.  And to make sure it will do what we expect it to do.  Because we don't want it to come down to me having to make the insurance company pay on a contract.  We want it set up so that they have to because we have eliminated the loopholes or triggers we have to trip to get that final domino to fall to get payment.  So it's clear on both sides."
The firm has worked with many unique companies, not only fitting the right insurance to their needs, but reviewing contracts with their clients' clients to make sure they are appropriate from a risk and insurance point of view.  When a client has a new invention he works as much with insurance underwriters as with the client to make sure they understand what they are actually insuring.
"I handled a company that developed a biodegradable field paint, and the underwriter was worried about what the exposure would be," Ferris recalls.  "When they heard 'paint' they got nervous.  I explained there was no risk, because it is biodegradable."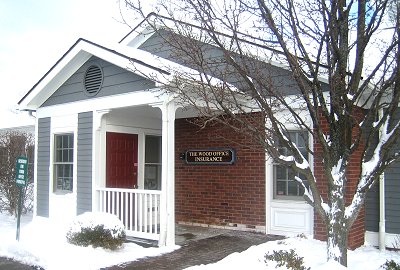 Ferris' father David bought the firm in 1979 from Richard Hughes, who had bought it from the Woods in 1956.  Two years before David had shown up at Hughes' door looking for a job.  "He had come to interview at another agency in town," Ferris says.  "He had read an article that Dick Hughes had written about the shortage of people that wanted to have their own agencies.  He walked in with the article in hand, and left on a handshake to come work here."
That eventually led to the family moving to Lansing from Binghamton, when Ferris was 14.  Ferris started working there part time at the end of 1987, eventually doing every job except receptionist, only because that job didn't exist until after he became President of the firm.  He continued to work there part time through college.  Though interested in marketing, he took the accredited insurance course while at TC3 just because it happened to fit into his schedule.  He took the exams and got his license, but intended to pursue marketing.
After getting his degree at SUNY Oswego, he rethought his career path.  " I was working here I got to like it and became very familiar with it," he says.  "When I graduated from Oswego in 1992 there was a recession going on and the job market was scarce."
He met his wife Melissa at TC3 and they happened to transfer to SUNY Oswego at the same time.  He studied marketing while she majored in communications.  They were married in 1994 after college, and today the couple lives in Lansing with their three daughters.
The Wood Office has changed quite a bit since it moved from Ithaca to it's current location in the Village of Lansing.  The old office had a more open arrangement with a counter in front and desks in a large area behind, something like the Bailey office in the movie 'It's a Wonderful Life.'  But with privacy becoming a more serious issue in modern business, the new office offered private offices and a conference room, convenient free parking for customers, and room for expansion.
And Ferris has tried to keep on the leading edge of technology, upgrading software and looking for new ways to tie together the information and forms all those insurance companies use.  "I believe the evolution of software in the industry has come along tremendously in the last five years with the evolution of what they can do on the Web now," he says.  "The interconnectivity of programs has always been the rub, the idea that these tow programs could talk to each other.  They've improved that as well."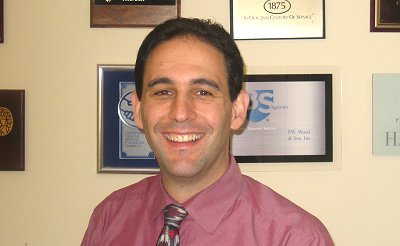 Jamie Ferris
Being in the insurance industry virtually all his life has influenced the way he looks at everything.  "Now I have insurance agent eyes when I look at the world," he says.  "I can go to an amusement park and see all the things that might be dangerous.  I'm just immediately tuned into, 'Oh that's not a good thing, they should be doing something better about that.'  That's what I try to take to my commercial clients.  I'll walk through their operation and look at it in terms of loss control."
Ferris says that can save his clients money.  He helps clients reduce risk by suggesting procedures, training, and employee safety meetings that will make his client more attractive to underwriters.  "I might be able to find an insurance company for the guy who doesn't care about prevention and procedures," he says.  "But he's going to pay a lot more than the woman that does."
He and two others focus on business clients, while two more work with individual clients.  "My favorite part is going to new clients and learning about their businesses," he says.  "You can hear the passion in their voice when they're talking about their baby, so to speak.  It's exciting for me to learn something new about how they do what they do.  I have some customers that do some pretty amazing stuff."
After more than 155 years The Wood Office is still about family and community.  In addition to Jamie and Dave, Dave's wife Karen Supeck Ferris and Jamie's sister Kim Woodsinger work at the firm.  The agency supports a number of local arts organizations, and Ferris sees the community as unique, both from the standpoint of living here and because it is a good place to do business.
"I knew this is a good community to raise a family," he says.  "Tompkins County is a wonderful community to grow up in," he says.  "We're an island here in so many ways, economically, politically, culturally.  One of our insurance companies has even realized it.  They have figured out that this is such a unique community that they lowered their rates because they want to get penetration in this market."
That is also what Ferris wants.  He says he hopes to grow the firm in the future, bringing new technology, excellent customer service, and a clear understanding of what customers are buying and how it fits with their needs.  He says he'd like to build the personal insurance side of the business while continuing to grow his business client list.  And continuing to bring his customers the larger picture of how to manage their risk.
----
v5i3