More than 10% of the US workforce, numbering over 14 million people are self-employed.  Although more self-employed workers tend to be older workers, massive layoffs and job uncertainty in the marketplace contribute to small businesses startups.  People who start a business may know about what the business was established to do, but often have no background in portraying that to the public.  "Marketing is something they need and they know they should do, but are not sure what to do or what the results are," says Diane Goodman-Daniel, aka
MizBusiness
.
Goodman-Daniel offers entrepreneurs marketing coaching to shape a coherent message aimed at a specific target market, and portray it in a way that brings results.  "I have focused on coaching," she says.  "It's helping people figure out what they need to do.  Most small business owners can't afford a marketing director, so they have to learn what they need to do to get their business going and making it easy enough that they can keep doing it every month."
She consults in person, and also offers an over-the-phone package.  She meets with clients once a week to develop a marketing plan and the tools needed to implement it.  She also offers workshops about three times a year, working with about ten entrepreneurs at a time.  This month her four-session Marketing Mavens workshop will focus on marketing tools, writing a marketing plan and calendar, and getting feedback from the group.
In addition she offers design services, creating logos, advertising, promotional materials and Web sites.  She calls this 'DesignPlus.'  The 'plus' is her marketing spin.  "With most designers you can get some really amazing designs, but they are not marketing people, she explains.  "So I am offering the possibility that you can hire me for design plus marketing strategies so that when you are at least getting your stuff designed, there is a strategy behind what you are doing so that it might be more effective."
Goodman-Daniel also stresses that it is important to find a niche, especially in a place like Ithaca that attracts a lot of the same kinds of services.  "Once you find that niche all your marketing is easier," she says.  "They are going to come to you.  That being said I think in Ithaca you can't be too niche because the market isn't big enough.  Or you can have two or three specialties."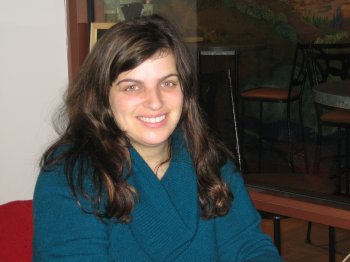 With a bachelor's degree from Santa Cruz in community studies, Goodman-Daniel's experience is in community work , design and marketing.  While still in Santa Cruz she did AIDS work, which included marketing safe sex.  In San Francisco she met a career coach, who planted the seed for her eventual business.  From there she moved to Vancouver, and then New York City.  She and husband Jake Daniel worked in there until the dot com collapse, then moved to Washington, D.C.  A few weeks later was 9/11/2001, and the couple decided to move back to Ithaca, Jake's home town.  Goodman-Daniel took a job as director for Business Cents at Alternatives Credit Union.  She left that job a year ago when her daughter, Sadie Rose, was born.
It wasn't long before Goodman-Daniel decided to build a business that would bring an income she needed, but also fit her lifestyle as a new mother.  By April she offered her first workshop, capitalizing on the experience and contacts she made at Alternatives.  She often meets with clients at Cafe Carpineto at Island Health Fitness.  With day care and wireless Internet access, it is a convenient environment for building business relationships, which she says is an important marketing philosophy.  "When I think about the best tool for my business, and I think they are different depending upon what the business is, mine is going to be going out for coffee with people and going for lunch with people at networking events."
She attracts a variety of business types, mainly service businesses.  Workshops and clients have included spas, massage therapists, artists, a green house cleaner, a Bed & Breakfast, a Reiki practicioner, a wedding cake designer, a Tantra teacher, a women who does sex toy parties, and a woman who runs the local stroller fit franchise.  She targeted women in business for her first year, even starting a women's networking group.  "For a lot of women the balance of work and family is still very challenging," she says.  I may be overstating myself but I really do think that even now it's still a little easier for men to focus on the business and worry less about the consequences at home.  But I have had some great clients who are men."
Between working with clients, taking care of her baby, and running workshops, Goodman-Daniel is marketing herself by building relationships and referrals.  "My biggest lesson is none of it is quick," she says.  "Relationship building takes time.  Coffee once doesn't turn into a resource or referral overnight."  But with the right tools and a marketing plan, it can help build your business.
----
v3i2