The shop includes the flower shop in the main building, two large greenhouses, and a garden center.  "Weddings are the fourth part of the business," says bookkeeper Susan Dean.  "So it really works out great for us, because when one part of the business might be slow, another part picks up.  For examples weddings really picks up when the garden center slows down a bit.  It keeps us going."
"We do a lot of weddings, which is fun," says Herzog.  "A lot are not local.  They come in from New York City, Boston, California with all kinds of ideas.  They met at Cornell and then they want to get married here.  It's fun because they bring in good ideas, and they have a good budget, so it makes it fun for us."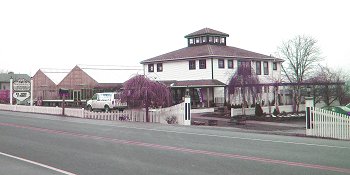 Herzog opened Michaleen's Flower Shop in 1977, three years after graduating from Cornell, where she studied floriculture and ornamental horticulture.  After graduating she married husband Mike, a landscape architect she met in college.  She took a job at a flower shop on Long Island, but soon the couple decided they wanted to move back to the Ithaca area.  The shop opened in Lansing Village Place in front of what it now the Shops At Ithaca Mall.  But after bout three years they built the signature building that has housed the business for about 17 years.
"I thought I'd always work in a flower shop, but I didn't think I would own my own business," Herzog says.  "I always liked the flower shop part, but I never thought I'd have a greenhouse or a garden center.  The nursery part came years later, because my husband is a landscape architect, so he got me involved in that part of it."
At first they lived on the second floor of the shop.  Now that space has been divided into an office space and a special weddings showroom.  The showroom is bright and inviting with light streaming down from the cupola, wedding pictures and photos of flowers decking the walls, a sofa and a table set up to look at catalogs.
"We do a lot of weddings, and we just started a new wedding Web site," Dean says.  "We started that about two weeks into November.  The response has been wonderful.  Brides are looking and bringing in pictures from the Web site saying that this is what they really want.  We are thrilled with that."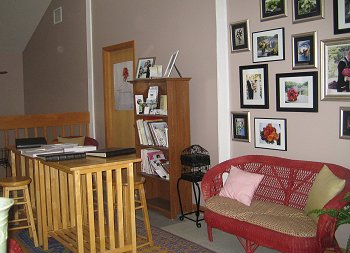 Even before Valentine's day the staff is busy unloading new products, preparing flowers, and maintaining the greenhouse.  Herzog just returned from an annual buying trip where she visited growers in Atlanta and Fort Lauderdale.  The trip yielded a new line of exotic plants and new contacts and vendors.  The shop recently started carrying miniature conifers, and last year started carrying bonsai trees.  There is also a party nook that specializes in party supplies.
Dean says that orchids are a big seller at Michaleen's.  She notes that one of the shop's most unique offerings are its geraniums.  They are grown on the premises by Lolly Gahagan.  "Lolly is known around town for her geraniums," Dean says.  "You definitely see a difference.  Her geraniums are just beautiful.  Very full, and you just don't see any like that around town."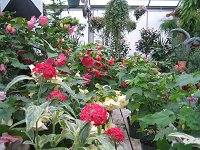 The greenhouse is very nearly a destination by itself, especially in the dry winter months.  The display of plants and garden items -- statues, accessories, and the area's largest selection of pots -- almost makes you forget you are in the cold, gloomy northeast.  ," Dean says.  "If you go in the greenhouse it's spectacular.  Yesterday with the sun out it was balmy, and it smelled like spring.  We've got fountains running, so you hear the water.  It's really tranquil.  That is great because we've had a lot of sales from the greenhouse this winter."
The shop also buys cut flowers from different grower/distributors ranging from Canada to Pennsylvania.  There is a Crabtree & Evelyn selection, baskets, garden plants and tools, and Lake Champlain Chocolates.  They feature blooming plants, green plants, and exotic plants that you would find in Florida or Hawaii.  Michaleen's also has a loose association with caterers, hotels and other places where weddings might take place.  Dean says they have a good rapport with these businesses, and are often recommended by them to do the flowers for weddings and other events.
Dean handles the Web marketing, maintaining the shop's two Web sites and processing online orders and inquiries.  She says the sites have yielded good results, both as a selling tool on which people can view products before calling or visiting the store, and from online orders.  "Our Web site is a great selling tool," she says.  "We get a lot of people who are just looking online and call."
Another selling tool that is perfect for forgetful husbands and boyfriends, and organized wives and girlfriends is the shop's ForgetMeNot cards.  You fill in the card with your credit card information and list what you want sent, when, and to whom.  Dean tracks them on a calendar and makes sure that flowers are sent on time.  All you have to do is not look surprised when your significant other thanks you for remembering.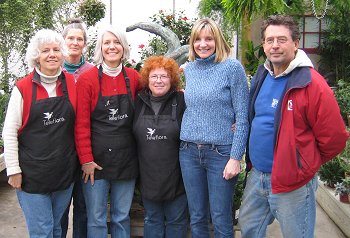 (Left to right) Marcia Chabot, Lolly Gahagan, Michaleen Herzog, Barb Bryant, Susan Dean, John Whitaker (Danielle gerritsen not shown)

Seven people work at Michaleen's specializing in the flower shop, greenhouses, and the garden center, but frequently crossing over as the seasons change and demand flips to different parts of the business.  While Dean's main responsibilities lie in the office with the books, computer, and marketing, she chips in in the shop when things get busy.  "Everybody here pitches in," she says.  "If you see the phone needs to be answered you just pick it up.  It's a great group.  It's like a second family.
----
v4i5
When traveling on North Triphammer Road it is unmistakable:  the big white building with the cupola overlooking the countryside, the arbors and greenhouses.  On Valentine's Day, anniversaries, and Mother's Day your car almost drives to the Lansing landmark by itself.  Last November Michaleen's Florist and Garden Center celebrated its 20th anniversary, and even after 20 years the shop is adding new products, plants, and flowers.  "I like that every day is different," says owner Michaleen Herzog.  You don't do the same thing twice.  That's the thing I like the best."