Inside that office there is a quiet intensity, businesslike but friendly.  "I truly enjoy working with clients and the investment side of it -- it's a lot of fun," Prybyl says.  "But I really like seeing people develop in this business.  I had people work with me and help me develop early on.  I really appreciated it.  I hope I'm helping folks here develop their careers."
Prybyl moved to Lansing with his wife Donna and their twin daughters ten years ago when he was asked to consider managing the Ithaca office.  He had held a similar position in Binghamton, but after two and a half years decided he preferred working with clients.  However, after visiting Ithaca the couple decided to make the move and found themselves here only a month later.  "In the end I thought Ithaca might be a good place for our daughters to grow up," he says.  "They were four years old at the time, and it's turned out to be all of that."
A native of western New York, Prybyl studied business with a minor in finance, but he says he had no inkling of the financial world.  Fresh out of college he went to work for IBM in and around Boston, where he was a marketing representative, and then a marketing manager.  He helped launch a new product IBM launched during that time.  But after nine years he decided to try the investment world.  "I went from minimal interest in this field to 'I think I want to do this -- it's the right time in my life and I'll take a chance,'" he says.  "After two years it was marginally working out.  But after five years I said I would never look back."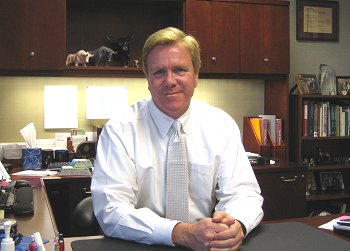 Richard Prybyl
Merrill Lynch helps new financial advisors get into the business by providing four months of training, and continuing in the program depends on passing a series of tests.  Then they throw new employees into the pond to see if they can swim.  "You're given a telephone and a computer monitor and told to build a business," Prybyl says.  "You have two years to get to a certain point of competency or else the desk and the phone and computer terminal will be gone.  If you make it past that hurdle you're on your way to building a viable business."
Prybyl's break came when he connected with Conrail employees in late 1987.  He had been conducting seminars for them, and it resulted in about 200 new accounts, just when they were about to receive stock in the company.  "Conrail went public in September or October of '87 and the market crashed in mid-October of '87.  All of a sudden people received stock in November that they had to do something with, or they'd have a big tax.  They weren't big accounts, but there were a lot of them.  It kept things going.  That's really what this business is about -- the first couple of years it's a survival game."
Prybyl estimates that 80% to 90% of his clients are long-term investors working toward a goal that may range from building for retirement, education, to create a legacy, or to be able to afford a home, among others.  With the stock market so volatile and sometimes unpredictable, he stresses what he calls 'helping to close the back door' by building a good asset allocation and diversification strategy.  While one sector of the market may tank, others can bolster a portfolio until that sector comes back.
"The first thing is, could they afford to be too heavily in stocks," he explains.  "If they couldn't shame on me, we shouldn't have head them there in the first place.  But if they were heavy in technology they probably could afford another area and either wait for a period of years for the market to come back, or go into other areas where they are likely to have better returns in the period ahead.  There's a term in our business called the 'downside capture ratio.'  It is basically what you do to minimize the downside losses when you are in periods of decline."
With the advent of the Internet and do-it-yourself on-line brokerages such as Charles Schwab and E*Trade in the 1990s, traditional investment advisory businesses were challenged to differentiate themselves.  But Prybyl says that his company has grown despite the Web-based competition.  "I think what we've learned is that there is a certain segment of people that want to work with a true financial advisor and use advisory services," he says.  "The market is more segmented today, and we've done fine in the face of discounters and companies that don't offer the level of service that we do."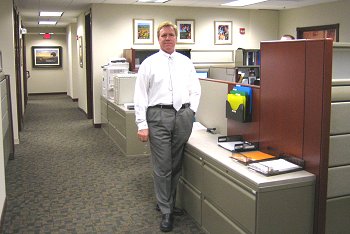 In his ten years here, the Ithaca office has grown from seven to 21 employees, including 12 financial advisors 9 administrative support positions. The new office in the Cayuga Garage building is spacious enough to combine two former smaller offices that became so cramped that one office was adapted from a closet.  The new space provides room for more employees as the business grows.
He began looking for a larger location five years ago, but last year it became a priority as the staff outgrew the old offices.  "The question was did we want to stay downtown or move closer to Lansing where more of the growth in the community is going?" he says.   "We looked at that very hard, and in the end decided it would be better to stay downtown.  Then the question is where downtown?  The challenges are parking, access, location, and they physical location itself.  This is a very good location on a customer friendly basis."
You enter into a bright reception area that leads to offices and cubicles inside.  A spacious conference room includes a large flat-screen television featuring the Bloomberg financial channel with a stock ticker below.  A large room in the back is set up for presentations, with seating facing a large screen and podium area. 
Being located in a prosperous area like Tompkins County doesn't hurt.  An oasis in New York State, the county has a thriving housing market while that market is tanking elsewhere in the country and the state, and a growing local economy.  Prybyl is optimistic that his office can continue to grow here, helping also to grow that prosperity for his clients. 
Forbes Magazine recently named Merrill Lynch 'America's Most Admired Company,' citing the company's innovation, quality of products and services, and social responsibility.  The Ithaca office is entwined in the local community as well, sponsoring such local initiatives as this week's '25 trips around the Sun' gala Sciencenter anniversary dinner.
"I think the future in this county is very bright," Prybyl says.  "One, because it is a more affluent community.  It compares very favorably with some of the better growth markets around the country.  It's got a very stable employment base.  And there's a great transfer of wealth going on generationally.  So being in Ithaca we're well positioned for that.  I see our business growing, and our financial advisors here growing considerably over the next five year.  Ithaca, New York is a very good place to be in this business.
----
v4i9
When you walk into Vice President and Senior Resident Director Rick Prybyl's office, all you see is bulls.  Models of bulls, not a single bear in sight.  In the investment world that inspires confidence.  That is fitting, because in addition to being a financial advisor, Prybyl is responsible for the administrative operation of the Ithaca Merrill Lynch office which has not only been growing its own business, but the wealth of its clients since it opened here in 1991.