Ned's Pizza is the newest shop in Community Corners in Cayuga Heights.  Across the parking lot from the police station, it is in the same building as the Satori Day Spa.  'Ned' is owner Nadim Khazzaka, whose other pizza shop has been at Center Ithaca for the past 15 years.  The new shop opened only two months ago, and already has an enthusiastic clientele.  "Now I have new people," Khazzaka says.  "The old people keep coming, and coming, and coming, and I have new people every day.  I love it.  Very nice neighborhood, nice people around me."

A native of Lebanon, Khazzaka came to the United States twenty years ago.  His older brother is a Journalist in Lebanon, and the younger a doctor there.  He also has a sister there.  In Lebanon he was in real estate, and his family had land including farms and fruit groves.  Unfortunately the family found their land in the middle of the war zone at that time.  "During the war it was very bad over there," he explains.  "I came here to visit and to see the new land of opportunity."
But real estate didn't seem like an option when he got here.  He considered buying a gas station, or becoming a plumber, or owning a restaurant, and settled on the third.  He soon landed a job at Aladdin's restaurant in Collegetown, cooking middle eastern food, learning the business, and saving money to eventually buy his own place. 

His switch from middle eastern food to pizza was serendipitous.  He learned a pizza business was for sale, so he jumped at the opportunity.  "It was very difficult in the first three, four months, because of moving from a different kind of food to pizza," Khazzaka says.  "I had a good Italian friend to teach me what to do.  The right way to make the dough and the sauce and the pizza."
But Khazzaka wanted more than just a pizza parlor.  He wanted an attractive place with really good food.  "Everybody has complimented me about having such a nice place, clean, which is very important, and good pizza," he says with obvious pride.  "Clean and good pizza.  First they want to see a clean place, because if you have a clean place you have good pizza.  If it is dirty, oily, everything you touch is no good, how is he going to make the pizza in the back?  If the front is dirty, the back is going to be."
And he delivers on that promise.  You can see the kitchen from the counter, and it is clearly clean and well organized.  The restaurant is open seven days a week, for eat-in, take-out, and delivery business.  Weekends bring a lot of orders for birthday parties that Khazzaka  says come to 80 or 90 boxes.   Deliveries go as far north as the mall area of the Village of Lansing, and to Cayuga Heights and Cornell.  Khazzaka says he hopes to find a driver so he can expand deliveries into Lansing.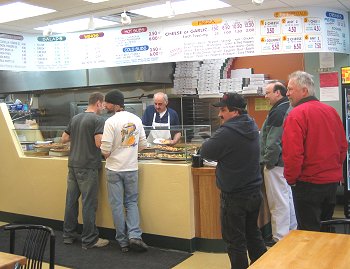 Nadim Khazzaka
He already has Lansing fans.  Varsity Girls Swim Coach Diane Hicks-Hughes stopped in for a slice of pizza one day.  "She didn't say anything, she ordered one slice of pizza," Khazzaka  recalls.  "Then she told me, 'This is good pizza,' she had never had pizza like this.  'Do you deliver to Lansing?'"
He differentiates Ned's from other pizza restaurants by incorporating some Middle Eastern and American foods into the menu.  The menu includes hummus, babaganooch, falafel, gyros, Greek salads, as well as subs, wings, and chicken fingers.  That offers something for everyone.  "There are five in the family: a man, women, three kids," Khazzaka explains.  "The kids they like pizza, the lady likes falafel, for example, and the man likes spaghetti or a chicken Parmesan dinner. We give the family five choices in one place."
Khazzaka lives in Cortland with his wife and three children.  His oldest daughter has been accepted at Oneida College, his second daughter daughter attends Cortland High School, and his son is nine years old.  Although the Center Ithaca store has always done well, Khazzaka wanted a presence in Cayuga Heights where he says that although the overhead is higher, so are sales.  With impending college tuitions, the timing was right to open new shop.  " I like to pay Uncle Sam, I don't want Uncle Sam to pay me," he explains.  "I'm here in this country, I had a chance to find a job, to work hard, I have a chance to make money, I have opportunity here.  I own my house in Cortland.  I'm living a decent life with my family."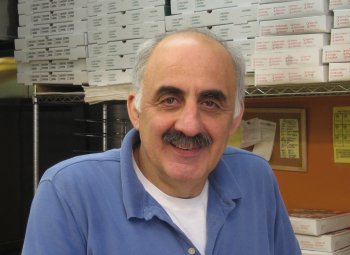 Hard work, a clean establishment, and good food make up his recipe for success, and Khazzaka plans to cook up that recipe for the long haul.  "I'm going to keep serving good pizza and good food," he says.  "I'm proud of my product.  We made everything from scratch -- we make our own dough and make our own sauce with a touch of flavor.    I serve people what I like to eat, I don't sell something I don't like.  If I don't like it we change it because we want the customer to be for life, not only for one or two weekends.  We want customers for life."
----
v3i13
If you weren't hungry when you entered Ned's Pizza, you will be when you see the pizza pies and smell the aroma wafting up from the counter where they are displayed.  They look fresh and delicious.  If you get there in the morning you'll find 20 pies ready to be sold by the slice.  By lunch time they're gone.