Over the past year the buzz has been growing about a new dance school in Lansing.  The
Next Jennaration
Dance and Cheer Zone is the brainchild of local instructor Jenna Stevenson.  Her studio is tucked away in what was part of a hardware store on the corner of North Lansing and Peruville Road.  "We searched everywhere for a perfect space," she says.  "We looked at Ithaca, but Lansing was a better place for me because I know a lot of people here.  And I had a lot of All-Star cheerleaders from Lansing.  So we picked Lansing."
What is remarkable about the studio is how fast it has grown.  Stevenson came home to Lansing after college, starting with six students in 2006.  She moved into her studio last September, and now teaches 24 dance and cheerleading classes per week.  Her dancers performed a recital at the State Theater two weeks ago, and her cheerleaders won the New York State Championship in March this year.  In just over a month her dancers will compete in the Starpower World Championship in Ocean City, MD.  And she is already planning to double her studio space.
Stevenson is the only teacher at the school so far, and her high school cheerleading coach Jodi Dake volunteers to teach when needed.  She says she will be hiring a couple of dance teachers and some cheerleading coaches next year after a planned expansion is completed.  The addition will include a second large dance studio, a cheerleading room, and an expanded waiting room.  The cheerleading room will have a spring floor, which Stevenson says is an important advantage.  The cheerleading program goes from September through April, after which she says she will take up the spring floor so she can use the room for dance.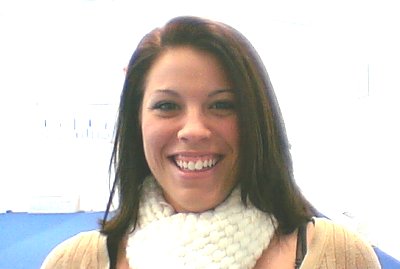 Jenna Stevenson
"I teach what's now in dance," she says.  "I don't want to concentrate on competitions, because on any given day the results could be different.  So I teach them to be themselves and dance through the heart, and that's what they do.  Then we go to competitions and we do that and we do well."
That is an understatement.  The waiting room and studio are virtually littered with dozens of trophies, on the floor, window sills, anywhere there is space.  That is all the more astonishing when you calculate that the studio has only been open for only nine months.  "We need to get some shelves!" Stevenson laughs.
This year dance student Mia Gatto won fourth runner up Regional Dancer of the Year.  Ryan Pliss and Kaleb Woolever won three time Regional Dancer of the Year.  Stevenson's senior team went to Lancaster to win the overall Pennsylvania regionals.  The team, which ranges from eight to nineteen years old qualified with 28 different routines for the Ocean City competition, which will be held in late July.  They are divided into three age groups, performing tap, jazz, ballet, lyrical, hip hop, solos, and duets.  The dancers have been to three regional competitions this year.  "I have a lot of 'Dancer of the Years,'" she says. 
Stevenson grew up in Lansing and started dancing when she was five years old.  She says that even that early she wanted to own her own dance studio.  She was a cheerleader at Lansing High Schoool, commuting to Owego to dance.  She went to college at Point Park University in Pittsburgh, which she says is the number one dance school in the U.S.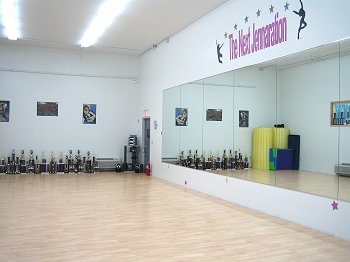 Her mother Bonnie Whittenburg and aunt Jill Knapp started the cheerleading Twisters over three years ago.  While in college Stevenson came home to teach in the cheerleading program, and took it over when she returned here to live after graduating in December of 2006.
She says that coming from the successful, winning Lansing school athletics program has influenced her success.  "It's given me a competitive drive," she says.  "Since Lansing Middle School I have had a very competitive drive."
And, like the school athletics program, Next Jennaration has an active, enthusiastic booster club of parents supporting the school and their kids.  Tomorrow (June 21) the boosters will be holding a chicken barbecue and yard sale at the Lansing ball fields to raise money to help the dance team go to the world championship next month.  The money will be used to help pay for travel and hotel rooms, as well as competition fees.
While the studio is essentially a one-woman operation, Stevenson talks about it using 'we,' not 'I.'  "I say 'we' because we're a big family," she says.  "This is all part of us.  I don't do this by myself.  The kids are a big part of it.  I own it and I run it and I'm the teacher, but all the parents, all the kids and I are a big family.  We strive to reach our goals together.  We have a blast together."
----
v4i24