A lot of people think that the big gray barn that is Eastlake Recreation Club is a private health club.  That is an image that its manager Mike Herbster wants to dispel. Aside from offering January specials, Herbster likes to emphasize features that set his club apart from the others and will draw new members to the Lansing facility.  He points to the indoor tennis court and a unique indoor playground as examples.  About two months ago the club opened its new iPsyclin studio.
"We're not going for the whole fitness market, but a program like this is unique to the building," says owner Mark Leathers.  "It offers something special.  As we develop we may add additional stuff, but at the moment this is the next step."
iPsyclin is a kind of a cross between health club cycling and Jazzercise, with groups of cyclists of differing physical goals and needs working out together with an instructor and music.  It was developed in Ithaca by triathlete Paul MacCarrick and originally taught at Courtside Fitness.  "The 'psyc' part of the name comes from mind/body connection," explains instructor Shannon Wheeler, who also works upstairs at Leathers Associates, the well known playground architecture firm.  "He's very big on having that aspect of the program.  It's not just a physical workout, but also a mental workout."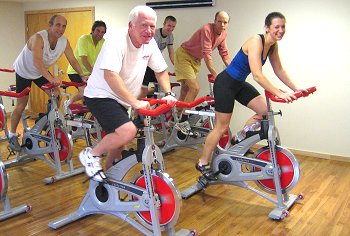 Front Row: Club Manager Mike Herbster, iPsyclin instructor Shannon Wheeler  Back Row: (left to right) Barny Segal, Dave Iannello, Mike Egan, John Dean

Last Spring Herbster purchased the cycles from Courtside when that club closed its doors last March.  "The bikes were a unique opportunity," Herbster says.  "We were looking for something to do here that current members would like, and also attract new members.  We originally held the classes on the tennis court, and decided that we really needed to have a studio just for the iPsyclin."
So almost four months ago the renovation began.  A wood shop and storage area were cleaned out, and transformed into a spacious studio that looks like a dance studio except for the cycles.  A new floor, walls, including one mirrored wall at the front, ceiling, and black lights were installed, along with a room full of cycles. 
"We use the black lights at night," Wheeler says.  "It's a mood-educing thing.  It's a fun way to change the environment people are working out in.  People who are taking our classes love it.  It's for focus -- it really detaches you from what's going on outside, and I think it helps people blow off steam and stress and just focus on the class."
A year ago when the Leathers office moved from its location on Eastlake Road to the fitness club, the building underwent a major renovation that took close to six months to complete.  The structure of the building was changed to accommodate offices upstairs and some club space was lost.  Herbster says the new studio brings the square footage of the health club back to about what it was before the changes.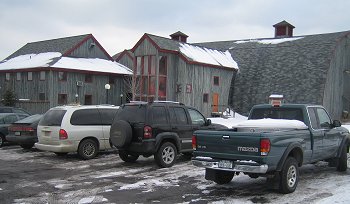 Eastlake Recreation Club also houses Leathers & Associates
Herbster says that one of the attractions of the class is that people of all capabilities and needs can work out together, because nobody knows what resistance you have set your particular bike to.  That takes out the element of self consciousness or embarrassment, and allows the focus to be on the music and the fun of exercising in a group. 
The classes are taught seven times a week by MacCarrick, Wheeler, and a third instructor.  Wheeler says the custom designed music makes it unique among cycling programs, and that people use the program as a weight loss program, for off season cycling conditioning, or for a cardio and toning workout.  The classes currently attract men and women in an age range between about 30 and 60 years old.
"It attracts a wide variety of people," she says.  "We get road cyclists, triathletes, athletes who want to cross train, moms and dads who just want to work out in a social setting.  We get people with back problems who can't run any more.  It's nice, because people of all athletic abilities can do it at the same time, because no one knows what your resistance is."
Herbster has managed the club since 1999, and has worked there 1996.  Over his career he has had recreation related jobs including tennis teacher, and head lifeguard.  He says he has lived in the Ithaca area over 30 years.  In his dozen years at Eastlake he has seen many changes, especially since Mark Leathers took over ownership from his father, who originally built the club.  "We've been trying to concentrate on getting people in the door," he says, noting that membership is reasonably priced.  "Last Easter we did an Easter egg hunt in the tennis court.  We had straw all over and buried the eggs in it.  We were hoping to do something for Halloween this year, but were busy with the renovation.  But we're hoping to do more events like that."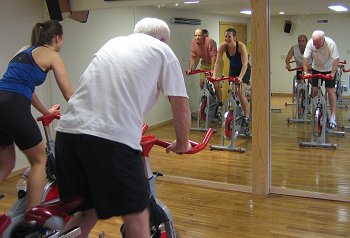 It stands to reason that the indoor playground is a major draw, because the club was built by Bob Leathers in 1992.  It features multiple levels in a multi-storey loft with play areas, nets and ladders, and a red tube slide that brings kids back to ground level.  "The playground is our claim to fame," Herbster says.  "We have quite a few birthdays every week, and a preschool open play program on Fridays."
iPsyclin has also attracted new members, at first iPsyclers who came over when the program moved from East Hill to the Lansing club, and now Herbster hopes new cyclers will be attracted.  "The different resistance on the bikes is the key thing," he says.  "You really don't feel like you have to be just like the person next to you that may be a triathlete or a distance cyclist."
Or just someone who wants to get in shape.
----
v4i2