Visitors to the Lansing Post Office have seen a new shop coming to life next door for the past two months.  Two weeks ago
Dynamic Ceramics
opened its doors, and already the shop is creating a buzz.  The business is a 'paint your own pottery' studio where customers choose from a large selection of bisque pieces, and get to paint and glaze them in the shop.
"This has been a dream of mine for two and a half years," says owner Diana Kennedy.  "My daughters and I went to a shop very similar to this in Corning.  I fell in love!  We had the very best day, all our friends together.  I said to the owner, Why isn't there a shop in Ithaca?  This is the perfect kind of shop for the Ithaca area."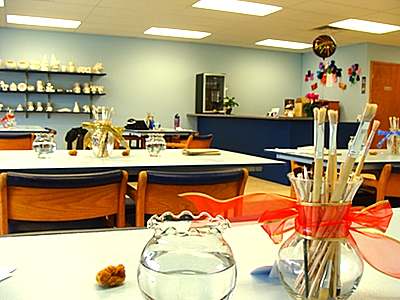 The studio features a wall of bisque pieces to choose from, including everything from mugs, flower pots and cups to figurines and platters.  A shelf to one side provides more than 60 paints and glazes customers may choose from, and work tables fill the space in the main room.  There is even a toddler area in the shop where kids can play while their older siblings or moms finish their projects.
Two large tables in the front provide a selection of seasonal pieces.  Naturally they currently hold scores of Christmas-themed pieces.  Every month Kennedy says the tables will feature a different seasonal theme.  She is thinking of a Super Bowl Sunday theme for January that may feature big platters.  The price of each piece includes everything including the bisque, glaze, firing, and tax.
"We have 60 plus different shades of paint and glazes," Kennedy says.  "You can take as long as you like to paint a piece.  You can use as much paint as you like.  If you run out of time and you can't finish your piece you can set it aside and come back as many times as you like to finish."
Kennedy and long-time Lansing ceramicist Noni Krom will be working together on some of the shop's projects.  Krom has a studio on Drake Road, but the visibility of the new business will bring her work to more people.  She will be providing bisque pieces for people to glaze, as well as showing some of her finished work in the store.  Kennedy says Krom has a tremendous stock of molds that wil allow her to greatly diversify the store's offerings.
One of the big attractions of the store will be parties.  Kennedy has fashioned a special party room with workspace and counters for supplies and equipment.  Parties are by reservation, and people are encouraged to bring their own refreshments.  The birthday boy or girl gets a plate that all the guests sign, and gets to paint his or her hand print and name on the party room wall.
The first birthday party was last Sunday, only a week after the store opened, and another is already scheduled for a Brownie troop in January.  She is hoping to attract all kinds of groups that may include red hat ladies, home schoolers, bingo groups, scouts, or any kind of group interested in a fun activity.
She also plans to host 'Ladies Nights' two Thursdays per month, where she will feature a particular piece and guide women through the project from start to finish.  Each session will focus on a different piece.  The first project will be a cupcake plate.  She is displaying a finished plate so people can see how it can look after they glaze and fire their own. 
Kennedy grew up in Montour Falls.  An art major in high school, she spent a lot of time in the ceramics lab.  She and her husband Marty have lived in Lansing for more than 15 years, and have three adult sons and two eight year old daughters.  That Corning visit planted the idea in her head, but it was a few years before it became a reality.
"I kept thinking I've got to open that shop," she says.  "I don't know how to do it, but I've got to figure out a way to do it.  I started looking around at places, looking in the windows, and dreaming, and making lists." 
In September her husband decided to take money from his retirement fund to get the shop on its feet.  The couple rented the space and spent seven weeks building walls, repairing flooring, and everything else to prepare for the December 3rd opening.  That's when the family started their new routine.  The girls get off the school bus at the shop after school.  Kennedy has fashioned a room with a kitchen in the back of the shop where they can have a snack and do homework, and where she makes dinner.  Her husband meets them there for dinner, then takes the girls home.  So far Kennedy says it has been working very well.
"We just did it," she says.  "Thank God for his support -- monetary support, emotional support, physical labor... he's been fantastic through all of this.  He's just stepped back and allowed me to bring my dream to life.  I wanted to find a job where I could really split my time between mom and the job.  We all need that second income, but I was torn about not spending enough time with my daughters.  This works out perfectly."
One surprise so far has been how many people are asking her whether she can find them specific pieces.  That has prompted her to be more aggressive about finding sources online and elsewhere to meet customers' requests.  She says Krom also has molds for some of the things customers are asking for.
Currently Kennedy is owner and sole employee.  She hopes to grow to the point where she can hire helpers.  Meanwhile she says her daughters enjoy showing the shop to people who come in.
"I have enjoyed meeting so many people," she says.  "I am also an artist at heart, and I have a hard time not pulling one of everything off of the shelf and painting them.  I really enjoy the artistic part as well.  You open that kiln and it's like Christmas morning."
v7i48