If you do special exercises that connect your mind and body you may be one of more than 11 million people who practise Contrology.  That's what Joseph Pilates called the exercises he developed in the early 1900s.  Later he developed machines that required going to a studio to exercise.
But fitness and Pilates instructor Deborah Newman wanted to go back to basics, using mat exercises and concepts Pilates wrote about when he first introduced his system.  She says she didn't want her clients to have to rely on machines  or exercising in a studio.  "I wanted to step away from that," she explains.  "I wanted to offer a Pilates-based program that people could learn from me and do in their homes."
Newman offers personal and small group training in a studio attached to her Peruville Road home between Ithaca and Cortland.  She also offers open classes four times a week, access to fitness trails on her 100 acre property, and sometimes teaches at other locations as well.
"I also bring traditional exercise concepts into it, and modern understanding of how our body works," she says.  "Through current exercise science and understanding of kinesiology that we have, the exercises are modified some.  So I don't teach classically exact Pilates.  It's taking his work to a contemporary level."
Originally from New Jersey, Newman realized that she had a passion for fitness as she and husband Robert were raising their three daughters.  She was especially interested in how a woman can fit exercise and fitness into the larger picture of caring for a family.  As her involvement grew she decided to take that to the next level, to become certified to teach and share her passion.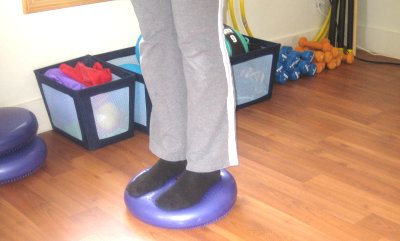 Balancing is fun
Today she is certified as an American Council on Exercise fitness instructor and a National Exercise Trainers Association certified Pilates trainer, and has studied specialties so she can work with women who are recovering from surgery or  breast cancer, suffering from fibromyalgia, or preparing to have a baby.  She typically works with women 30 to 60 years old on everything from weight management to training for marathons.
The 650 square foot studio is bright and welcoming.  There are fun-looking exercise weights, stability balls and other equipment, all small and accessible so clients can get their own to exercise at home.  A private bathroom and shower are part of the studio.  A balance bar is installed on one wall, but without a mirror.  "I deliberately didn't put a mirror in," Newman says.  "It's not what you see, but how you feel.  I wanted them to feel the exercise and focus on the mind-body connection."
Newman offers four open classes per week, but the bulk of her work is with individuals or small groups.  "I prefer to work with people one to one," she says.  "It gives them an opportunity to develop a program that's just right for them wherever they are at.  But I also offer small group options.  A group of women come together at the same time forming their own private small group, as opposed to an open class.  It's very personal.  It's almost personal training because I can interact with each person, get to know them and talk to them almost as if it were personal training, but they save money by working together."
Newman says that small groups of friends can be beneficial because they encourage each other to continue with the program, to do the homework, and have fun exercising together.  "I think they work harder because they are very comfortable around each other," she notes.  "They're not afraid to try things that you wouldn't want to do around other people because you might do it wrong.  There's an accountability.  And their needs are met emotionally, socially, and physically when they do this, so of course they want to keep coming."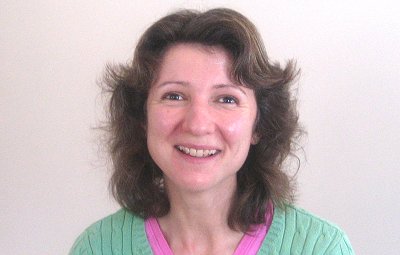 Deborah Newman
While she doesn't currently have corporate clients, Newman says she would like to teach fitness programs that corporations could offer their employees.  "I would love to tap into that and do a lunchtime course on their site," she says.  "I'm confident that I could sell that."
After becoming certified eight years ago she worked at the Wellness Center at Cornell, then taught fitness at Ithaca College, the Ithaca YMCA, and some smaller facilities in the area.  Three years ago she started her own business, and six months later began training clients in her own studio.
Newman says that exercise alone is most effective when it becomes an integral part of life.  "You can almost picture it as a puzzle with lots of pieces," she says.  "Exercise, family, nutrition, rest, personal growth and relationships.  It's all got to fit together to create a healthy lifestyle."
----
v5i2