"I started out as a young associate in New York City who had to bill a minimum of 60 hours a week or get fired," he says.  "Now I get in my car every day, drive my one and a half miles to work, and my mantra is how may I serve?  What can I do to help other people using my experience, skill, and knowledge as a lawyer?"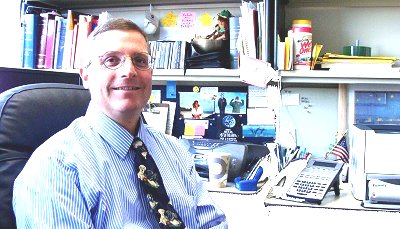 His focus is on commercial and civil litigation, starting small businesses, corporate and business law, as well as residential real estate, contracts, personal injury, estate planning, and wills.  While the practice started with business law, his clients wanted him to do this or that, and that shaped the firm as it stands today.
Feeney jumped into corporate law with both feet soon after he graduated from Cornell Law School in 1989.  That same year he passed the bar exam, married his wife Alice, and started work at a large Wall Street law firm, Milbank, Tweed, Hadley & McCloy where he was assigned to build a case defending the Celanese Corporation in a product liability case.
Celanese made a fitting that attached to a flexible plastic pipe made for household plumbing.  A crimp ring was compressed over the fitting to hold the pipe together.  Millions of these installations went into homes in the sun belt region, then followed the building boom to California and elsewhere.  Plumbing boards across the county accepted the system because of what Feeney calls a brilliant marketing plan that Shell Oil initiated.  The installations were inexpensive and installation was fast. 
Unfortunately they failed within an average of one to three years.  Feeney found himself in charge of a large group of computer experts, paralegals, clerks, copy guys, contract lawyers, and work with the lawyers who were charged with putting together a defense for Celanese.  In a scene that could have been taken from a John Grisham novel Feeney was shown a conference room filled from floor to ceiling with boxes of documents that his team would sift through.
"It was mind boggling," he recalls.  "I didn't think it was real.  I thought this was some kind of a joke.  And that journey lasted for six years."
That was six years of being away from his wife and children, of living in hotels.  When the case was finally settled his New York office was empty, because he had rarely used it.  After only two weeks at home he was told he would be going to Florida to do for Liggett Tobacco what he had done for Celanese.
"I said no," Feeney says.  "That was a life changing decision.  I said no for so many different reasons.  I didn't want to live on the road any more.  I loved my wife and kids and I wanted to have a family.  My grandmother died of lung cancer, and it was a horrible, painful, terrible death.  I hated tobacco companies, and I hated cigarettes.  My father always said, 'Don't sell your soul to the Devil.'  I thought that was it."
He rented space at 1 Wall Street and started his own firm.  Three months later he was hired by Thayler and Thayler in Ithaca, but was told if he wanted the job he had to come to work the next Monday.  The whole family picked up and were settled in senior partner Dick Thayler's summer cottage that weekend.
Feeney likes to talk about people who have influenced his life and career.  While working in New York he commuted on a ferry and passed the time playing blackjack with other professionals, including a hugely successful Wall Street financier John Garganum. 
"You better wake up," Garganum told Feeney.  "I grew up in Brooklyn and we had nothing.  I worked my way through school to become an accountant.  I worked nights and weekends.  I worked two jobs.  Then I worked even harder.  I got married to my sweetheart from Brooklyn, the most beautiful woman in the world.  Over the years we never took a vacation and for years I told her I'm sacrificing today so we can do whatever we want tomorrow.  I came home from work one day and she told me she had cancer.  And she died."
Feeney says that was when he decided to move to Ithaca.  The bad news was that he was assigned to defend an airplane crash/ product liability case that would take a year before being tried in federal court in Madison, Wisconsin.  It involved more travel and time away from his family.  Eventually he made partner at the firm. 
He then moved to the Harris Beach law firm for a short time in 2005.  He met attorney Robert Holdsworth there.  Feeney shared his secretary Julie with Holdsworth, and the three worked closely together.  Holdsworth convinced Feeney to go into practice together, and the three moved into the East Hill Business Campus.  They worked together from 2005 through  October of 2008.  Holdsworth specialized in trusts and estates, while Feeney handled litigation and business law.
Just over a year ago Holdsworth and Feeney parted, and Feeney moved from the second floor to the third.  He no longer has to cross the Hudson River to get to work, and he seems relaxed in his office with a spectacular view of Cayuga Lake.  He spends time working with coaches, teaching them how to coach, and has taken up music -- he keeps a guitar near his desk.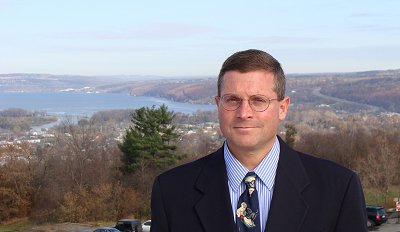 Feeney says that joining the local Business Networking International (BNI) group helped him focus on how to portray his practice.  When Feeney struck out on his own last August he wanted to use 'Innovative Law Group' as his tag line, because it fit the model he had intended when he started his short-lived firm in 1996.  But he no longer works in a group, so it morphed into 'An Innovative Approach To Law.'
"I thought about what I like doing," he says.  "I love working with entrepreneurs.  I love working with people who want to do it better."
Over the past year Feeney has lost 60 pounds, run over 2,500 miles, and adopted a definition of success that simply says you should be a little bit better than you were before.
"I love that definition because there is no time limit," he says.  "There is no quantifiable anything. You don't have to lift so many pounds of weights.  You don't have to run so many miles.  In business there is no amount of money you have to make to be successful.  All you have to do is be better than you were before.  If you are not able to adapt and grow and learn, you're a dinosaur."
Feeney says that after starting the firm to handle business litigation it grew to include a potpourri of services.  Business clients who liked working with him wanted him to draft contracts, or commercial leases, and the business grew.  He says that he has become friends with his clients here, and values those friendships.
"It's all about people," Feeney says.  "I had one lawyer tell me that law school was his calling in life, because it was the most wonderful way to learn and grow and study the law without clients.  It would be the perfect profession without the clients.  My makeup and character is absolutely the opposite.  I love the people I work with.  I have made the best friends from among my clients.  It is all about the people."
----
v5i44
It may seem like a long way from a huge Wall Street law firm to a one man business law practice.  Dave Feeney's South Hill practice offers the best of both those worlds, an experienced corporate defense attorney who brings that background to working with Ithaca businesses, small and large.  Feeney started his current practice just over a year ago, and he does a little bit of everything except criminal defense and matrimonial law.