The theory is that the fluids and membranes that surround the brain and spinal chord flow like a pulse.  Stresses and strains can make body tissues tighten and restrict this flow.  Detecting these restrictions around the craniosacral system and correcting them restores the proper flow, relieving the brain and spinal chord and the central nervous system they influence so significantly.  As a result a number of complaints are addressed from migraines and chronic pain to ADD, fibromyalgia, and post-traumatic stress.
"People really feel like they have relaxed the deepest they ever remember feeling," says CranioSacral Therapist
This email address is being protected from spambots. You need JavaScript enabled to view it.
.  "They'll say that at the end of a session.  Or they'll say they have less pain somewhere."
Surowick has had a body work and energy work practice for 18 years.  For the past five she has specialized in CranioSacral Therapy (CST) in a studio in her Ithaca home.  A licensed massage therapist, she became interested in the technique quite by accident.  Cashing in on an offer from a drawing at an Ithaca health fair booth, she received a session.
"I just knew that I wanted to study it," she says.  "Almost everybody gets off the table and they know that something important happened.  They either have never felt so relaxed, or feel straighter, or less pain, or clearer.  I felt that potential there."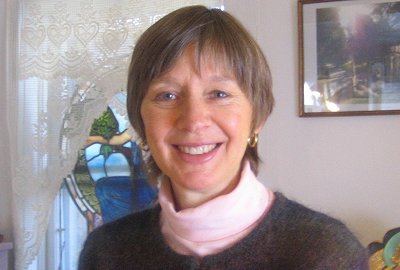 Elaine Surowick
A Baldwinsville, New York native, Surowick went to business school after high school, and landed a job at Empire Telephone Company, where she worked for 10 years.  Six and a half of those was as a line person, installing and repairing telephones, after she talked her bosses into letting her work outside.
24 years ago her son was born, ending her career at the phone company.  But it sparked an interest in herbs that quickly became a passion for learning about alternative medicine therapy.
When she decided to share that she took the approach her business school experience dictated.  First she attended the entrepreneur classes at Alternatives Federal Credit Union to learn as much as she could about managing a small business.  Then she went to school and earned her massage license.  When she moved back to Ithaca after a stint in Massachusetts she even bought her Slaterville Road house with the idea that it would be visible to potential clients who would see her sign as they drove by.
"I knew right from the beginning that I wanted to work with babies and kids," she says.  "That was because of my son's birth and his process.  He was sick his first winter and for many years he would be sick all winter.  I did lots of energy work on him through his whole life, and he developed migraines.  It wasn't until we found CranioSacral Therapy that something shifted last winter, finally.  I just knew that if somebody could have done this on him when he was little we wouldn't have struggled all that time."
She has had varied training in related fields including pediatrics.  She volunteered in a pediatric clinic in Indiana specializing in children with disabilities.  She also studied at the Family Hope Center in Philadelphia, the leading brain/neurological development center in the world.  She spent years working with children with physical and emotional disabilities.  She has also studied essential oils and is currently studying herbs.
She trained in CST at the Upledger institute, named for osteopathic physician John E. Upledger, who first observed the movement of the craniosacral system.  As a Professor of Biomechanics at Michigan State University from 1975 to 1983 he studied the existance of the cranialsacral system and the influence it has over the nervous system and the body.  His institute claims to have trained over 90,000 therapists.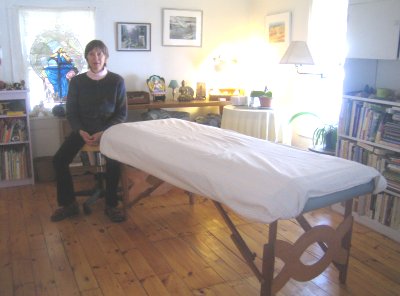 While she focuses on working with kids she has clients of all ages, also working with car accident victims and people recovering from surgery.  She says working with kids is better because it relieves stresses that might grow as the child grows.  But she says CST can benefit people at any time of life.
In the five years she has specialized in CST she has seen dramatic results in some clients.  A child exposed to crack cocaine in her first 18 months is now growing and can talk at age four.  She has treated children who had to have rabies shots when a rabid bat got into their bedroom, whose mother says she has noticed tangible changes.  A 24 year old with frontal lobe damage found himself able to sleep through the night after suffering years of nightmares.  A woman who had been thrown from a horse was noticeably relieved after a week.
But she also warns that clients must be realistic in their expectations.  She recalls one who wanted the treatment for a long-standing yeast infection that would more realistically be relieved by a lifestyle and diet change.
Surowic incorporates more than one kind of CST practice into her treatment of clients.  "I use a background in the chakra system," she explains.  "I use a background in the meridian system, awareness of pressure points, deep listening skills, visual assessment of the way a person carries his or her body, plant based massage oils that can help people with muscle tensions.  The most important is that I use love and compassion for my way to connect with people and the energy that comes through my hands to be a healing force."
A CST session is different from a typical massage.  "I keep a really clear boundary with people," Surowick says.  "That's really the only way it can work.  A person is fully clothed.  They lay on my table.  I'm holding different places on the body, in contrast to having somebody with their clothes off, using oil, and stimulating the muscles.  It's a very quiet hold."
Surowic says he favorite thing about what she does is helping people.  "It's like being in a meditative state for an hour," she says.  "I'm very focussed on what is happening inside somebody's body, which is very subtle.  Sometimes people notice those subtle things, and sometimes they don't -- it depends on the person.  It is a beautiful way for me to be deeply connected with somebody."
----
v5i5