Embracing Goddess Skin Spa
on West Hill in Ithaca you feel like you are being welcomed into someone's home.  The rocking chairs by the fire in the front parlor, the cosy treatment room in the back with soothing swirls on the ceiling.  And licensed aesthetician Holly Tarantelli greeting you at the door with a warm smile.  
There is a good reason for that: it is Tarantelli's home.  And the privacy the home spa offers does feel embracing.  "I really love the word 'embracing,'" Tarantelli says.  "When I came here whenever clients left I thought, 'You have this goddess glow about you, it's like your soul is radiating through your skin.'  Then I thought Embracing Goddess.  I really love this goddess feeling of strong women who take care of themselves and are OK with letting themselves be pampered.  It's hard for a lot of us to get past being moms who take care of people all the time to let someone take care of you."
Tarantelli specializes in facials for beauty and relaxation, and skin conditions.  "That's an example of how I've had to change as spas opened," she explains.  "At first I was all about pampering.  Let me relax you, your skin will benefit from the rest.  Then as these little spas and salons started to open up I noticed that I had everything I needed to make it a little more.  I decided to add the Murad line, which is a dermatologist line, more skin specific.  So I like to call it pampering with results."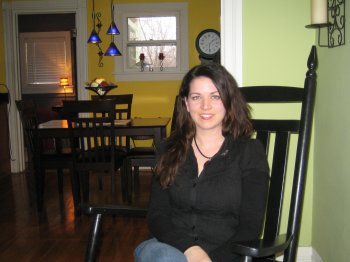 With a studio in the back Holly Tarantelli offers expertise
and privacy in the warmth of her home
A native of Gastonia, North Carolina, Tarantelli met husband Peter in college in Greensboro where she majored in dance and art.  Enrolling in a body work class for dancers she found she loved massage and working with bodies.  Before long she had gone to massage school and opened a licensed massage practice that she called 'The Embracing Spirit'.  That serendipitously led to her real passion.
A spa called to ask her to train their aesthetician in touch.  "I spent a week with her, and I said do I get a facial?" she recalls.  "I got a facial and I was blown away by how relaxing it was, how good my skin looked.  I then knew I had to do the skin care part.  So I enrolled the very next day in beauty school.  When I got there I thought, 'Oh this is perfect.  It's beauty, it's makeup, it's waxing -- it's all the things that I already do as a girl.  I just want to know as much as I can."
Tarantelli says she thinks she was the first to open a skin spa in Ithaca, where the focus is specifically on seeing an aesthetician about your skin.  But growing competition has forced her to think outside the box.  She works with clients who come for the relaxation and pampering, and also with those who want help with a skin condition.  "When we discuss your skin and body story when you come in for the first time some people simply want to relax," she says.  "I work on a lot of the teachers at the massage school and they appreciate the relaxation.  They understand the organic and botanical aspects of the skin care.  And they leave with this beautiful rested glow of fresh exfoliated skin, and they prefer not to have the chemicals.
"Then I have another kind of client who wants whatever it takes.  So we use alpha hydroxy acids, glycolics, the microderm abrasion machine to get results a little quicker.  And skin-specific facials.  People just book an hour, an hour and a half and we do what it takes to get the job done."
In addition to facials she does waxing and makeup artistry.  She also hires out to make up bridal parties for weddings.  She says she enjoys the challenges of adapting her own business to the changing marketplace, 'thinking outside the box' and coming up with new ideas that add to the personality of the business she has created.  She has turned down jobs at local spas because of this challenge.  "I really felt like I would be disappointed if I didn't see where I can take this," she says.  "I did the whole spa thing before.  This is something I haven't done.  It's a challenge.  It's all mine.  So I'd like to see how far I can go.  If I fail then I have some job opportunities, but I'd like to take it as far as I can push it."
With a goal of five clients a week the business has blossomed to twenty from word of mouth and her Web site.  She offers spa parties for groups of up to ten friends, that have included a book club, a newborn mom's party, and one for teens where she taught them to give each other facials.  " We invite a massage therapist to come and set up her table right in the living room," she says.  "We make it very private.  I do facials, and my husband's a chef -- or we order out food.  Or wine, or whatever people want.  They sit by the fire, or in the Spring out in the back yard with the hammock and they take turns.  It's an all day affair.  It's really special and it's really private.  I don't think you can get any more private than here."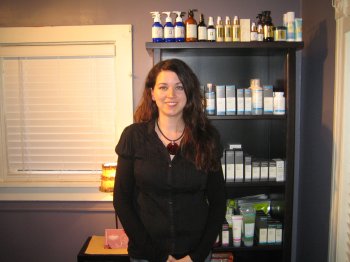 Always looking for something unique, Tarantelli has been working on what will become a series of e-books.  The first one will be about skin care, which she hopes will be ready to release within months.  After that she plans one on makeup and another for nine to twelve year olds who are just learning about makeup and skin care.  She also sells skin products from her home and on the Web.  "My regular clients really utilize the Web site, for mostly makeup," she says.  "When they get familiar with the product it's easy for them to just order on-line. It comes to right them in two days."
In fact the business has grown to the point where she is considering moving it out of her home.  But she worries that operating a home spa is part of what makes her business unique, part of the attraction for customers.  "I could see more people, but there's a point where you can only kick your family out so many Saturdays," she says.  "I feel like my family would support me if I had a space.  I'd still keep it small and intimate.  It wouldn't be a spa.  I would have to think out of the box."
She may not have to worry.  Her love of and belief in what she does is contagious and she says she would keep that home feeling even if she does move to expand.  "Whether it's pampering or results you want to develop a relationship with an aesthetician," she says.  "I think your results go further when you have a specialist.  I love to see people take advantage of a facial.  You would be so surprised at how nice and fresh your skin can look, so it's nice to have someone who can offer tips you can even do at home."  And it is also nice to have it done to you at Tarantelli's home.
----
v3i4
When you enter the