Everyone knows that Cornell and Ithaca College are the two colleges in Ithaca, and that the nearest SUNY facility is in Cortland, right?  Wrong!  The nearest SUNY facility is actually above the Ithaca Commons in the M&T Bank building.  Nested on the 5th floor is the Ithaca Unit of Empire State College.  The college is divided into nearly a dozen centers, each with local units including the one in Ithaca.
"We do not have a main campus," explains Ithaca Unit Coordinator/Mentor Christiane Warren.  "We have 35 locations throughout the state and are geared to adult learners.  We offer independent studies and on-line studies, which may seem very convenient for people who have lives, careers, volunteer activities, and cannot attend classes on a regular schedule."
Empire State College offers a unique, personalized experience for its students and teachers.  Students work on an individual program that is different from other student's programs -- even if their major is the same.  In most cases there is one student per class, and classes may be online or independent studies.  That student works with a mentor, a kind of advisor, to devise his or her learning plan and to see that it is implemented.
The college offers Associate, Bachelor, and Masters degrees in the arts, business, management, economic, educational studies, culture, history, human development, labor studies, sociology, and nursing.  Students work with a mentor to choose online classes or develop specialized ones.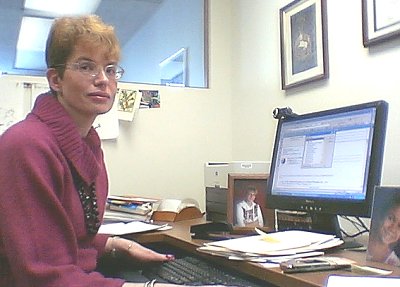 Christiane Warren
Unlike typical professors who teach a few classes of many students, faculty mentors at Empire State College teach many classes of one, and may not teach the same topic the same way to individual students.  They work one-on-one or in small groups, guiding students through their independent studies.  That means meeting with their mentor periodically to see how a student is doing and to suggest further action.
"I see most of my students once every two weeks, sometimes three," Warren says.  "I have some that I see once a month or only twice in the semester, because they are off and running with the course and know what they are doing.  I just check in a couple of times to see where they are."
Originally from Berlin, Germany, Warren earned her bachelors degree from the University of Maryland's overseas division, taking night classes while working for the United States Army.  After earning her bachelors degree in 1993 she moved to Delaware, and then to New Jersey, where she earned her masters degree.  She taught in community colleges in New Jersey, picking up a second masters and a Ph.D. along the way.
A mother of two daughters, she is a tenure-track mentor, the equivalent of instructor or professor in other SUNY schools, specializing in women's history and African American history.  She is the only full time mentor in Ithaca, as well as Unit Coordinator.  Her duties for the latter position take her into the community.  "I really enjoy the outreach, going places like the Chamber of Commerce and other organizations, and talking to prospective students," she says.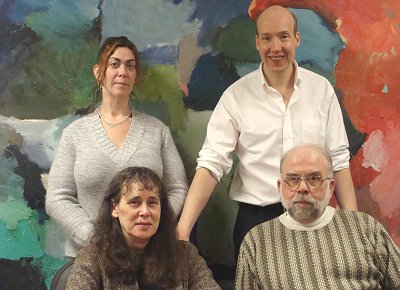 (Standing) Office Manager Tracie Braren, Mentor Paul Miller
(Front) Mentors Barb Rauschenbach, Jim Nichols
The Central New York Center is based in Syracuse, with units in Ithaca, Binghamton, Auburn, Utica, Syracuse, Fort Drum, and Watertown.  The dean, associate dean, and administrative professionals are based in Syracuse, and mentors working in the units communicate by phone and e-mail.
The Ithaca unit is staffed by Warren, four other mentors, plus an office manager.  Two of the mentors also teach at Tompkins Cortland Community College (TC3), and one also mentors in Forum, a special program the college offers for people already in the business environment who want to become higher level managers or earn an MBA.
Teaching in such a unique college means adapting to a hybrid of traditional and unusual parts of an instructor's job.  Like any tenure-track instructor, Warren must serve on committees, and show progress in research and publishing.  But with instructors spread all over the state, she misses interaction with other instructors n her field.
"That is perhaps the only downside, that we don't have departments," she says.  "I happen to have a colleague here who is also a historian, but he teaches a different part of history.  But most of us are on our own here, so there is not that community of scholars."
To make up for that she attends the annual meeting of the American Historical Association, where she is surrounded by hundreds of historians, a way to stay current and invigorated.  And a few times per year there are center or college-wide meetings.
Warren says that the college is a particularly good fit for people who decide to go back to school after working for some years.  While the college has traditional students who may have transferred from a community college or who are looking for an individualized program, the median student age at Empire State is about 35.
"I don't have the data, but I would think that for adults who work and have families that this is the better setting, and they have greater success," Warren notes.  "The younger student may do better in a traditional college, because they need the social element.  They often don't really know what they want to do yet, where the adult learner is more focussed."
That makes a big difference for somebody who has life and work experience, because they may be able to get credit for it.  There is a small processing fee to evaluate that experience and convert it into credit hours, but it is a way to save money on tuition by using those credits toward a degree.
"We are creative in finding credits for all kinds of activities," Warren says.  "They don't necessarily have to be in their area of concentration.  One student got credit for being an acupuncturist.  Another student got credit for being in Thailand several times and immersing himself in Thai culture.  That was four credits he didn't have to pay for."
Warren says that she loves her job.  After years of teaching required courses with 35 students who didn't necessarily want to be there, one on one mentoring has a strong appeal.  "I love meeting with students," she says.  "The interactions with the students and the special attention I can pay them, I love that.  I also like the mentoring part, being an advisor who fixes things.  I'm glad to be out of the classroom for now."
----
v5i6