When Kirk Shreve passed away unexpectedly at age 49 people wondered what would happen to Lansing Funeral Home.  His parents Jim and Dorian Shreve and life partner Alex Wood assured the public that the business was open, but people still wondered.  Last October, just over two years after Shreve passed away, the business was purchased by Lisa Auble, insuring it will be a vital part of the Lansing community for many years to come.
"I got in the car to go to the closing at my attorney's office downtown," Auble recalls.  "I was excited, but the closer I got the more sentimental I was getting.  By the time I pulled into my attorney's parking lot -- and Jim, Dorian, and Alex were pulling in at the same time -- I just started crying.  I looked over and Dorian was doing the same.  It was a bitter-sweet day."
Shreve helped Auble decide to become a funeral director, and then he mentored her as she went to school to become qualified.  She worked for him for nearly a year as she finished her degree, and the plan was that she would come to work full time as a resident, a licensing requirement, and beyond.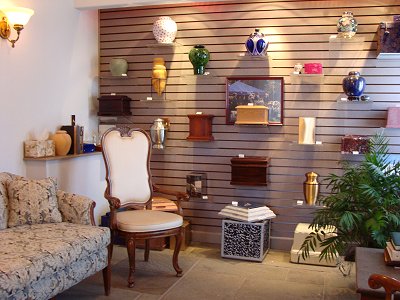 " I was going to school and doing my practicums here," she says.  "I was here nearly every day.  Our plan was that I was going to finish school and stay here.  But of course plans changed after his death."
For years Auble had worked as Registrar at the Tompkins County Health Department, also assisting the county medical examiner.  "Part of that was interacting with families in the case of a tragic death," she says.  "I found that I liked being able to help and that I kind of had a knack for it."
In that job she came into contact with local funeral directors, and that sparked her interest in the field.  Then she got a promotion, but the new job wasn't as good a fit.  She began to think about what she could do to get back to working with families in distress, with funeral directors, and the people in the medical examiner's office.
"It was a little more fast paced and I missed the interaction with people, so I wanted to make a change," she says.  "I had talked to Kirk and another funeral director about it and both of them said the same thing.  I think Kirk's comment was, 'Why don't you come over to our side?' And I did."
Auble says that while funeral directors have been traditionally male, the profession is changing to embrace women.  In October of 2005 she decided to go back to school and was soon enrolled at Simmons Institute of Mortuary Science in Syracuse.  With previous college credits she was able to finish the program in one year.  To become licensed a one year residence working under the direction of a New York State licensed funeral director is required, and she had thought she would meet that requirement with Shreve. 
As it turned out Ness Sibley Funeral Home's Joe Sibley approached her to intern at his Trumansberg facility.  Auble worked with him and Paul McPhereson at Covert Funeral Home in Ovid, which is also owned by Sibley.  McPhereson and Neil Lewis from Richards Funeral Home in Owego were covering at Lansing Funeral Home, so it was natural that Auble worked there from time to time as well. 
"During those two years we really didn't know quite what was going to happen," she recalls.  "I had always wanted it.  I always felt at home here, because this was where I started.  But I couldn't quite pull it all together.  I had an emotional tie."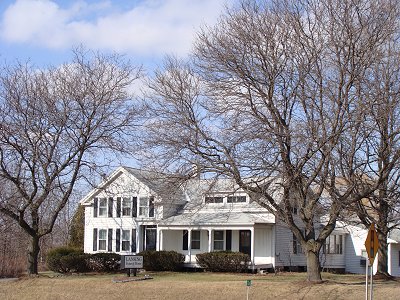 The Shreves wanted Auble to purchase the business, feeling that was what Shreve would have wanted.  But she had asked to be removed from consideration as she focussed on getting licensed.  Once she got her license things changes, and she called Woods to ask if it was still on the market.  It was.  Auble came to work as an employee in August, filling the role of funeral director and learning about running the business.  In early October her role changed from employee to owner.
Surprisingly the business didn't falter during the two years it had no permanent funeral director at the helm.  It held its own until Auble took it over.  She hopes to build the business now that she is there to nurture it full time.  She plans to build in many ways, updating technology and equipment as she attracts more business.  But she says that would be much harder if it weren't for McPhereson and Lewis filling in and the continuing commitment of Jim Evans, who also stayed to work for her when she became the owner.
"I couldn't do it without him," she says.  "He was instrumental in keeping this place going as well.  I'd be lost without him.  And Dale Campbell -- after Kirk died, Dale retired from it.  When I came back I needed someone more -- Jim's going to go on vacation or be sick, so I need somebody else.  I had worked with Dale and had gotten along well with him, so I called him one day and he's back on board as well.  I'm really happy with that."
Evans' wife Colleen also works part time, doing office work on an as-needed basis.  With a limited-sized staff, running the business is a challenge for Auble that she says she enjoys.
"I had worked at funeral homes before, but we had always had a secretary and more help than what I have here," she says.  "Here every day it's me.  If I'm running errands or at a funeral I don't have a person to answer the phone.  We come back at the end of the day and it might be six o'clock at night and we're unloading and putting things away.  I'm not going home -- I'm checking messages and returning calls, and finishing paperwork, and balancing the books."
As a new owner she is putting her imprint on the business, but at the core she is sticking with the high quality and standards of products and service that Shreve established.  "The products that Kirk used were top of the line," she says.  "The best of the best.  I've stayed with those for obvious reasons.  In this business you only want to use the best so I wouldn't have dreamed of changing the product lines.  They are products that I'm familiar with and have used in other funeral homes, so I have a relationship with those suppliers."
A room for meeting the families is decked out with her own furniture, providing a homey, unthreatening atmosphere that is more like a welcoming dining room than a room in typical funeral home.  This attention to details translates to every aspect of a funeral whether she is working on a body or arranging the many other aspects that must be seen to.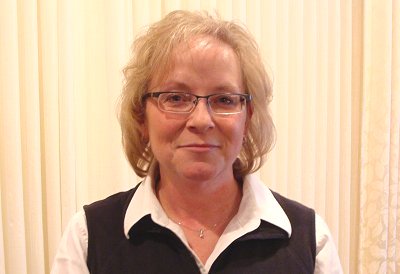 Lisa Auble
"You can't pay too much attention to detail as far as I'm concerned," she says.  "That's what this business is all about.  One minute little detail that you might not think is important, another person might place the most importance on that.  From the time that phone rings the first time you get a call and all the way through everything else comes to a halt.  That deceased person is somebody's loved one, and it's all in the details."
A Trumansburg native, Auble bought a house in Lansing, and joined the Lansing United Methodist Church.  She is committed to being part of the Lansing community and not just treating it as a place to go to work.  "Since I've come on board people I've met and at functions I go to people say, 'We're so glad that somebody's here every day, and that it's final, that somebody permanent is here who lives and works here,'" she says.  "Even though it's only about 20 miles it's a little scary.  You've bought a business, you're moving there, and it was a big change.  But one that I'm really glad I made."
She plans to be doing just that for many years to come.  Owning her own business is the fit she was looking for, providing the excitement of coping with the unexpected along with the joy of helping people at a time when they need it.  "I like the idea of not quite knowing what's coming down the pike next," she says.  "I like the variety and not knowing what the next day is going to bring.  You may be busy for days in a row and not get a break.  Then you may go three or four weeks and be able to take a couple of days off.  I thrive on the unknown."
That takes one unknown out of the mix.  Lansing Funeral Home is alive and well, and will continue to serve the local community.
----
v5i8