While western medicine dominates -- after all, we're in a western country -- alternative medicine has remained popular for those who feel that western medicine has failed them, or who want a different approach from the surgical/apothecary choices western doctors favor.  Acupuncture has gained acceptance in the west since it was used in the Paris Medical School in 1810.  It has become quite popular in the United States since President Nixon sought out relations with China in 1972.
In Ithaca Sadie Hays maintains an acupuncture practice at the Ithaca Center For Health in the Dewitt Mall.  Hays practices Chinese and Japanese styles of acupuncture, Chinese herbology, Chinese body work (Tui-na), energetics and dietetics.  "Those are the five branches of Chinese medicine, and I like to incorporate as many of them as possible," she says.  "Acupuncture can be a combination of Chinese style, which can be a little bit more aggressive and has more needles, and Japanese style, which is a little bit lighter.  The needles go in shallower and it's a more subtle treatment."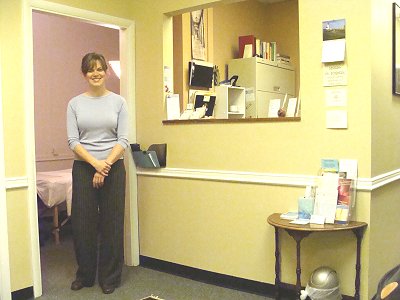 Hays is a New York State licensed acupucnturist, and is also licensed in New Mexico where she studied Chinese medicine.  She graduated from Southwest Acupuncture College, and has practiced in Connecticut before moving to Ithaca.  She doesn't buy into the mysterious stereotype that comes with eastern medicine, instead stressing its long history of success.
"I'm very straight ahead and down to earth," she says.  "I base most of my decision making within the Chinese medical paradigm, or the Chinese medical paradigm assisted by my understanding of Western medicine.  Chinese medicine has a really complex and historical background and backbone of medical theory.  It is all-encompassing, because it served as the primary system of medicine for thousands of years in China.  So it had to be complex and it was tested over billions of people over thousands of years.  So it's understandable to me that although it hasn't gone through the scientific trials of modern (Western) medicine, it has gone through the scientific trials of history."
While most of her patients are women, Hays will treat anyone.  She has a special interest in working with college students and elderly patients, but treats people of all ages.  She has a lot of experience working with women's health issues and pregnant women. 
"Patients who seek out Chinese medicine are usually in two camps," she says.  "One is that they know the route they have been down before.  For instance someone who has migraines say I usually take this medication.  It works, but I don't like to use it.  So they are looking for an alternate route.  The other patient I would typically see is someone who has gone down many routes before.  They've tried medicine.  They can't figure out what the problem is, so they're looking for someone to help them understand or bring new understanding to a condition that is longstanding.  So acupuncturists and Chinese medicine people and a lot of holistic medicine people often end up with mega-patients who have so many different complex illnesses happening all at the same time.  You kind of have to know about everything."
A native of Albuquerque, New Mexico, Hays headed out for college, but after receiving a successful acupuncture treatment for a sinus infection she became interested in the technique.  She returned to Albuquerque to study at Southwest Acupuncture College, where she studied Chinese medical theory, acupuncture point location, and Chinese herbal medicine theory.  After graduating with a Master of Science in Oriental Medicine she transferred to Wesleyan University in Connecticut to finish her undergraduate studies in Chinese Language, graduating with a BA in Asian studies.  In addition to her New York certification she is a Doctor of Oriental Medicine in New Mexico, and holds a National Certification Commission for Acupuncture and Oriental Medicine (NCCAOM) certified Diplomate of Oriental Medicine.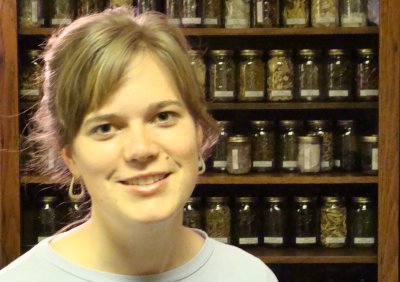 Sadie Hays
While at Wesleyan she went to China to study the language in 2007.  But while there she wangled a position in Shiji Tan Hospital in Beijing, working with a woman who specialized in weight loss and paralysis from strokes.  The pair spoke English when Hays started, but by the time she left they were communicating in Chinese.  Two years earlier she had interned at the National Hospital of Traditional Medicine in Hanoi, Vietnam.  Hays says she would like to go back to China to work more in the field of endocrinology.
"What keeps me interested in Chinese medicine is the theory and history and philosophy," she says.  "Academically and intellectually it's a stimulating field."
Hays says Ithaca is a good place to practice because the culture is such that people are at least a little familiar with alternative medicine.  "Here people are familiar with acupuncture to a point," she says.  "That means I get to be an educator in more detail and a little more tailor-made for the patient.  I work really hard to dispel the mysterious part.  My license in New Mexico is a Doctor of Oriental Medicine.  I can't think of a more mystical or misleading term than 'Oriental Medicine.'  However, this is the word that we've been given.  So how do you collect all those different types of medicine and use a term that is applicable?"
One of her most dramatic successes was a college student suffering from severe eczema that included boils and a rash that covered her whole face, back, abdomen, thighs, arms, and shoulders.  She had tried other kinds of medicine, but with mixed results.  Hays treated her almost weekly for about five months, after which most of the boils had cleared up. 
"The luster of her skin had improved," Hays recalls.  "The dryness of her scalp had gone away.  The pigmentation that came from having a rash on her face had cleared up.  She said it really changed her life.  For someone as young and vibrant as she was it was a shame that she wanted to hide herself from the world.  This gave her the ability to just be herself and be comfortable in her own body.  That was a huge success.  It happened over time, bit by bit.  I wasn't happy until the flare-ups were hardly happening at all, but as soon as she wasn't constantly in agony she felt like 75% of the problem had already cleared up."
The Center For Health is a good match for Hays' expertise.  Practicioners at the facility include a practitioner of acupuncture and massage therapy and a board certified Chinese herbalist, an Osteopathic Physician, a licensed massage therapist, nutritionist, and physical therapist
"My favorite thing abut practicing is seeing people thrive," Hays says.  "I see people tell me what they want and how they want to feel.  I see  them work towards it, and see them making subtle shifts in their lives.  As we develop our relationship working together I see how they plant a garden.  I feel the deepest gratification seeing people make those changes in their lives.  It's the best part about this job."
----
v5i18