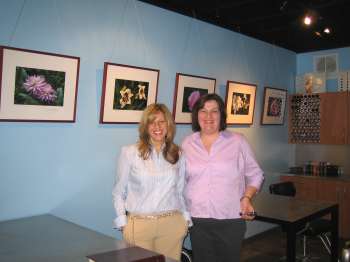 Custom Color Area -- No mirrors, relaxing,
featuring Ithaca artists on the wall
As they conduct a tour of the salon they project pride, enthusiasm and a sharp business sense, as well as their love for the beauty business and the community. "One of the things that we really wanted to create is something that you couldn't find in Ithaca, yet we want to be a part of our community," says Grider.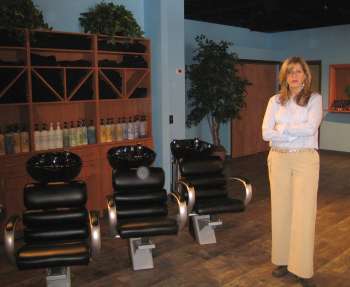 Hair Salon
The salon is divided into sections, with a logical flow to the various areas. Most of the salon is an open space with well-defined areas within it. A custom color area is to one side with tables and chairs, but no mirrors. "We designed this so women can come in and relax." That leads to the hair cutting area, a friendly, open space.
On the other side are the spa areas. These spaces are more intimate. A manicure/pedicure space looks like a small living room. "We wanted it to look like a comfortable place where you can come with your girl friends, or a husband and wife, side by side manicures and pedicures," Grider explains. Three sound-insulated private rooms are for massage, waxing and other services. "Our treatment rooms are designed for all of our services. It's a comfortable, quiet space."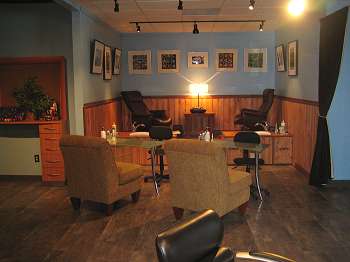 Spa areas feature a living room-like atmosphere
and private massage rooms

The wall over the custom color area is an art gallery. "We have a revolving art show," Grider says. "We wanted a space where local artists could show their work for free, and we could have a revolving art show so we always get new art work."
David Watkins is the third artist to show at Satori. The display is changed about every eight weeks so customers will have new art to look at as they come back. They open the spa so artists can throw opening night receptions. "Sarah Ahearn had one that was really successful," Boothe relates. "They had about 100 people here." The artists bring food and wine for the openings, as well as new customers for the spa. Satori sells gift certificates, and the artists refer people to the salon.
Boothe grew up in Dryden, while Grider came from Southern California. Right out of High School Boothe bought into a small salon, eventually buying out her partner. "That's how we met," she says. "Lynette started working on Saturdays while she was in school. Then I moved away to the Virgin Islands and I lived there for about four years."
While there she was introduced to her husband, as well as the name of her future business. 'Satori' was the name of a boat where Christie met her husband. The blue and brown color scheme also comes from the Virgin Islands, suggesting the water and sand there. "Satori is a Zen term that means 'a moment of enlightenment," says Booth.
"As soon as I wanted to get married and have kids this seemed like a really good place to come back to," she remembers. She returned with her husband seven years ago to raise a family. A year later she and Grider took a 13 week course at Alternatives Credit Union on how to build a business. When they finished they had a solid business plan, but the timing wasn't right. "Christie had a small baby and I had just bought a house," says Grider. " We realized our concept and our dream, but it wasn't the right time for us.
Last year, with Boothe's children grown to school age and Grider more settled they pulled their business plan out of mothballs and went back to the credit union for help. The Cayuga Heights location was available, and Boothe's husband did much of the building to make the best friends' dream into reality.
Meanwhile, the two chose their product lines and attended training sessions. The Bumble & Bumble line from NYC is exclusive to Satori within a 45-mile radius. "They have a business school in New York City," says Grider. "As we do sales our staff gets to go to their design school. So they give us a lot of support." Continuing training for themselves and their employees is important to the partners. "The girls all have their certification and they go for update classes all the time. We always know what the newest thing is."
Boothe's sister, Emily Jones moved back to the area from Seattle to manage the salon. "She coordinates it all," says Booth and jokes, "She runs our lives." But Boothe has her hands full managing the spa side while Grider manages the hair side.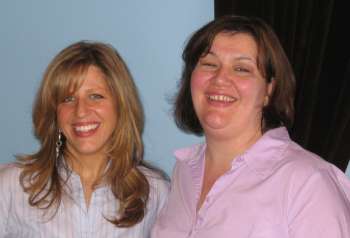 Owners Christi Boothe (left) and Lynette Grider
While the partners are building on a solid plan they are also looking to the future. "The thing we really feel will build our reputation is the quality of the service that comes out of here. If you don't have the quality to back it up then you don't get the repeat business that we've started to generate." In ten years they say they'll have a Satori in Saint Thomas and possibly others in small cities like Ithaca.
"That's why we're training such a tight staff now," explains Grider. "The quality has to be consistent and high across the board so that in the future a stylist can go down to Saint Thomas for three months." Both friends laugh when she continues, "We've already taken dibs on the winter months in Saint Thomas. Everybody else can take the rest of the year."
Boothe says that she wants to expand their retail business as well, expanding the exclusive lines they carry. In addition to Bumble & bumble currently they carry Bliss and Institut Esthederm products. They also see themselves growing as active fund raisers in the community for charities and community events.
The pair are targeting businesses for "group spa days" and partnering with the likes of Lakewatch Inn, Holiday Inn, Columbia Street Bed and Breakfast. They participate in packages that include wine tasting, dinner and the spa. They even give gift certificates for manicures to Mickey Roof customers who buy engagement rings.
Boothe is excited about an upcoming event in March. "We're going to have 80 women from the Johnson Business School come in and have a spa day," she says. "We will give a talk about our business and a presentation. We're going to have a mini-menu and a sampling of services."
Even in the short time they've been open they've expanded their business, hiring two new staffers and increasing a part timer to full time. They just expanded their hours to include Wednesday, Thursday and Friday evenings until 8:00pm.
"We really want to accommodate working women. To be open 'till eight gives them the opportunity to have a spa treatment and something relaxing and not have to worry about time," Grider says. "We're very much involved in good health and good fitness, working on yourself from the inside out. So your skin and hair glows not just from the products, but from the lifestyle."
----
v2i7
When you walk into Satori you realize you are not in just a hair salon. The space is open and elegant, upscale, yet welcoming. There is an air of professionalism mixed with warmth and a feeling that this is a fun place. This is exactly the atmosphere that owners Christi Boothe and Lynette Grider intended to create when they opened their business at its 840 Hanshaw Road location last August.