Dentistry without pain or stress doesn't fit the stereotype.  But that is exactly what the people at
Advanced Dental Technology
of Ithaca II, PLLC work to provide.  They do it with a combination of modern technology, matching the best treatments to individual patients, and a down to earth attitude that patients can relate to.
"I have great staff," says Dentist Marcia Zax.  "They are very, very knowledgeable, very personable.  I think the thing that sets us apart from most medical and dental offices is that we're very down to earth.  When you come in you can talk to the staff.  There's no small glass window where you present yourself and then have to sit down.  People are nervous enough when they come to the dentist.  I think it makes a huge difference that you can feel at home here.  People tell us all the time that they come here because they laugh and they feel comfortable."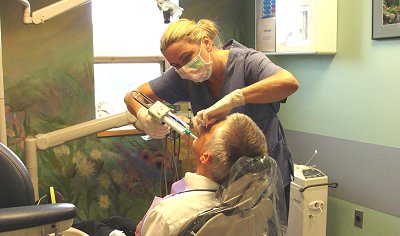 Kim McLachlan working on a patient
It is also telling that she has no turnover among her staff.  Receptionist and Certified Dental Assistant Kim McLachlan and Office Manager and Treatment Coordinator Nicola Donohoe have worked in the practice for 20 years, actually longer than Zax herself.  And Registered Dental Hygienist Deborah K. Lewis has been there seven years.  That makes for a tight team of people who like and trust each other, and that atmosphere translates to the patients.
Zax began practicing in Ithaca in 1993.  She joined Advanced Dental Technology in 1999, and then purchased it in 2001.  Soon after she purchased an electric drill to replace the air driven ones.  The new drills maintain their speed and run quieter, making fillings more efficient and less scary.  She also has advanced certification in the use of lasers.
But Zax says that just because you have the latest-greatest technology doesn't necessarily mean it is the best option for the patient.  ""One of the reasons to use a laser instead of a drill is that the patient doesn't feel it," she says.  "That also means that the doctor doesn't have the tactile sensation where he's cutting.  When you're taking the gross decay out it's not important, but when you're taking out that last layer it actually took longer, and I still needed to numb the patient in most instances.  So I've gotten away from using that.  The technology isn't there yet."
Originally from Providence, Rhode Island, Zax studied at a women's teacher's college in Jerusalem when she was 17.   She attended a seven year dental program at NYU, and then  did her residency at Strong Memorial Hospital in Rochester.  At NYU she had begun doing dental research looking at factors that affect cavity formation.  She attended Hebrew University in Jerusalem from 1986 to 1990, earning her PhD in tooth development.
Zax met her husband, a PhD in chemistry, at a Passover Seder in Rochester at a time when he was finishing a post-doc in Jerusalem.  The couple dated in Jerusalem for six weeks until he moved to his new position in Illinois.  "Then he said I'm not coming back unless this is serious," Zax recalls.  "So we got engaged after six weeks."
It took a year before he could get back to Israel.  In the meantime the couple communicated via BITNET, a precursor to the Internet.  Today they have three children.  He works at Cornell, while she owns her practice.
Zax says her favorite part of the business is the variety.  "I like being a general practitioner," she says.  "I like having a variety of different things to do, whether it's crowns, fillings, or root canals."
While Advanced Dental Technology is a general dental practice, Zax is sometimes presented with extreme or unusual cases.  Using a laser she removed a lesion on the side of an 87 year old man's tongue that was the size of a cherry tomato.  By choosing laser technology she was able to remove it without much bleeding, and no stitches.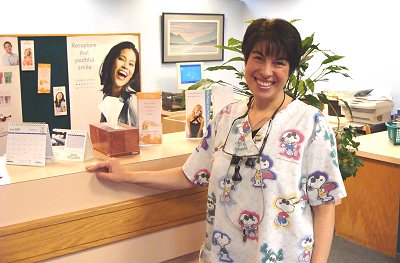 Dr. Marcia Zax
Another man wanted cosmetic dentistry because his young daughter had noticed his teeth had worn down to the nubs.  Zax rebuilt the front teeth, adding almost two millimeters of length to restore what had been there without changing the bite in the back at all. 
"The wonderful thing about it was that when it was finished his friends thought he had bleached them," she recalls.  "They had no idea how much work was done.  It looked wonderful, but people didn't pick up on the fact that things had been changed so radically.  It looked natural.  That's what gratifying, when patients see a big improvement in their appearance and they are very happy about it."
Dentistry is a high-stress profession, and Zax says that the most stressful thing for her is when a patient is feeling discomfort or stress.  That motivates her to go the extra mile to consult with patients on the best treatments, taking their point of view into consideration.  She also works with patients on dental health plans that allow them to forcast the work they may need over the long haul and spread out the cost, helping to relieve some of patients' financial stress.
"If there is anywhere where you could go and feel comfortable, our office is the place," Zax says.  "We want to make you physically comfortable in terms of not being in pain.  We want to put you at ease in terms of our relationship with you.  We want you to be comfortable about asking questions, and we want to explain to you what our findings are so you can be informed and be in the drivers seat."
----
v5i24