Most people don't talk about electrolysis.  After all usually they seek it out because they are embarrassed about unwanted hair.  They want a discreet, calming place to take care of it.  That is what Jill Bush provides at
AfterImage Electrolysis
located in the Invigorations Massage and Wellness Center in Cortland.
"It doesn't sound very exciting, but it really is," she says.  "I've been through it and it really does so much for your self esteem and confidence.  Particularly for women, it's empowering."
Invigorations is a big old house near the center of town.  Bush's space is like a small Victorian parlor.  She offers free consultations to explain the process and answer any concerns or questions.  Electrolysis is the only permanent hair removal process.  Unlike laser hair removal, it can be done on any color of hair.
Typical clients are women over 30 who may be tired of dealing with it themselves, or are starting to have children or going through hormonal changes that produce unwanted hair.  The majority of her clients come from the Cortland / Dryden / Homer area, with others coming from Syracuse, Lansing, Ithaca, or DeRidder.
"Some people have a fear of needles and are afraid to try this," she says.  "What they have to understand is they are not getting poked or pricked.  They don't feel the insertion because the follicles are already there.  It's a wonderful way to get rid of your hair."
Clients lie on a table while Bush uses a device to work on one follicle at a time.  The device uses pre-sterilized disposable probes.  The probe is a bendable wire that is inserted into the follicle.  When the probe is placed she steps on a foot pedal that heats the cells to create steam that slowly destroys the follicle.  Bush says it takes about a year to permanently clear an area , repeating the process over several appointments.  The hair becomes lighter and softer, until the follicle can no longer produce a hair.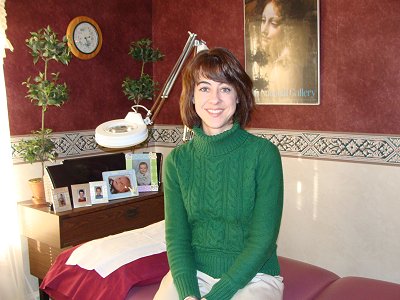 Jill Bush
"It's like a zingy tweeze," she says.  "It's hard to describe.  People's skin who have been tweezing and waxing is usually desensitized to begin with.  There are the few that are very sensitive, so I offer two different kinds of  topical anesthetic numbing creams for those folks."
Bush worked in a chemistry lab for about ten years.  She wanted to be out on her own with the flexibility to start a family, but still work.  She got the idea to become certified in electrolysis from an Ithaca practitioner she was using herself.
"I was looking for something to get out of corporate America for quite some time," she says.  "The woman I was seeing in Ithaca was retiring, and she suggested it to me.  So I took a risk.  I wasn't sure if I would like it, but I'm glad I did it."
She earned her electrolysis certificate while continuing at the lab.  Just over four years ago she rented space at Invigorations, advertised, and was open for business.  At first she kept her other job, but eventually made the leap to be in business on her own.  Many of her clients come from referrals and word of mouth.
Her business is going so well that Bush plans to open a second location in Ithaca in 2010.  She has purchased a second set of equipment, and is considering locations for the new office.
"I worked both jobs for a little while, then decided to quit my full time job and do this," she recalls.  "And I'm very glad I did.  I wanted to have a place here for people.  I felt there was a need, and I was right.  There hasn't been anybody here for years, so people are very glad that I can offer this service here in town."
Bush lives in Groton with her husband Gary and their two small children.  He works from their home, and his mother also fills in with the children when Bush is working.  She loves helping people, as well as working at Invigorations.
"It's great working here," she says.  "It's such a relaxed atmosphere, and I get to work in my slippers, and have a cup of tea.  People love to come here."
----
v5i46