Myers likes to blend personal service with being part of his community and its history.  In fact, his building was the first fire hall in Cortland, and the city's first town hall was on its third floor.  Ceilings for the second and third floors were supported by ropes and cables for the horses that pulled the old fire equipment.  "They could raise or lower those to accommodate whatever, so when the fire happened it was no longer an option," Myers says.  The building burned in the 1990s.  "The first floor here was totally redone and I think most people think it's a beautiful office place.  On the second and third floors there is nothing in them yet because they wanted to focus on the first floor which was dealing with the public."
Myers only recently bought the building and became the Cortland agent in partnership with his wife Vicky.  They repainted the frontage and put new signs up.  "Then we tried to then focus on how can we differentiate ourselves," Al says.  "A person realizes that 'hey, this is a neat building, this is nice' when people come in.  We've tried to make sure everyone feels very comfortable when they come in, not just personality wise, but refreshments and what have you."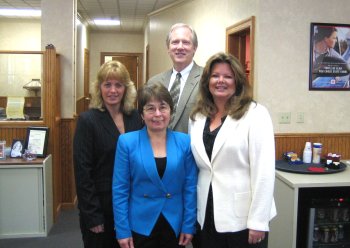 (Left to right) Vicky Dimorier, Cindy Bullock, Al Myers, Vicky Myers (not pictured, Cynthia Hanoock)
While they only took over the office a few months ago, the couple has a long history with State Farm.  Vicky worked at a State Farm office right out of college in Bloomington, Illinois, where the company maintains it main office.  Al, also from Bloomington, has been with the company for 30 years as a regional supervisor.  With most of his career in New York State the family has lived in Saratoga Springs, Syracuse, and now Lansing.
But frequent relocations wear thin.  "We have moved every two and a half to three years," he says.  "We keep our cars two or three times as long as our homes!"  At age 50 he decided it was time to put down roots.  "We didn't like the thought of moving again, especially since we love this part of the country and our kids were very comfortable in school.  The State Farm agent who owned this building before was very interested in retiring to Florida."
They had specific goals for the business.  First and foremost they wanted people to get to know them, and that included a smooth transition with the existing staff as well as their clients.  "I guess my favorite thing so far has been getting to know the awesome girls on the staff," says Vicky.  "They are really a professional, fun, great group and I've enjoyed that."  The couple has made a real effort to work with the existing employees, Vicky Dimorier and Cindy Bullock, and added Cynthia Hancock from Lansing, to round out their team.  At the office Vicky goes by 'Victoria' so she won't be confused with Dimorier, and Hancock uses Cynthia to differentiate her from Bullock.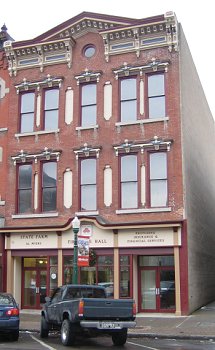 The Myers office is located in the historical Cortland fire hall
That went for getting to know the customers as well.  "We didn't want people to be concerned about 'Oh, gee whiz the former agent is gone, what do we do?'" Al says.  He says the immediate challenge is to put a face to the agency, letting people know who he is, and to feel comfortable with him and his staff.  "This is still a vibrant downtown area," he says.  "You can't say that about every small town.  People still come into town, they come in for breakfast down at the Community Restaurant.  They come into here to pay their bills a lot of times when they could just mail things in.  They are used to see who my agent is and who my team is, not just to make the payment here.  They have fun with the team here, maybe have some coffee or doughnuts or whatever we've had that day."
That personal touch is something the Myers say is part of State Farm, and that the company reaches out to middle America.  "I like helping the average people who really need some help and don't have a lot of places to turn to, people who are willing to help them," Al says.  "Personally, I know when we help someone with auto insurance or homeowners insurance I know intellectually we are doing something good for them."  
But the company doesn't just provide insurance.  Myers says there are a range of financial services as well.  And he has made sure that his staff is well rounded so that they can handle all the products State Farm has to offer.  Recently State Farm cut their rates by 10% to help agents compete with the gecko.  But Myers says his office has another advantage over the gecko, which is that you know who you are dealing with, rather than dealing with a faceless person at a big company.
As a Lansing resident he also has clients here, and says that the personal approach means that wherever he is, the agency is, too.  He often visits clients who may find the drive to Cortland too far, while valuing his new place in the Cortland community at the same time.  He has already become part of a group that finds way to promote downtown Cortland business.  " I feel so far that much of my input has just been as a newcomer to the community and giving a different perspective," he says.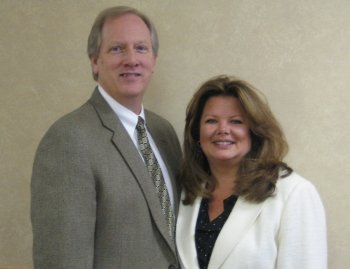 Al and Vicky Myers
He notes that State Farm doesn't offer franchises, so there is only one agent to each office.  This encourages the personal touch, and he likes it that way.  "This is the Myers Agency and everyone in Cortland knows it and when they come here, we're here," he says.  "I'm here, Victoria is here, there is not a branch office where a staff person is representing us."
Vicky says she loves going back to work at State Farm, and getting back to her roots.  "I started in commercial underwriting and so I'm the commercial specialist here so I help the small businesses."  She splits her time between the office and her home so she can be with their seventh grader, Zack.  And while Al is spending a lot of extra hours working right now, they feel it is important while the community is getting to know him.  Loving the work helps.
"When we help someone with life insurance with the financial services, I know with my heart that I have done something good for them," he says.  "I like that.  That's always been a thing about State Farm to me, but it's always been a level or two removed for me as a regional supervisor.  As an agent I get the direct face-to-face with individual people and I know I am helping those people.  If they know it and believe in it they will stay with me and share some things that maybe they wouldn't with other people."
----
v2i49
When you walk into an insurance office you hope that there will be somebody there who will explain your options in language you can understand.  That means people you know, or would like to know, who not only can answer your questions, but will take the time to do so.  "It's about helping people," says State Farm agent Al Myers.  "That may sound corny but that's what the role really is."