People who are good at business are, in many cases, not great writers.  Yet businesses relies on good writing to portray them as professional, viable, and legitimate.  Shannon Myers plans to tap that market by offering editing and writing services to local area business people.  She will even help them improve their business writing.  "Part of my service is offering guidance throughout the process," she says.  "It is designed to be comprehensive if they want to know what I've done and why.  Or if they just want me to do the job I do that."
Myers has been writing for publication and professionally for about twenty years.  She works for the Cortland Area Tribune for about five years, writing over 55 business profiles, copy editing, selling advertising, and working on layout.  She is also a contributor to Tompkins Weekly.  She has dreamed of starting her own business so she can work from home, and decided a year ago to build a business and offer her experience to businesses that need it.
The new startup will offer packages of services to clients, as well as work at an hourly rate.  Myers offers a five page edit and a polishing service package.  She will create a marketing kit, or you can get 'The Works,' which includes a business profile, design, layout, and writing for brochures, and a marketing kit.  She offers Copy editing, substantive editing, proof reading, written critiques on peoples' work.  Business services include writing for brochures and flyers, press releases, full profiles, and editing of promotional materials.  She also plans to offer writing services for students.
Originally from Cortland, Myers lives with her two sons in Freeville.  She began writing poetry in her 20s and soon was being published and winning awards.  Since then she has migrated to writing fiction, and says she is about half way through writing a book of supernatural short stories that she hopes will be published by the end of next year.  She is a founding member of Cortland Writer's Group.  "We have participated in poetry readings, events, workshops," she says.  "We published our first anthology last year.  We are a critique group.  We meet and share each others' work.  We're informal and friendly."
While she offers editing services to authors of fiction, she is focusing on services she knows business people need.  She especially likes preparing business profiles.  "I like meeting people," she says.  "Everybody has a different story, and some of them are really amazing.  Some people come from being dirt poor to having a successful business.  Some people plan it for half of their lives and finally they've done it.  That's very positive for me to be able to interview people who have taken business on and do it.  It's an inspiration to me -- all these people are doing this and they're making it work.  I can make it work, too."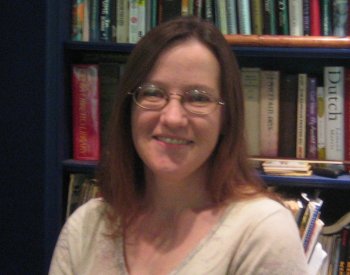 Shannon Myers
When constructing materials for a business she customizes her approach.  She begins with an interview, and collects materials a business may already have.  "I ask them what they want me to focus on," she says.  "Sometimes it is a new service or an anniversary, or a grand opening, or they're adding on.  I try to get a lot of information about where they started, what made them want to do what they do, what kind of experience they have, difficulties, if they have grown how well are they doing compared to when they started out -- from the beginning to the end.  I take it all home and put it together from beginning to end, then revise it."
Myers has been preparing to launch the business for a year.  She took the business startup course at Alternatives Federal Credit Union last summer, and filed a DBA this June.  And the prospects look good.  "I spoke to a business owner recently who asked what business I am starting," she says.  "She said, 'You know, I  need that because I had material, I took it to a printer and said please design me a brochure.  They did it and she got it.  She said, what is this?  There are mistakes in this.  The printer said they don't edit, they just lay it out.'  She said several friends who have gone into business have had the same problem."
Myers hopes that All Clear Editing will eventually become a full time business.  "I've worked in factories and worked for other people, and been through a lot with employers and corporate employers," she says.  "I have wanted to work from home for at least a decade.  I want to do something that I love, and to help other people."
----
v4i31