By

Dan Veaner

Business Profiles

Print

You probably don't think too much about bottles when you buy your laundry detergent, but that is about all they think about at the ALPLA plant in Cortland.  Housed in part of what used to be the Rubermaid factory, the plant primarily makes laundry detergent bottles, though it is not limited to that.  They make bottles for many for brands you would recognize like Fab, Final Touch, and Dynamo, Nivea, and Sunlight Dish Detergent, among others.
"We're a people-friendly company," says Operations Manager Bill Bowering.  "We do lean manufacturing, so it's a lot of work.  Nobody's sitting around here with nothing to do, but our employees are treated very fairly.  It's a really good company to work for."
ALPLA is an international company that was founded in Austria in 1955.  Today the company has 134 subsidiaries in 37 countries with about 12,000 employees.  Four years ago the company came to Cortland.  That plant employs 36, and is currently in the process of hiring ten more.
One of ALPLA's strategies is in-house operations.  Customers are allotted space to set up their own bottle filling plant, and ALPLA makes the bottles, which are filled on site, reducing costs because a whole step of trucking is eliminated.  A company trucks in its raw materials, then mixes their product on-site.  ALPLA makes the bottles, which go directly to the customer's fill lines, and the bottles are filled in the same operation as the bottle manufacture.
"It's beneficial for both companies," Bowering says.  "It saves a lot of money.  We're able to switch gears very quickly.  If they say 'we need this to run tomorrow' we can make that for them tomorrow.  We can make to order what they need, how much they need, when they need it.  It's a big convenience for our customers.  They come right from here to the fill lines, and then they go out as finished goods, so it saves one whole step.  With diesel fuel close to four dollars a gallon it's a big advantage for them to be able to do this here."
At the moment the Cortland plant is the only ALPLA facility that ships bottles to outside filling facilities.  but most of its business is with customers who set up shop in their factory, and it is about to double its capacity.
Marietta Corporation, a major manufacturer of skin and hair care products and bar soap much of which is distributed to hotels, owns the building.  The facility currently operates 24 hours, five days a week, but Bowering hopes to increase that to 24/7.  The facility has 36 employees, and currently has three production lines.  Three new machines are to be delivered this month, doubling the plant's capacity. 
The facility put out a call for 10 new employees a few weeks ago to handle the extra load.  The new production lines will expand the number of containers ALPLA can make for Marietta and other customers.  Marietta has given ALPLA more floor pace for the new machines, and there is room for another three machines as well.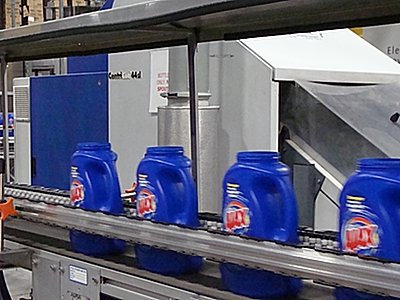 The business thrives on convenience for its customers, and the flexibility to change a production line to manufacture a different sized and shaped bottle very quickly.  Extrusion blow molding involves melting and stretching the plastic, blowing air tin to form the plastic against the mold surface.  When a different sized and shaped bottle is needed they shut down that line and install new molds.  One process technician specializes in changing the molds, and he is helped by two or three others.  The molds are so heavy it takes an overhead crane to move them.  Each mold can make multiple bottles.
"Right now we have two lines that have eight cavity molds," Bowering explains.  "We have a shuttle machine, so it comes in, blows eight bottles, and while it's taking those out another side comes in so we're actually running sixteen bottles at a time."
Two operators run the three lines, and test them.  Two packaging operators maintain auxiliary equipment like box makers, glue, and robots that stack the bottles on palettes.  From there they go to a space where it becomes the customer's property and responsibility.  ALPLA puts the bottles in boxes, which are taken next door to be filled and repacked in the same boxes.  That makes shipping easier.
These days recycling is on everybody's mind when it comes to plastic containers, and that is especially true in the factory.  Bowering says that with certain plastics the opportunity to recycle is just as good as glass, if not better.  There are multiple uses for plastic when it is recycled.  ALPLA gets 'repelletized' plastic to be used in new bottles, and recycles the plastic during the manufacturing process as well.
"Recycling is important for us, Bowering says.  "If a bottle is rejected for a label not placed right, or for any reason, it automatically goes into the grinder and is put right back into the machine.  It can all be recleaned and reclaimed.  We buy repelletized material post-consumer, so that's going into everything that we make.  ALPLA's pretty big on being green and doing their part for the environment."
Waste plastic that doesn't end up in bottles comes out in clumps.  ALPLA is working on a way to reprocess that so it can be used in Cortland or other ALPLA plants, which will mean zero waste.
The company is looking at other ideas to enhance green manufacturing.  They recently talked to the local power company about variable speed air compressors that will reduce the horsepower needed to compress the air, saving a lot of energy.  Bowering says that ALPLA is using solar panels to run computers and other equipment in its plants, so it is very possible they will be installed in Cortland.  He says more of the European plants use solar energy, but it's coming to the U.S.
While the Cortland plant currently works primarily on soap bottles, Bowering says he is looking for ways to expand the business.  He says he will look at and take on any work that we can get. 
Bowering has long experience in plastics manufacturing.  Before coming to ALPLA he worked for Ball Plastics.  When he goes shopping he brings a professional eye to the grocery shelves.
"We made a lot of Pepsi bottles and water bottles at Ball," he says.  "You'd look and see defects, or whatever.  Now I do the same thing with laundry bottles.  You go in a store and you're drawn to them.  Now I'll look a bottle over and say, 'we can make that.'  So I look at ways to expand our business."
So the next time you buy a bottle of Fab or some other detergent, chances are it was manufactured just down the road in Cortland.  And it may even have plastic you recycled in it.
v7i40