As Iran shut down traditional news media during the current election crisis western news anchors have been touting the only source of information they have: the Internet.  Anyone can say anything on the Internet and this is how Iranians are geting the word out of an otherwise locked-down country.  That freedom of communication that the Internet offers is exactly what attracted
Lightlink
's Homer Smith and Jane Staller to the Internet over a decade ago, and to provide access to the Tompkins County community.
"I love getting people into communication with each other," Smith says.  "It's very subversive.  I love allowing them to be a publisher and empowering them."
Lightlink is an Internet access company that provides dialup and high speed access to local businesses and individual customers.  It started as a local dialup access company in 1995, and at a time when Tompkins County is beginning to talk seriously about getting Internet into rural areas Lightlink is actively doing something about it.  The company is bringing high speed wireless Internet to Newfield, Enfield and parts of Lansing.  In addition there are about 65 Lightlink Internet 'hot spots' around the county, and of course dialup is still available.
"I like the connection part," Staller says.  "The fact that you know that you'll hear a story that it made a difference.  I know for a fact that people on Fiddler's Green in Lansing would be on dialup right now.  I feel good when somebody has got high speed when they would have had to wait years."
Lightlink is a home-based business, run from two townhouses in Ithaca.  While one is designated as the couple's home and the other for the business, the cables and computers on both sides make it difficult to distinguish one from the other.  The business employs a core of about a half dozen people who work from their homes.  Some of those are disabled and a work at home job is their best option.  With installers there are up to a dozen employees.
Smith is originally from Manhattan where his father was chairman of the Department of Physiology at NYU.  His parents died when he was in 5th grade.  After that he lived with his aunt's family on Long Island.  He was sent to the Hotchkiss School, at that time a boys school.
"It was terrible," he says.  "But they had computers there.  That's where I learned how to program.  I spent all my time with computers because there were no girls."
He went to Cornell for engineering and psychology, but says he majored in pot.  He dropped out in his senior year, pursuing spiritual issues and programming on the side.  His interest in the Internet continued to grow.
"I caught onto the Internet because it was so subversive," he says.  "You could write anything you wanted to and the whole world would have it the next day.  I loved the fact that there was pornography on it and they couldn't stop it, because where the pornography flows the political commentary can flow."
You might say that the business came about because of a mutual love of spirituality, mathematics, computers, and each other.  Staller is an Ithaca native.  When she was 15 her father, a Cornell economist, wanted her to learn something about computers.  Smith was working for him as a computer consultant so he set up a meeting.
After high school she lived in France, then went to Barnard College, transferred to Cornell, dropped out, went away for a while, came back to Cornell, and dropped out again.  While at Cornell  she wanted to pursue architecture, and was told to take math classes.  That led to her seeking out Smith with questions about the nature of infinity as it relates to Buddhist philosophy. 
"I knew how smart he was," she says.  "I sought him out to ask him questions about calculus.  The greatest connection between us is metaphysics."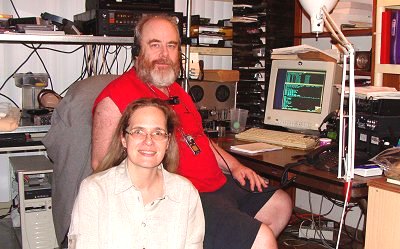 Homer Smith and Jane Staller
In 1985 the couple started Art Matrix, a company that sold images of fractals created on a Cornell supercomputer that Smith worked on.  The images were startlingly beautiful and quite popular at the time.  They were available on large posters, postcards, and on a DVD that make the computer generated constructs appear wonderfully alive.  But a decade later more powerful personal computers had come onto the market and people could generate their own fractals.  In 1995 with the fractal business declining and Smith finishing his position at Cornell the couple decided they needed to come up with a new business idea.
"That's when Jane and I took a night to figure out what the break-even point was on a dialup system," Smith recalls.  "It turned out to be about 256 users.  We wandered around for a week worrying about whether we could get 256 users."
They attended a conference in Ithaca and announced that they were going to start an Internet dialup access company.  Four years later they had 1,700 dialup customers.  But soon Time Warner introduced their high speed cable modem service and dialup accounts began to decline.
All Internet access companies need a trunk line that connects their customers to the Internet, and because companies like Time Warner and Verizon provide this backbone to other companies they can also offer high speed services for less.  In this atmosphere smaller companies are forced to be innovative and find niches in their communities in order to survive.
Internet hotspots and wireless access make up the niche Lightlink is filling.  This is good timing because of the popularity of Internet cafes and a groundswell of municipal interest in bringing high speed access to their rural areas.  Recent county-wide talks have floated the idea of using the emergency response system towers to provide wireless access, among several other possible solutions.  The Town of Lansing has proposed an infrastructure committee, a revamp of the sewer committee that would broaden its purview and make rural high speed Internet its first priority.  Lightlink already provides high speed to customers on Fiddler's Green and is exploring ways to bring it to other areas in Lansing.
Meanwhile there is a push to get wireless high speed to Newfield and Enfield.  Federal grants are available for expanding high speed access, though the competition for these grants is fierce.  Lightlink hopes to get such grants in the future, but that isn't stopping the company from moving forward with a grass roots approach now.
"In Newfield we didn't apply for a grant," Smith says.  "We're trying to do this the old fashioned way.  We are using towers or building them.  We're using silos and peoples' houses and trying to jump with the infrastructure that's already there.  People hate towers.  The people with silos are happy to get free service for the use of the silo, and there are towers we're on."
Smith loves providing access to the Internet and using his programming skills for everything from keeping the network running to writing his own business software.  He loves working at home and being with the couple's six cats.  While the company does provide Web site hosting, his passion is for connecting people.
"I hate Web hosting," he says.  "I want to be a genetics person.  I want to be a nuclear physicist.  I want to be an astrophysicist.  I want to solve the mathematics of black holes.  I'm never going to be that but I can provide them the computers to do that."
Staller's is excited about bringing high speed access to the rural  parts of the county, connecting more people to each other and providing them high speed access.
"It keeps them competitive, and keeps their kids able to compete in school because they have access to information," she says.  "It's a huge difference between those who have it and those who don't.  It would be good to get that more evenly distributed to people who live in the boonies of Lansing, or Newfield, or wherever."
----
v5i26