Life's So Sweet Chocolates
is it.  The moment you walk into the Trumansburg storefront you are immersed in the heavenly smell of chocolate.  The shop is one long room, and the candy is manufactured right there.  Much of the candy in the display cases was created only a few feet from where you view it.
Shop owner Darlynne Overbaugh manufactures the candy herself by hand.  "When folks come in their first reaction is, 'Oh it smells so great,'" she says.  "That's what the difference is -- it's made right here in the room.  There's no magic back room.  I develop a lot of new creative ideas right here."
Overbaugh splits her attention between what she calls classic and unique confections.  On the classic side she makes fudge, creams, clusters, bars, and peanut butter cups.  The unique side includes chocolate dipped chili mango, Aztec truffle (a dark cocoa truffle infused with chili powders), six flavors of chocolate covered popcorn, unique truffles, dried fruits, and mint chocolate frogs (don't worry -- they are solid mint chocolate in the shape of a frog, not a real frog dipped in chocolate!).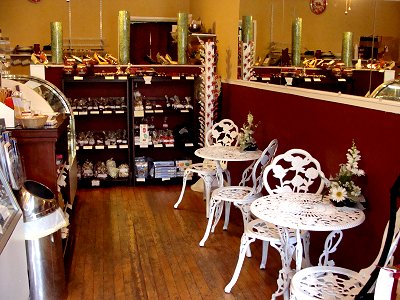 Entering the shop is a bit like going back in time.  Everything about it brings back childhood memories or memories you'd like to have from the smell of the chocolates, the display cases, the chocolate-filled designer shoes, the tin ceiling, and the Jelly Belly clock on the wall.
"If we don't make it, it comes from a local, regional, or family-owned business," she says.  "Those are the rules."
She rearranges the shop for the different seasons.  Tables and chairs are set up in the summer to give the feeling of a small bistro to provide a place for chocolate tastings.  The tastings are similar to wine tastings, available from mid-April through October.  In the winter she puts out more display cases to offer more boxed and bagged versions of her chocolates for quick gifts.
The shop employs three assistants with Overbaugh manufacturing candy six days a week.  In the summer months and before major holidays she tries to be open Mondays, but typically the shop is open Tuesday through Saturday.  Easter, Valentines Day, and Christmas are the busiest times, with more walk-in business in the summer.
Overbaugh grew up in Rochester making candy with her mother, who made it for fun and for gifts for family and friends.  The peanut butter cups she sells today are made from her mom's recipe.  When she was about eight years old her parents needed someone to take care of her after school.  As it happened the the Kaiser Candy Company was across the street from the school, and the couple who owned it volunteered.
"I watched that 'I Love Lucy' episode where the candy is coming off the conveyor belt in their shop," she recalls.  "There was a similar candy conveyor belt next to me and it was very influential.  Their kindness and their very positive attitude influenced everything they did."
Overbaugh saw how chocolate was made and even got to help behind the counter.  And she picked up the warm, personal touch that she brings to her own customers today.
"There is a value here that is very distinctive," she says.  "You can't go into many places and say where is this from?  I can tell you.  I can talk intelligently about everything in here, and I train my staff to be the same way.  I really believe in that local regional connection."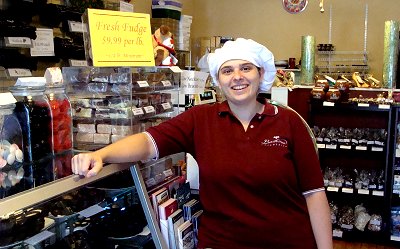 Darlynne Overbaugh
Overbaugh graduated from Wells College with a degree in Theater.  She moved to Ithaca to work at the Kitchen Theatre as stage manager, and then in marketing.  She also worked in marketing for the Hangar Theatre, Kitchen Theatre, and Cornell.  She met her husband Bill, a Trumansburg native, six years ago.  A few months before they got married he suggested she turn her candy hobby into a business.  In 2007 she began by renting a kitchen, and in 2008 the Trumansburg storefront came available. 
"The shop just made sense here," she says.  "We're a beautiful village.  We have a lot to offer.  I can be open year 'round.  It's a bit of a drive, but people are never disappointed."
She notes that if you don't want to drive you can buy her chocolates online.  Typically visitors to the area will buy from the Web site when they go home.  Overbaugh hopes eventually to grow Web sales.  Her Chocolate of the Month Club offers options for year 'round gifts for friends, family, or yourself.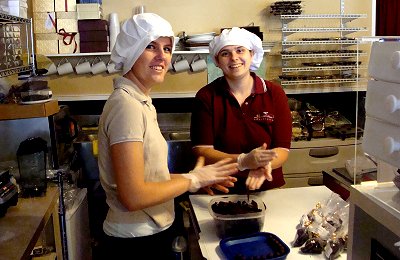 Assistant Audrey Bialke (left) helps Overbaugh hand-roll truffles
Life's So Sweet is all about community and being part of the local landscape.  Overbaugh  makes the German Shepherd (dark chocolate bar with roasted hazelnuts) and the Calico Cat (milk chocolate with peanuts) bars specifically to support the Tompkins County SPCA.  Her candy is carried by the Ithaca Flower Shop, Rogans Corner, and Belle Mellange.  The Village Candy Shop in Manlius carries her Aztec Truffles, Standing Stone Vineyards carries some of her products, and she is developing a loganberry wine truffle for Knapp Winery.
She also works with other shops in Trumansburg.  Rent-A-Flick carries her chocolate covered popcorn, and Trimmer's Ice Cream carries her chocolate covered bananas.  Cayuga Lake Creamery makes ice cream bars, which she dips in chocolate to create Sweet Cayuga Bars, which are sold at the creamery as well as her own shop.
"My focus is making the chocolate and the other ingredients harmonious so you're getting the best flavor combination and the best ingredients," she says.  "Chocolate is fun.  Chocolate is art.  Ultimately chocolate is part of your life.  It should reflect who you are and what you like and should be part of everyday consumption."
----
v5i31
If ever a shop was well named,