As you drive along Ridge Road you can't help but notice the Statue of Liberty on top of the little storefront building between the old fire station and Gene's Machines.  It is on the roof of Liberty Liquors, Lansing's newest business.  The store is owned and operated by Wally Kusznir, who opened his doors on October 16th.
"I think the people are extremely friendly, he says.  "They are very happy I am here.  Almost every third person that walked in said, 'I'm so glad somebody decided to open a liquor store here' because it's so far to drive (to Ithaca stores) and they don't feel like driving there even if they want a drink of wine with dinner."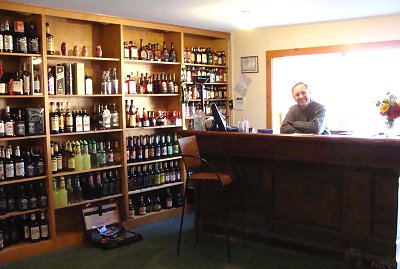 A selection of spirits covers the west wall, while wines of
various nationalities line the east wall.  Local wines will be
featured in the center when display racks arrive.
Kusznir comes to the area from Liberty, New York where he owned a gas station with a pizzeria and convenience store.  He and his wife Doris moved to Dryden to be near two of their four children who migrated here, a daughter because her husband works at Cornell, and a son who attended Ithaca College, and now co-owns Top Shelf Liquor and just took over the Subway on the Ithaca Commons.
Once the couple moved here he began looking for a business -- it made sense to go into the wines and spirits business because he could get help and advice from his son, who now has experience in the business.  He has also visited some of the local liquor stores, and gotten some advice from them.  Before locating Top Shelf on Danby Road, Kusznir's son had considered the Lansing location, where Lansing Liquors had operated some years ago.  The shop was still set up to sell wines and liquors with the bar-like counter and many of the shelves intact.  Kusznir reasoned that there is a market for a liquor store here because Lansing Liquors had been open for some time.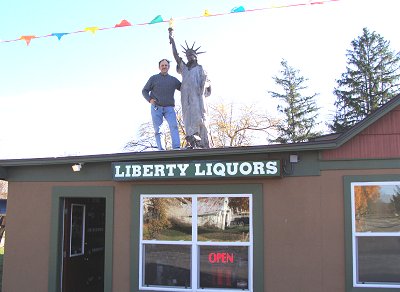 Wally Kusznir and friend on top of Liberty Liquors
"Then we passed by the hotel and there is a plaque that says before this was called South Lansing it was called 'Libertyville,'" he says.  "I had the Stature of Liberty in my back yard, because I had owned the Liberty Motel.  One of the hotels was going out of business and they had an auction.  There was a Statue of Liberty there.  I looked at it, I liked it, and I said, 'That would be nice for the Liberty Motel.'  But I sold the motel before I got to put it there.  When I came here I said, 'Well, why not use it?'  It's going to get attention.  People are going to look at the Statue of Liberty and they're going to know I'm there."
Originally from Poland, Kusznir's family moved to the United States in 1964.  As he grew up they moved around from Brooklyn, then in Queens, then he went to school in Georgia, and Florida.  He went to college in Vermont, then lived in Long Island for a while after marrying Doris.  The couple spent 25 years in Liberty before moving here.  Doris now works as director of Lakeside Nursing Home.
Once he decided to open the store and signed the lease it took a year to get his liquor license.  He got notice that it was being considered in July, but it wasn't until this month that he was approved and could begin stocking the store.  He is still waiting for wine racks to feature local wines.  Until they arrive they are displayed on a table in the back display room.  He also carries California, Australian, Spanish, Portuguese, Italian and a variety of international wines.
"We are trying to get a variety and once people tell us what they want and once we get rolling I hope to bring some wines that nobody else has in the area, like from (the Republic of) Georgia, for example," he says.  "They are supposed to be one of the best winemakers in the world.  That's what President Roosevelt drank with Stalin and Churchill when they met in the Crimea on the Black Sea."
Kusznir is an occasional hard liquor drinker himself, and says he prefers wine.  But he says he doesn't always get to drink his favorites.
"My wife likes white wines, and I prefer red," he says.  "So we settle on Merlot, or one of those."
Kusznir, who speaks Polish, Ukranian, Russian, and Spanish in addition to English, is enjoying the diversity of the area, and hopes to meet people of various origins who now live here.  He plans to offer liquors from their homelands if they want them, such as Polish or Russian vodka.
"I love to deal with people," he says.  "I love to meet them, talk about their background.  If we can speak in their language that's even better.  I like that.  I always try to talk somebody's language.  If they speak Spanish I talk to them in Spanish, if they speak Russian I talk to them in Russian.  It gives me practice and I enjoy it."
Liberty Liquors is open Monday through Thursday 11am to 10pm, and Friday and Saturday from 11am to 10:30pm.  Kusznir is planning a 'Great Opening' on the weekend before Thanksgiving to let people know the store is now open.  The event will include a wine tasting from local wineries, and he plans to lower his prices by 10%  for the event.
Meanwhile the 'soft opening' has been going well.  That statue certainly makes people curious to stop in and see the new store.
"Since we opened people started coming," he says.  "I'm not going to say there are big crowds, but they are calling one another to say there is a liquor store here.  We're taking requests for people so I can get what they drink.  I try to get them what they want.  So far I like it.  I like it very much."
----
v5i43