Kgeiger Design announced today that it will partner with Memories By Design to provide a high quality package that will help families honor their loved ones with dignity and respect. KeepSake Kabinet is a quality crafted display for photos, memories, and videos. Memories By Design specializes in creating professionally produced tribute videos and photo restoration. Together the companies offer customers a one-stop opportunity for honoring loved ones.

"We are very excited to partner with Memories By Design," says Kgeiger Design President Kevin Geiger. "We feel this is a perfect match. We have the same goal: to help families in the time of sadness and help with the healing process along with celebrating one's life with dignity and respect."


Lansing, New York-based Kgeiger Design provides custom built hardwood display units that include a magnetic system for mounting pictures that allows them to be displayed without ruining them. At the center of the display is a frame in which a tribute video can be played. Memories By Design, based in Spokane, Washington, creates custom videos, professionally rendered, that celebrate a loved one's life. Together the products provide a high quality, customized, portable display at funerals, and a lasting tribute at home. The package is ideal for funerals, weddings, anniversaries, graduations, and all lifelong milestones when people celebrate the lives of loved ones. It provides a high quality display that enhances the décor in funeral homes, churches, retirement homes, and reception halls.

"The KeepSake Kabinet is one of the most brilliant and innovative ideas I have ever seen," says Fingerlakes Funeral Directors Association President David Penepent. "I can see what an asset this will become to families and funeral homes by the way it can be set up in such a timely manner. This beautiful cabinet allows families to truly memorialize their loved ones and celebrate their live's accomplishments in a dignified way."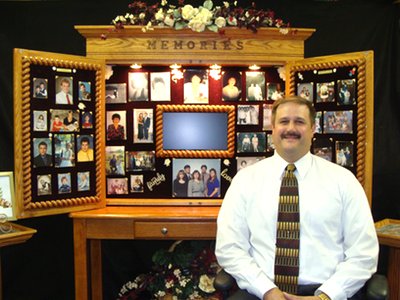 Kevin Geiger with a KeepSake Kabinet


The partnership between the two companies will provide a unique package to funeral professionals that replaces makeshift easel displays and home-made videos displayed on laptop computers. Both companies were 2010 National Funeral Directors Association (NFDA) Innovation Awards nominees.

"All of us are so excited about our partnership with KeepSake Kabinet to include them with our family of products," says Memories by Design President and CEO Barbara Gustin. "Since we take great pride in creating premium-quality, individualized celebrations of life, KeepSake Kabinet is a perfect fit for us; both incorporating items chosen by the family to capture the personality and the passions of the one they've lost."

The partnership is being launched this year at The NFDA Convention in Chicago. The convention runs from October 23rd through 26th. The companies will offer a package deal in booth #333 where they will demonstrate how the KeepSake Kabinet and Memories By Design videos can be customized to any family's needs.
{fcomment}

v7i33