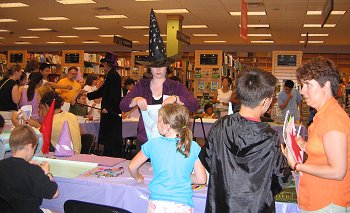 The party was very well attended at Borders
At our local Borders we had a party that Fred and George Weasley would be proud of. There were Berite Botts to be tasted, Hats to be made, Faces to be painted, and even a Magician!

Magician Mike Stanley performed to the stan-up crowd
With all the festivities when I checked the time.  We only had fifteen minutes until the book graced us. Fans could choose from the traditional edition, the Deluxe edition, and even the audio book, read by the familiar voice of Jim Dale. To obtain the book, or books the muggle would call before July 2nd and pre-order their copy, the the muggle waited until July 15th, that day the muggle simply would go to store and receive their ticket and wait for mid-night.
(Editor's note: in the Harry Potter lexicon, a "muggle" is a person who is not a wizard.)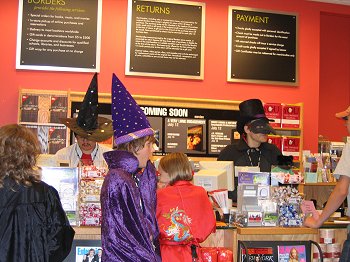 Fans were tired but happy as they checked out their copy of Harry Potter and the Half-Blood Prince after midnight
Many read the book within the next few days, as I did. The book shows not only Harry, but Ron and Hermione as well maturing and getting into relationships, and acting more like the of-age Wizards and Witches they are.
While I'm sure some fans are disappointed that the excitement had died down but it should pick up again as there's only three months and twenty eight days untill Harry Potter and the Goblet of Fire Movie!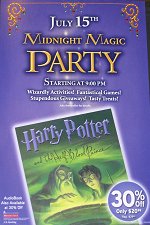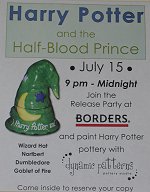 Some people, myself included, have been counting the Months... days, and Hours until the release of Harry Potter and the Half-Blood Prince, But the waiting is over. As of July 16th the long wait for the sixth installment of J.K. Rowling's Harry Potter series was over. The book was greeted all over the United States with grinning faces and loud applause.