THE HANDEL PROJECT:
Open air music and dance at the CRS Barn Studio
Ah, the joys of summer in Ithaca! To sit outdoors on a balmy evening, watching the sun set over Cayuga Lake, sipping a cool drink, and all the while listening to beautiful music with lyrical dancing on a grass-carpeted, tree-bordered stage. If it's not heaven, it must be The Handel Project--the newest summer offering at the CRS Barn Studio.
The Handel Project, an evening of music and dance in the gardens of the CRS Barn Studio, will be performed on July 23-25 at 8:00 pm with a rain date of July 26. Conceived and produced by artistic directors Steven Stull and Jeanne Goddard, The Handel Project features favorite musicians and dancers from the central New York area who also appear with opera companies, dance companies and orchestras across the United States and internationally. Singers include sopranos Julia Ebner and Tina Stewart, mezzos Ivy Gaibel and Melisse Weber, tenor Todd Geer, bass-baritone David Neal and baritone Steven Stull, accompanied by Bill Cowdery on keyboard and Victor Penniman on electric viola da gamba. Dancers Diane Cahill, Donna Davenport, Sarah Foster, Margaret Irving, Carrie Rohman, Risa Lieberwitz, Christi Sobel, Jacob Slominsky, and Ms. Goddard (choreographer) skip and swirl across the green in response to favorite arias from Alcina, Julius Caesar, Semele, and other operas and oratorios from Handel's impressive oeuvre.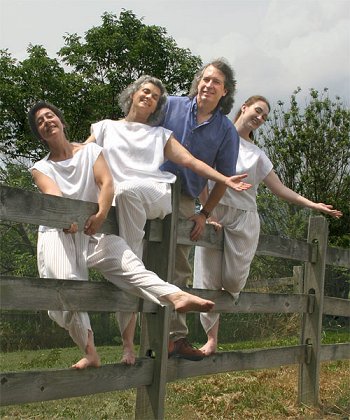 During the summers of 2002-2004, the CRS Barn Studio delighted audiences with the music-and-dance extravaganza, Opera Cowpokes. Last year's Arias under the Stars concert paved the way for more "opera al fresco" at the CRS Barn Studio. The barn is located at 2622 North Triphammer Road in Ithaca, 1 1/2 miles past the Pyramid Mall. For more information about The Handel Project, please call 607.257.2043, email <This email address is being protected from spambots. You need JavaScript enabled to view it.> or visit www.operacowpokes.com
Tickets are $15 general admission, $10 students and seniors and are available at the gate. Feel free to bring your own lawn chair or use one of ours.