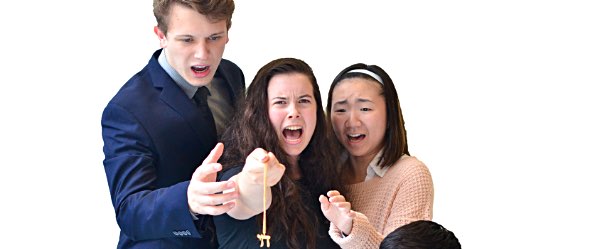 Bad Jews, Joshua Harmon's fun-filled dark comedy about family, faith, and love, runs November 2-4 at Cornell's Schwartz Center for the Performing Arts.
The internationally-lauded play centers on a fight between three cousins over who is the most deserving of their deceased grandfather's Chai necklace.
Director Julia Dunetz '19 chose the piece because of its warm reception from college audiences across the country. Dunetz feels the "youthful, contemporary" show is a perfect fit with Cornell's audience and has special resonance for her as a Jewish woman.
"The play explores themes that have been prevalent throughout my life, as a Jew, and I am excited to bring a story that shares those stories to the stage," said Dunetz.
Junior Mabel Lawrence's set design transforms the intimate Black Box Theatre into an apartment on the Upper West Side, where hilarity ensues as the four-person cast brawls over the beloved necklace.
On the play's universality, Dunetz said, "This is a play that any person from any background can come see and connect with; it poses questions that we can all relate to."
Performances of Bad Jews are in the Schwartz Center's Black Box Theatre November 2 and 4 at 7:30 p.m., and November 3 at 5:00.
v13i41