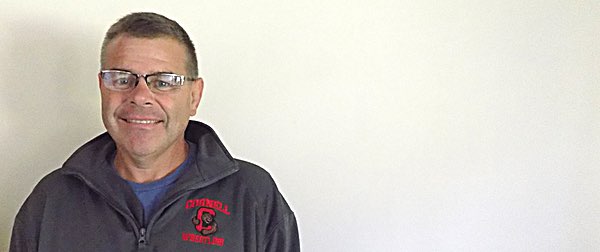 Doug Dake (R) is running for his second term on the Lansing Town Board. His top issue is 'getting the word out'. He says the current board runs well, but people have questions about planning and the process of how town governments are required by state law to work.
Dake is a general contractor who, along with his business partner Doug Boles, has been in business for 20 years. He has has lived in Lansing for a total of about 37 years, and spent several years coaching wrestling at Lansing High School. He and his wife Jodi have three children, Kyle, Corey, and Kristen. He invited the Lansing Star to his home to talk about his candidacy.

Lansing Star
: Why are you running for Town Board? What makes you a better choice than your opponents?

Doug Dake
: Balance and common sense. We can't do everything. We have to have a balance and everybody has got a tipping point as to where that balance might be. I think I bring that to the Board, and common sense, my first read on things is, by and large, a good read.
I have brought my knowledge of construction to the board several times. As a contractor I have a feel for numbers and prevailing wage, and insurance issues that could go awry -- and they don't. It gives a better feeling of the cost of a project and the feasibility of a project, and I think that helps in a lot of ways. It helps us design other buildings... it may save us a little bit of money if we don't have to go out on design for certain things, and a lot of things don't need to go to design. there are common sense things that the Highway Department might need, for example.

There seems to be some opposition to the projects proposed for the so-called 'Town Center' land across the street from the town ball fields. What is your vision for that land, and what issues do you think its sale should answer?

We're fighting a huge battle right now with the loss of tax revenue, specifically from the power plant and the Shops at Ithaca Mall. Luckily this year we were able to combat it not only with new lumber, but also with assessment. So we're not getting a spike this year in what could be a problem year, not necessarily for Town taxes, but for the school tax.
With that in mind the biggest questions I see across the street (from the Town ball fields) with the Cornerstone project at this point is - there are two - first, is it going to be a problem area for law enforcement? That is certainly an important issue if we plow this through. There's going to be a lot of use there. We have to think about this. If, for some reason, that place goes awry and the sheriffs need to go there every day like they do at Poet's Lansing in Dryden, places where there is a problem. Where 95% of the people are fine, but you've got that 5% and we've got an issue.
What does that mean? Look to Dryden. They've got their own little police force. Here we don't. We have good sheriff coverage. We have great state trooper coverage.

Something like this might stretch those resources?

Well I would think it would. At that point we look to the county and we say, 'listen, Sheriff, we have 24 hours in a day. Are we all of a sudden responsible for two additional deputies for 12 hour shifts?' It's certainly crossed my mind.
The other is the tax burden. I believe Al Fiorille brought it up quite eloquently at the Planning Board review, and I don't think I could do it justice... basically with regard to education and the number of students that may live there, and how they get their funding. Their funding is based on several different layers of government funding. All of a sudden instead of one bedroom apartments at Village Solar (Apartments) where they're the ones that people want, there are three bedroom apartments, because you're getting a little more tax money for kids.
I'm not trying to belittle that situation at all. We do need to find affordable housing. Where's the balance? That is the biggest issue that I have.
We don't want the crime element, period. We don't want it. We don't want to have to deal with it. Does that mean there isn't a call in Lansing every day? Probably not. But one place, and all of a sudden it's trouble, and all of a sudden it's got a moniker and you've got an issue. How do we put the toothpaste back in the tube?
These are all genuine concerns that people I associate with bring up.

The new comprehensive plan revision has taken many years to craft, and it may not be ready this year. Has it taken too long? How would you have handled it if it were up to you?

I think the original committee went too long. It's a guideline. It's an important guideline, don't get me wrong. It's there for a reason. It's there for grants. It's a guideline for the town, a future window of how we envision Lansing for ten years. I believe the first drafts of it were very ultimatumish, for lack of a better word... we shall, we must, we do. It's not a zoning law, it's a guideline. What sections of the town do we see as possible 'Residential 2'? Which are R1? There are reasons we changed to B1 because of the a corridor... where do we see development?
The first process, I believe, took too long. I live with the Village of Lansing Clerk (his wife, Jodi) and their process took two years. Ours has taken six. It's insane.
Get a group of people together that you trust and get it done. Give them a time limit. I don't think it matters if it is perfect. It doesn't need to be a perfect document, because in ten years it's going to change.
Secondly, I like the fact that the Planning Board went through it, but we probably gave them way too long to do it. We could have kept that within a 90 day period and had three, four, or five meetings instead of thirteen. Granted there are a lot of things that they corrected, but had it been done when I think it should have been done I don't even know if I would get to vote on it because I wouldn't have been in office yet.
It doesn't matter at this point. We're shooting for the Planning Board's public hearing on (October) 30th, and I'm looking forward to a public hearing at the Town Board level not long after, as soon as we can, and we'll try to get it in place.

The absence of a new comp plan revision has been used as an argument to postpone development, and that may have been a factor in killing the original batch of town land proposals.

I don't think the revision changes it that much.

Should the Town move forward with proposals using the officially approved 2006 plan as a guide? Why or why not?

Yes and no. One versus the other hasn't changed tremendously. The original RFPs went out under the old comprehensive plan. So what's the difference with the new RFPs that went out? Did we change a boundary line somewhere? it doesn't matter. It slowed down development of that land, maybe. I don't agree that not having a comprehensive plan revision scuttled that. I think the fact that we tried to do a town-wide sewer had more impact than anything.
The fact that we're looking for sewer at this point, and making headway with the Village of Lansing and the Village of Cayuga Heights as well is wonderful. And paid for by developers.
Eventually the Town is going to have to jump in. We all know that. With maintenance and operation, and sewer districts. Nonetheless, infrastructure is the costliest issue.

Protest groups, particularly environmentalist groups have attacked the repowering plan from Cayuga Power Plant and now are calling state mining permits for the Cayuga Salt Mine into question. Where do you stand on these two companies and the issues the protests have raised?

The issues the protests have raised, as I understand them, at least with Cargill, are issues with the DEC. The fact that it can possibly shut the mine down -- they've all said that they're not against the mine. Well, if they don't get their shaft it's going to shut down. I don't know when, but it's going to shut down. It's the same group of people that always protests that sort of thing.
Is that good or bad? It's good, yeah, because it does raise the issues. Is it bad? Yeah, because it puts two sides to everything and all of a sudden we've got pitchforks and whatever on Monday night at a Planning Board meeting. Or a doozy of a meeting at the Village yesterday (the October 12 Village Trustee meeting) at noon.
As I understand it the mine right now is operating under an existing permit, and the DEC has done the SEQR and their due diligence with regard to the new shaft. Hopefully Monday night (the October 16th Planning Board meeting) we can, if not fully approve the site plan, I think that can be approved to some extent.
As far as the power plant is concerned, natural gas is cheaper energy now than coal is. Do things change? Yes. Will it change back? Maybe, I don't know. If coal becomes cheaper than natural gas the power plant may power back up with the white plume coming out of it. I have no problem with changing it to gas. If someone is willing to invest that kind of money it that power plant and thinks it's going to be successful, it would be great. I think the protest against it is short sighted in that there's got to be some gap fuel there.
Solar and renewables, at this time, are not any near able to keep up with this. Obviously there are varying research and opinions on that, but to just throw everything into that all of a sudden is irresponsible, because it raises the prices so much. Natural gas has been shown to be one of the better fuels to burn at this time. It's the cleanest. And if you look at our coal plant, at the time it was one of the cleanest coal plants around.
So where's the balance? Where's the stop-gap? And it gets back to the natural gas line in Dryden. Why are we under a moratorium at this time? That's crazy.

So that was my next question: What do you think the best solution to the natural gas moratorium in Lansing should be?

For NYSEG to get off their rear and bring it whatever way they want to bring it. Bring it from Auburn -- that doesn't make sense, but I don't really care. Dryden has natural gas. Lansing doesn't. And they've got a compressor station right over in Freeville. If that's the answer, that's the answer.

Has the spottiness of rural broadband in Lansing been solved with the Clarity Connect/County wifi solution? Should the town do more to bring high speed broadband to its citizens?

I don't know. I know there are several areas with bad wifi, but we don't hear about it. When Pat Pryor was the county representative we heard about it all the time, so I can't really answer it with accuracy. I would hope we could somehow get broadband to everyone. If it's something that's feasible I'm all for it. In this day and age it's important.

Are town taxes what they should be? Too high, too low? If elected what will you do to adjust them?

We fell in the same lane for three years. Prior to that we had suggestions for $1.83 per $1,000 of assessed value, or we've been in the neighborhood of $1.49. I'd like to see it go lower, but I'm not sure how it would work. I'm proud of the fact that we got the fund balance situation squared away in the last couple of years. The Highway Department is on a (equipment replacement) schedule. The Rec department is on a replacement and maintenance schedule, which is the biggest part of our budget. And we're fully funded.
Quite frankly, we're doing more with less. We're getting more work done with less people. That goes back to not only the people we have, but the efficiency with which they operate. Municipalities are traditionally very slow and lethargic. It's pre-lunch. They have to have a pre-lunch before we have lunch, and then it's post-lunch.
It's not our money. The minute somebody takes advantage of time, because time is money, they're essentially taking from the Town. That doesn't happen nearly as frequently as it could. We're getting more done with less people.

What one or two issues we have not talked about, if any, should be addressed in the next four year term and what will you do to address them if elected?

(Town Attorney) Guy Krogh has got a list of 100 things. We've actually knocked off a few. Certainly whatever is on his list, cleaning up loose ends. I'd like to see us get development going across the street (from the town ball fields) in some fashion. Whether it's Cornerstone or Tiny Timbers... it would be incredibly easier to do something there if there were more infrastructure there. There are two things: certainly gas, and if and when we ever could get sewer there.
Look at development, especially Village Solar -- they're on a sewer. Contrast their situation with Cornerstone. They're happily paying a full tax rate on their property. Their building costs are down because they're not putting in huge septic systems and things of that nature.
Now, do I want sewer and does everybody? That was a hot button topic, but the hot button, at least in my eyes -- and my non-support of it four years ago -- was that the whole town was going to pay for it. If it can be done by developers and people who want to invest in our town, then that's a great thing.
Whether or not that goes through, I don't know. We certainly have a couple more years of devaluation of the power plant, and does that solar field that they're proposing go up? Because that adds back a portion.
What else is coming down the road? I like the way we're moving along. If some of these things start going through, especially if sewer comes through we're going to have to have more people, so there is going to be a difference. But we've got to find a way, obviously to pay for that. I think the expanded tax base will help quite a bit.
I'm on the Water/Sewer Advisory Board. I'd like to get past 'Not In My Back Yard' there. I'm the liason to the Planning Board. I was working on the emergency plan, but Katrina (Binkewicz) took over for me because I didn't have time. At this point I think we're doing a great job with planning.
The contract planner, Michael Long, does a very nice job. Hopefully the park improvement grant he has applied for goes through. If it does, that's a huge plus to the Town. It's already the jewel of our town. To have improvements there would be beautiful.

What else would you like voters to know about your campaign?

Things seem to be done well. I've had people who work for the Town that it's as smooth as it's ever run. based on the number of people that are at our regular town meetings... by and large there's no one there. I don't think that's good, but when people are happy they don't come out. It's nice to have short and sweet board meetings where you get things squared away, knock off a few more loose ends that Guy Krogh's got on his list. There's a serenity in the way things are moving, at least in my eyes, that is nice to have.
We're not worried about our fund balance now. We're trying to bring in as much as we pay out. Its not worked out yet, but we're getting close. The funding of our reserve funds is awesome. Now we don't have to sit there and cringe every year and ask Cricket (Highway Superintendent Charlie Purcell) what he needs.
That gets back to a nice balance where no one is offended, we can attack problems as quickly as we can, like the Myers Road drainage project that went in seamlessly. Storm drainage down the side of the road where all of a sudden we have the width to walk. enforcement of the speed limit.
I bring balance and common sense.
v13i42
elections2017