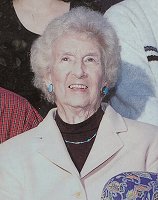 Ernestine Howell passed away on Thursday, November 26, 2009, at the age of 85.
Born September 29, 1924 in Bernhard's Bay, NY, she was the daughter of the late Leon and Dorothea (Stanton) Lord. After graduating high school in Central Square, NY, she went on to Ithaca College where she graduated with a master's degree in health, physical education and recreation. It was at Ithaca College that she met her future husband, Herbert "Bud" Howell, whom she married in 1945. She and Bud enjoyed 56 years together before he passed away in 2001.
A long time Lansing resident, Ernestine was very active in the community. She taught physical education in the Lansing School District for many years. In later years she was a member of Lansing Senior Citizens, Lansingville Auxiliary, and she was a swim instructor at the YMCA with the Arthritis Program. A fan of all sports, especially NY Mets baseball, she was also an advocate for female sports teams. In the day when female sports were not thought of as a "feminine" thing to do - Ernestine thought otherwise.
Her family was always her first priority. Her children, grandchildren and great grand-children brought her much enjoyment. They will dearly miss her baking and driving by her house at night to see the light on while she was reading yet another book.
In addition to her parents and husband, Ernestine was preceded in death by two sons, Matthew and Dwight and a brother, Robert Lord.
She is survived by her daughter, Amy Christopher (Will Schempp) of Lansing; two sons, Rodney (Cynthia) Howell of Lansing and Charles (Pamela) Howell of SC; grandchildren, Chris, Richard, Nicole, Timothy, Todd, Terry and Angela; great grandchildren, Samantha, Matthew, Tiffany, Blake, Travis, Morgan, Jacob, Devin, Gwynne, Ellen, Max, Nora, Aidan and Brenna; and a brother, Stanton "Bounce" Lord of Bernhard's Bay, NY.

Ernestine also leaves behind numerous beloved "grand dogs".

In lieu of flowers, those wishing to remember Ernestine in the form of a contribution, are asked to consider Lansing United Methodist Church, 32 Brickyard Rd., Lansing, NY 14882 or the YMCA Water Exercise Program, Graham Rd. West, Ithaca, NY 14850.
Family will be present to receive friends on Monday, November 30, 2009 from 5-7pm at Lansing Funeral Home, 32 Auburn Rd., Lansing, NY. A memorial service, officiated by Pastor William Gottschalk-Fielding, will be held on Tuesday, December 1, 2009, at 11am at Lansing United Methodist Church. Prayers of committal will follow at Pine Grove Cemetery.